100th Giro stage 11: Bassano del Grappa - Treviso 56 km
Stage type:
Individual Time Trial
Difficulty:
*****
Original stage:
Giro 1970 stage 9
Climbs:
None
Overview:
The last chance for the TTers, a long and flat ITT of raw power. Even though with this one the flat(tish) TTing kms reach the number of 118.4, you'll soon notice this Giro still favours the climbers
Giro of the stage:
The 1970 Giro had one of the weirdest designs ever. It went from S.Pellegrino Terme to Bolzano over 20 stages, swinging west and east at first, and then south and north again. Really odd. It was not a hard route at all, the key stages being the MTFs to Brentonico and Fedaia, as well as the ITT presented here. The main favourites were two: the defending champion Felice Gimondi, and Eddy Merckx. In 1969 Merckx had been found positive while he was leading the GC and kicked out of the Giro, leaving the victory to Gimondi and starting a whirlwind of accusations and conspiracy theories, also risking his participation at the Tour, which ultimately he'll be allowed to race (=win). He didn't plan to take part in the 1970 Giro, still feeling outraged by what happened, but in the end he was convinced by his (Italian) team. He won the pink jersey in Brentonico on stage 7, and would not lose it anymore, winning his second Giro (after the 1968 edition), and laying the foundation of his first Double (he will win his second Tour later that year), third rider in history to accomplish it after Coppi and Anquetil.
Stage of the stage:
Well, it was an ITT and Merckx was in it. Not much to add. He won in 1h 10' 55", followed by Ole Ritter at +1' 46" and Gimondi at +2' 2". All in all it was a pretty uneventful stage... but I needed to include it for balance reasons
As well as to commemorate the first Merckx's Double.
Protagonists of the stage:

Eddy Merckx: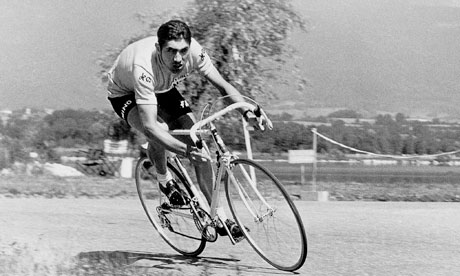 Felice Gimondi:
Ole Ritter:
Next stage:
It will be medium mountain, and will deal with betrayals, internal wars and other nasty stuff. This one's easy.