Thanks @jsem94.
Speaking of the west Asturias, this combination below is also not so often explored. It's not a GC killer, but i personally like this stage. It's sort of a cross between a transitional/GC stage, where technically nothing and everything can happen.
Last stage:
link
https://www.la-flamme-rouge.eu/maps/viewtrack/168627
Vuelta a España – stage 15. León – Cotobello, 182km, Mountain.
(i'm leaving this because this mistake is just too horrid to not leave it
. it's
Oviedo - Grado, 182km, Mountain
)
Climbs:
Puerto de Ventana – 13km, 7,1%, cat. 1, 1587m
Puerto de San Lorenzo – 10km, 8,5% (max 17%), cat. 1/ESP, 1347m
Puerto de Marabio (Maravio) – 6,3km, 9,2% (max 21%), cat. 1, 1078m
Alto de Yernes – 2km, 10%, cat. 2, 694m
This time PRC has it covered...
10 years... btw. I think Trobaniello is in a very awful state. The dirt doesn't look the best imo.
...gripping.
Ignoring (this time) PRC, the combination of San Lorenzo, Marabio, Yernes and Grado is not that popular. I guess it's because the top of Marabio is at least 30km from the finish line, which is not great. However, i never really did a similar stage to this and i'm really interested in the outcome of this contraption. It's a borderline GC/transitional affair from Oviedo to Grado. In straight line the distance between these places is roughly 20km... a very long transfer for what is technically a transitional stage.
The main difficulty of this stage are San Lorenzo, Marabio and punchy Yernes. All these climbs are not the longest in the world, but they're very steep and quite irregular. They're also quite nicely connected to each other.
The stage starts in Oviedo, capital of former Kingdom of Asturias, which is now Province of Asturias. Oviedo has a long and illustrious history, which is way too long for this post. It's a very popular cycling and traceur spot, as it's a perfectly connected to majority of Asturian climbs, which as renowned for their difficulty. It's also a popular finish in the real Vuelta, especially Monte Naranco. Oviedo is littered with pre-romanesque churches and chapels like IX c. Basílica de San Julián de los Prados, IX c. Iglesia de San Miguel de Lillo, VIII c. Monasterio de San Vicente, IX c. Iglesia de Santa María del Naranco and Cámara Santa from IX c. All of them are listed in the UNESCO WHS. There are also plenty of manor houses, pre-romanesque city walls and a IX c. fountain La Foncalada.
Oviedo.
Catedral de San Salvador, Oviedo.
Monasterio de San Vicente, Oviedo.
Sadly, i don't know the official names of local valleys. I hope they take their names from local rivers. It's sad, as Asturias is home to plenty of beautiful valleys/gorges. First 60km to Puerto de Ventana are on AS-228. It's a stunning route including the Teverga and Páramo gorges.
Desfiladero de Peñasjuntas (Peñas Juntas).
Teverga valley.
Páramo valley.
In the middle of it is a village of San Martín de Teverga. It's the only case in the race (not counting laps of the "parade" stage), where a small section of the stage will be repeated, making the Ventana-Somiedo detour a large loop. To commemorate that i decided to have two intermediate sprints in the village. Main sights are XI c. Colegiata de San Pedro de Teverga and a local prehistoric park, which houses examples of cave art from the likes of Altamira or Lascaux.
San Martín de Teverga.
Colegiata de San Pedro de Teverga.
The first difficulty of the day is Puerto de Ventana. It's possibly the hardest or the 2nd hardest (after Pajares) climb between Asturias and Castilla y León. It's a cat. 1 (not far from ESP), 13km at mostly regular 7,1%. I decided to exclude the first 7km in the Páramo gorge as they're mostly false-flat. A short and quite easy descent leads to the Babia valley in Castilla y León.
Profile of Ventana.
Ventana is linked with nearby Trobaniello. It's a significantly harder climb (with patches of over 15%) on a dirt road. However, i find this dirt to be in a rather poor state. If it's possible to clear it out or pave the road then it should be a way more attractive of Ventana, as it's nicely linked to Cobertoria and has a decent connection with San Lorenzo and Marabio.
Peña Ubiña (2411m) near Ventana.
Next 40km from Puerto de Ventana to Puerto de Somiedo are in Castilla y León, in a very rural Babia valley. The biggest village in the area is Piedrafita de Babia. From south Puerto de Somiedo is just a false-flat, so i decided to leave it uncategorised. The descent to the Somiedo valley is long and quite complicated. The main town in the valley is Pola de Somiedo.
Valle de Somiedo.
Soon after Pola de Somiedo starts the next climb of the day – Puerto de San Lorenzo. From west it's a borderline cat. 1/ESP climb. In Vuelta it's cat. 1, but i question their ESP categorisation process. I also have no idea, what ESP is and what's not, as there are way too many borderline 1/HC climbs in the country and not too many genuine HC climbs. Even Libertine's 21 ESP climbs thread has Cubilla for some reason, which i find baffling. Vuelta also had Fuente del Chivo as ESP a while ago for some reason. Hence, i decided that it depends on you, what kind of rating you want to give so this ESP mark on the profile is there to give the breakaway more point for the KOM competition.
San Lorenzo is a stairway-like climb composed of three 10-11% stairs and 2 false-flats. There are plenty of over 10% sections maxing out at 17%. The first stair to Las Morteras is 4km at 9%. After a 1km long false-flat is the 2nd stair, which is 3km at almost 11%. After another short false-flat the last stair is 1,5km at 9,5%. Overall, it's 10km at 8,5%. San Lorenzo was featured so many times in Vuelta that i'm not sure, when was the last time this side was used. I think it could be 2012 at the start to the
Ciutu Negru stage
, but there may be something i missed.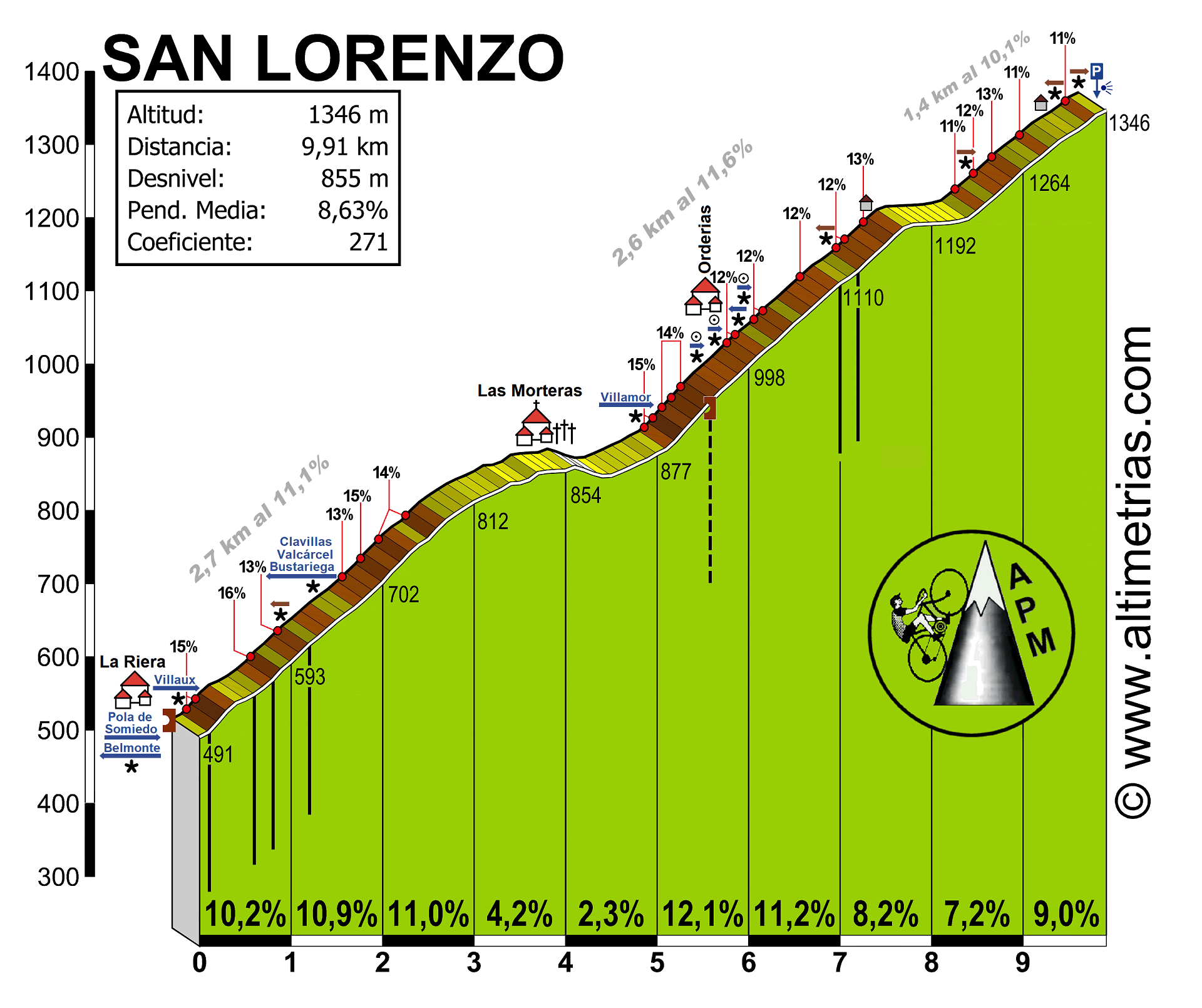 Profile of San Lorenzo.
Views from the top of San Lorenzo.
The descent, which includes a 5km at 11% wall, leads back to San Martín de Teverga. The road is wide and in good condition, but the sheer steepness combined with a number of harder turns can be tricky. Just after San Martín de Teverga the race enters the Taja valley. Taja is a small creek – tributary of Teverga. After 3km of false-flat the next climb start – Puerto de Marabio.
Puerto de Marabio (or Maravio) is a not-so-often used, but nicely linked with San Lorenzo pass to the Villabre valley. From south there are two sides – the main one to Ermita de Santa Ana, which is 6km at 8,5% with plenty of 10-15% sections. It's followed by a 6km long plateau ride. It was used once (from north) in
2002
. Sadly, since then the road is in a state of decay.
There's a 2nd, less known side via Villamayor. It tops roughly 1km from the proper Puerto de Marabio on a local hill called Peña Cabrio. This side is cat. 1, 6,3km at an irregular 9,2%. Hidden in this ascent are a number of tiny false-flats and even a small descent followed by 15-20% walls (max 21%).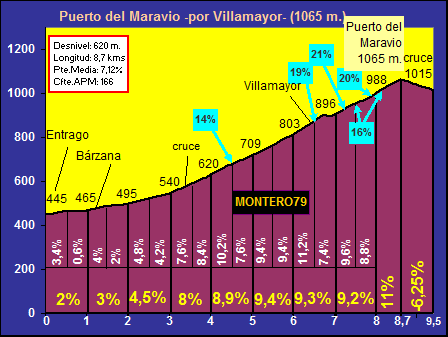 Profile of Marabio.
The ascent to Marabio is very complicated. First roughly 3,5km to Villamayor are on a quite narrow, but fine quality road. In the village starts a small, but very narrow and demanding section on hormigón, which includes very tough fragments reaching 20%.
A tough section of Puerto de Marabio in Villamayor.
This section is followed by a small descent on this time paved, but very narrow road. After the descent is one of the hardest fragments of the ascent, where the road reaches 21%. The surface is not in the best of conditions, but it looks better, than the Santa Ana side. After another series of walls followed by small flase-flat the last 1km is calmer, if constant 10% can be considered as calm. Interestingly, at the top the view is similar to a French-Basque climb.
Puerto de Marabio from Villamayor to the top.
The descent to the proper Puerto de Marabio is roughly 1km at 6,2%. It's quite easy, however the road is very narrow and the surface is not the best. It resembles something like Arnostegi or Artaburu/Errozate. After reaching Puerto de Marabio the road widens up, but it's in an abysmal state. The descent is not very steep nor technical, but there is a short section in the village of Villarbe, where it's over 10% (max 14%). This descent is sandwitched between two very picturesque mountain ranges of Sierra de Peña Gradura and Sierra de la Granda.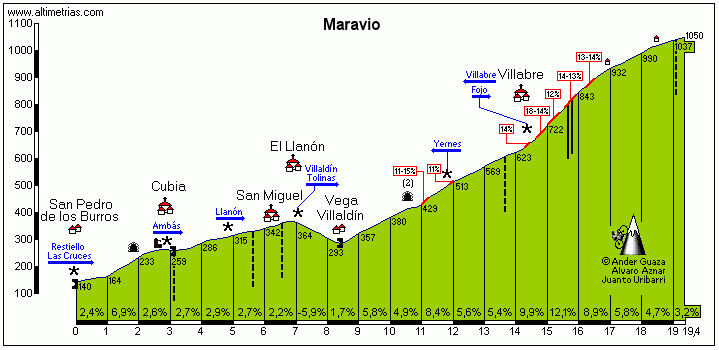 Descent of Marabio (only to the Yernes sign).
The descent is quite picturesque.
Roughly 8km from the top of Marabio stage leaves the main Grado road for a short, but demanding climb to the village of Yernes. It's a very tough 2km murito at roughly 10%. After San Lorenzo and Marabio it can be quite painful. The road is much wider and in better condition. This murito is followed by a very short, but quite narrow and technical descent in Yernes. Next 6km to Panicera (last intermediate sprint) are on a false-flat of Sierra de Muergos.
The very steep road to Yernes with Sierra de la Granda and the Marabio road in the background.
A plateau ride to Panicera.
The last descent to Grado starts in Panicera. It's 8,5km at roughly 6,5%. It's wide but also quite technical. The hardest part is near the bottom, where the road goes through a very dense forest. After that there's also a small 10-12% section in the village of Rañeces. The descent ends just outside of Grado, where the stage joins back the main road. The last roughly 3km to Grado are flat. The finish line is on Avenida los Deportes, in front of a local football stadium.
Grado.
Grado is located in the Nalón valley, roughly 20km west of Oviedo. Grado was found in XIII c. It was mainly a stop on a local Santiago de Compostela route and also a rural seat of various noblemans and manufacturers from Oviedo. Interestingly, Grado stayed as an agricultural town unlike other heavily industrialized towns in the region. There are plenty of manor houses from XVII-XIX c. like Palacio de Miranda-Valdecarzana or Palacio Velázquez.
Palacio de Miranda-Valdecarzana from XVIII c.
I don't know, what's a potential outcome of this stage. The top of Marabio is 30km, while Yernes 20km from the finish line, which includes a 6km false-flat. San Lorenzo, Marabio and Yernes are demanding, with plenty of over 10% sections and even small 20% features on Marabio. The descent from Marabio and Yernes are also quite tricky (mainly the road quality), but it's still 20km from the finish line.
I think this stage will be won by a breakaway. As for the favourites, i think it could be a 10-15-man group with relatively sizeable gaps behind but this stage is also designed with longer, more elaborate operations in mind unless Sky will decide to channel their inner Gewiss/US Postal.