jsem94

wrote:Beautiful start so far!
Thanks a lot. I like the idea of a ~10km Prologue/ITT followed by a hilly stage with a technical finale. GC guys will play the safe card, while an outsider could try to risk a bit and fight for the leader's jersey or just limit the loses from ITT. I guess such scenario works only in my head. Interestingly, i think it was 1977 Giro, when on a smilar stage GC guys gave a pass to De Muynck (who was 2nd in 1975), and he managed to protect his advantage up to Venice (i think it was the grande finale in 1977). Of course in this day and age it won't happen, but for a non-gc guy or even an outsider wearing Maglia Rosa for 2 days should be thrilling enough to take some risks and try to push for the stage win. I hope i explained my thought well enough.
First form-check stage. If you're still a bit off-form, you can lose a lot of time.
Previous stage:
link
Giro d'Italia – stage 4. Nicastro. Lamezia Terme – Camigliatello Silano, 211km, mountain.
https://www.la-flamme-rouge.eu/maps/viewtrack/hd/149887
Climbs
:
Passo Condrò – 17km, 5,2%, cat. 2, 1050m
Valico di Carlopoli – 5km, 6,2%, cat. 3, 972m
Pentone – 5,2km, 4,5%, cat. 4, 838m
Valico di Tirivolo – 15,6km, 6,8%, cat. 1, 1509m
Valico di Monte Scuro – 24km, 5,7%, cat. 1, 1618m
This stage ventures in La Sila mountains, utilising the hardest climbs of Sila Piccola and Sila Grande i could find. Both climbs, that i've managed to find aren't the toughest in the world, but they're hard enough for a Giro cat. 1, and you really, really need to earn a Giro cat. 1. It's not TdF with Latrape bullcrab.
Riders will stay overnight in Nicastro, where this stage starts. Then they'll head away from the coast through Sila Piccola (represented mainly by Monte Gariglione, 1765m) north of Catanzaro, and then stay for roughly 40km on a plateau before going down to Cosenza, leaving Sila Piccola for Sila Grande. On this stage Sila Grande is represented by Monte Botte Donato (1939m), Monte Curcio (1788m) and Monte Scuro (1633m).
Passo Condrò.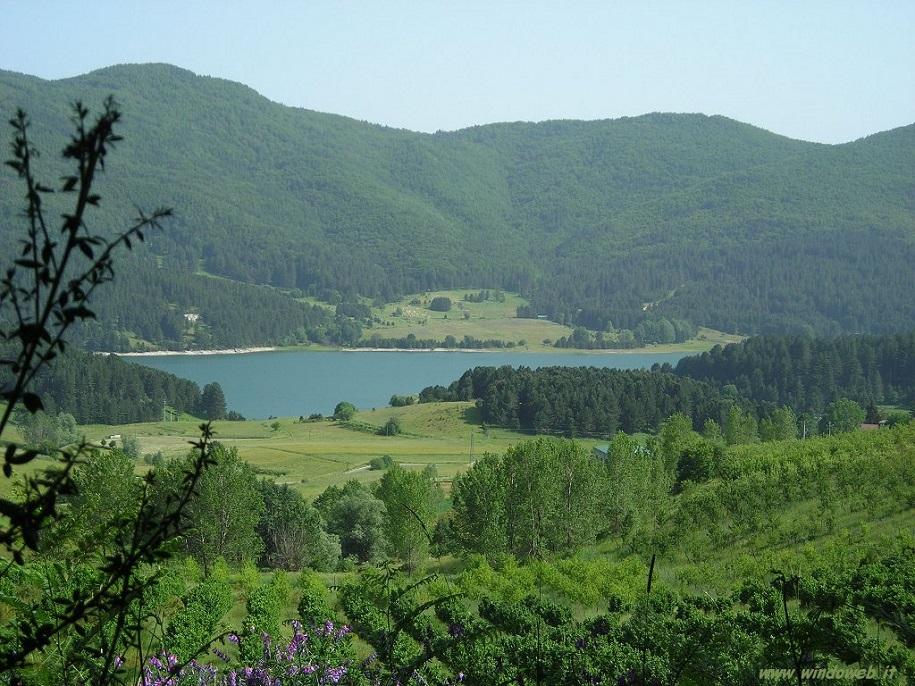 La Sila.
Finish is in Camigliatello Silano – a small ski station and one of the main mountain resorts of La Sila. The finish is on Via Falcone e Borsellino, at the end of a 380m straight. It was once a Giro finish in 1982 on a stage won by Bernard Becaas from a breakaway. The last climb was a much easier drag to Silvana Mansio.
One of the very rare photos of Camigliatello Silano.
Taverna.
Albi.
The stage also visits one of the biggest cities in Calabria – Cosenza. This very picturesque city located on the fork of Crati and Busento rivers is mainly known for it's very long, commercial straightaway Corso Mazzini, a XIII c. gothic Cattedrale di Santa Maria Assunta, Chiesa di San Francesco di Paola and hilltop Castello Svevo patronized by Frederick II.
Cosenza.
Castello Svevo, Cosenza.
The main features of this stage are two cat. 1 climbs to Tirivolo and Monte Scuro. Both are borderline TdF HC cat. climbs. Tirivolo is narrower and more irregular with some easier and tougher parts up to roughly 14%, while Monte Scuro (or Montescuro) is a regular 6% drag with easier 4km at 3-4% followed by 1km at 10% (max 14%). Last 13km are at constant 6%. The top is 10km from the finish line. The descent is wide and not steep (6%), but quite technical with 3 serpentines and plenty of turns. Last 4km from Moccone are flat-ish.
Profile of Tirivolo, starting from 3km mark.
Profile of Monte Scuro.
Monte Scuro should work well with any of the climbs (there are plenty of these) in Catena Costiera between Cosenza and the Tyrrhenian coast. Monte Cocuzzo with 15km at 7,2% is probably the tastiest while easier Passo della Crocetta is probably the prettiest. There's also an alternative (and slightly tougher) side of Monte Scuro from Quattromiglia, but it includes a very, very bad sterrato section (it's basically just a mountain path).
What could be expected? I doubt you could won the entire race on this stage, but you can lose it. I guess it'll be a Sky-esque uphill train with roughly 10-man group at the top and probably on the finish line. Maybe someone will try for a testing push in the last 2km and then keep the pressure on the descent. The GC group should have a quite significant (maybe even over 1 min) lead over the next group. I guess a guy like Esteban Chavez would be a favourite to win.
The next stage is very similar to this one, but rather than two serious climbs it'll have only one, but harder than the ones on this stage.