Tour de France 2 by railxmig. Part 3.
https://www.la-flamme-rouge.eu/maps/viewtrack/201399
Stage 16. Die – Pipay-les-Sept-Laux, 176km, mountain, MTF.
Climbs:
Col de Rousset – 18,1km, 4,6%, cat. 2, 1254m
Côte de Saint-Julien-en-Vercors – 4,6km, 4,3%, cat. 4, 917m
Col de Palaquit – 15,6km, 5,9%, cat. 1, 1154m
Côte du Tournoud – 8,9km, 7,4%, cat. 1, 1006m
Montée de Pipay-les-Sept-Laux – 19,3km, 6,9%, cat. HC, 1564m
The Belledonne massif is more known for Allevard and Val Pelouse. Interestingly Pipay doesn't seem to have too much love even if it's basically La Plagne but 1km shorter. Pipay is the smallest of Les-Sept-Laux stations which include Prapoutel (1980 Tour) and Pleynet (1981 Tour). It's good 35 years since the Tour visited any of said stations. As a run-up i'm using Palaquit and Tournoud (Margains) which includes the first kms of certain Col du Coq. I decided to start in Die because i like the name and i already have Condom on the previous stage. Sadly, Corps was just out of my reach. While it's technically one of the hardest climbs in this Tour it's only an inauguration to the 2nd part of the main mountain block so it's mostly to give hurt to the legs as i'm expecting the main action to ensue later.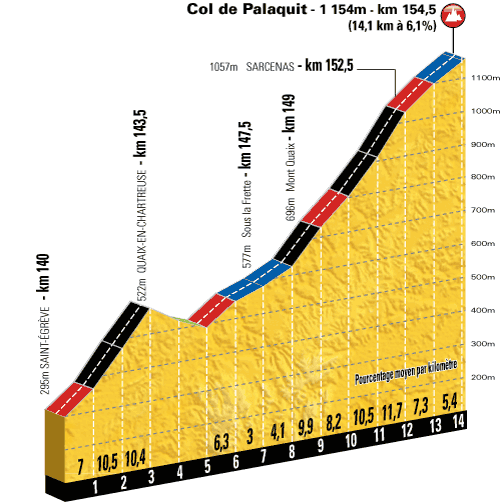 Profile of Palaquit.
Profile of Tournoud.
Profile of Pipay-les-Sept-Laux.
Places of interest: Die, Vercors massif, Gorges de la Bourne, Grenoble and its local forts.
https://www.la-flamme-rouge.eu/maps/viewtrack/197283
Stage 17. Pontcharra – Moûtiers, 190km, mountain.
Climbs:
Montée de la Table – 8,2km, 7%, cat. 1, 898m
Col du Grand-Cucheron – 3,4km, 6,9%, cat. 2, 1188m
Col de la Croix de Fer – 22,4km, 7%, cat. HC, 2067m
Col du Mollard – 5,7km, 6,8%, cat. 2, 1638m
Col de la Madeleine – 18,8km, 8%, cat. HC, 2000m
Côte des Emptes – 2,2km, 9,8%, cat. 2, 692m
The only 5000m gain stage but there's a bunch of over 4500m ones. Originally it started as the last stage of the mountain block. Next i've moved the finish to Valmorel but because i have more than enough MTFs i've ended up with something in between. This is my last real venture into both Croix de Fer and Madeleine which both are one of the hardest climbs France have on offer. This time i decided to combine both the hardest sides in one stage. I decided for the Montgelaffrey option for Madeleine but i think it's just as hard as the regular route. The highlight of this stage is Côte des Emptes – a very steep and narrow road to Les Emptes on the lower slopes of Valmorel. It can be used as the bottom of Valmorel to maybe ensure a higher selection of doms. If it's the last stage then Madeleine is carnage but in this instance i think it'll be a reduced GC group fightning on Emptes.
Profile of Croix de Fer.
Profile of Madeleine.
https://www.la-flamme-rouge.eu/maps/viewtrack/210334
Stage 18. Albertville – Verbier, 191km, mountain, H/MTF, dirt roads.
Climbs:
Col du Lein – 14km, 8,8%, cat. HC, 1695m
Montée de Verbier – 10,4km, 6%, cat. 2, 1468m (Chemin du Diablay – 6,1km, 9,8%)
White roads:
Col du Lein – 1,5km, **
Chemin du Diablay et Route du Soleil – 6km, ***
My 2nd and last stage featuring climbs with dirt. I'm not as psychic towards Lein as some peeps seems to be but i've included it because it features a smidge of dirt at the top. If not this i wouldn't go for Lein as it's a very hard climb and i prefered to go slightly easier on this stage to maybe encourage some racing on the previous two. There's Champex and Planches as viable alternatives so it's not a problem.
Now a bit more about this weird approach to Verbier. The route i've taken starts in Montagnier and consists mainly of Chemin du Diablay – a small and very steep road of which last 2,7km are on a quite difficult dirt. The climb ends when joining Route du Soleil (5,4km from the finish) and after 500m on tarmac it's time for an easier, but very bumpy 2,8km on Route du Soleil. After 850m the race rejoins the classic side of Verbier. For now the finish line is quite low but it is possible to put as high as ~1650m.
Chemin du Diablay.
Route du Soleil.
I think the showdown will be on Chemin du Diablay with a tug of war on Route du Soleil. I think Lein will also provide a fairly sizeable selection while Saisies almost always delivers a lot of racing. The time splits can be quite large.
Places of interest: Megève, Saint-Gervais-les-Bains, Chamonix-Mont-Blanc, Martigny, Verbier
https://www.la-flamme-rouge.eu/maps/viewtrack/209816
Stage 19. Martigny – La Chaux-de-Fonds, 211km, medium mountain.
Climbs:
Col des Mosses – 18,8km, 5,5%, cat. 1, 1445m
Côte des Lignières – 4,4km, 8,1%, cat. 2, 797m
Col du Chasseral – 8km, 8,6%, cat. 1, 1502m
Col du Mont-Soleil – 4,5km, 9,5%, cat. 2, 1249m
Like in 2016 it's a stage entirely in Switzerland mainly because Genève prefers to be outside of France. It's not really bad as i have a slightly different run-in to La Chaux-de-Fonds ready as i'm sick and tired of Vue-des-Alpes. You can sort of compare Chasseral and Mont-Soleil to Menté and Portet-d'Aspet while La Chaux-de-Fonds finish can be sort of compared with Saint-Girons. The top of Chasseral is 36km while Mont-Soleil is 20km from the finish line. If it was in the middle of the race i guess it should solely be a breakaway affair but at the end of the race and an extensive mountain block there may be a chance of major GC action in the last 30-20km.
A mock-up profile of Col du Chasseral. The false-flat is closer to 4km than 5km long.
Profile of Mont-Soleil.
Places of interest:
Martigny, Abbaye de Saint-Maurice, Aigle, Gruyères, Bulle, Romont, Avenches, Mont-Vully, Saint-Imier, La Chaux-de-Fonds
https://www.la-flamme-rouge.eu/maps/viewtrack/211222
Stage 20. Pontarlier - Dijon, 186km, hilly.
It's back to France with the only stage in the non-mountainous eastern part of the country – Bourgogne. This stage is here because the Paris one won't be a parade and i prefer to have a finish in a city with decent TGV connection with Paris and whereabouts. Dijon should be more than ok for that. Of course Bourgogne is famous for its wine and this stage is sponsored by it. Rather than for a bland sprint finish i decided to feature some amount of the hills of Côte d'Or near the finish. The run-in to the finish is also technically quite complicated.
Vineyards of Bourgogne.
Places of interest: Salins-les-Bains, Cirque du Fer a Cheval, Beaune, Nuits-Saint-Georges, Côte d'Or, Dijon
https://www.la-flamme-rouge.eu/maps/viewtrack/210182
Stage 21. Fontainebleau – Paris. Champs-Elysées, 137km, flat, cobbles.
Cobbles:
Rue de Milly – 1,3km, ***
Rue des Montils – 0,9km, ***
Place Jean-Baptiste-Clément x4 – 300m, *
Place du Tertre x4 – 400m, *
Not a parade stage feauring the cobbles of Champcueil and uphill cobbles of the Montmartre hill (Sacré-Cœur) just north of Champs-Elysées. I'm too tired to do a more detailed look but it's twisty, narrow and overally quite nasty. There may be some parts of 10% but the climbs are short and not very steep. Hope it's enough to give some life into those robotic Paris parades.
Rue Gabrielle, part of Place Jean-Baptiste-Clément sector.
Rue des Saules, part of Place du Tertre sector.