Tomorrow sees the 2017 edition of the Giro del Trentino Donne, which is in its 24th year. The race has tended to grow and shrink between up to three days and a single-day race; last year saw it jump back up to a stage race in Critérium International format, but this year it returns to a one-day format. It has historically been a happy hunting ground for the climbers in its various forms, with Fabiana Luperini the most successful rider with six wins, and Svetlana Bubnenkova and Pia Sundstedt are the only other multiple winners. The last time it was a one-day race, Amanda Spratt won, although then the climbs were in the middle with a flatter run-in; last year's race had a mountaintop finish on the first day, followed by a short TTT and a rolling circuit race, and so although it was a stage race, with the medium-sized MTF it more closely resembles what tomorrow's race should look like profile-wise. That stage was won solo by Kasia Niewiadoma, with a small chasing group capturing Claudia Lichtenberg just before the line, the German grimpeuse taking 2nd on the GC on the second day, so the race was much to my liking.
The folks at Lasterketa Burua have mapped the course, which is, essentially, Unipuerto: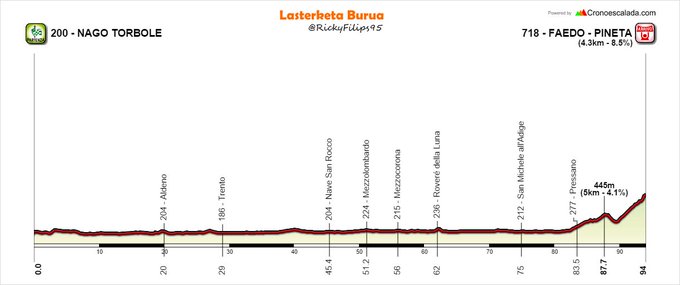 As you can see, the climbing is essentially two-stepped, but 4,3km at 8,5% to finish should be enough to sort the women from the girls. The field isn't the strongest, with many top names electing to rest up between Britain and the national championships; WM3 had been slated to ride, but Vos' collarbone break and the amount of energy expended on defending the race lead in the Women's Tour means that they have withdrawn. Alé have a strong team with Janneke Ensing and Soraya Paladin - 3rd last year and 2nd on the Daone-Pracul MTF - as well as Carlee Taylor and Ane Santesteban who are both capable climbers. BTC's leader ought to be Batagelj I think, Cylance have Ratto and Jasinska, the latter of whom was climbing well in the Women's Tour, plus the Italian péloton has quite a few young prospects and flaky, mercurial names like Cauz and Muccioli in it. Parkhotel have a couple of interesting names, with Rooijakkers being a pretty capable climber and Buurman having been surprisingly durable in País Vasco, although I think the finish being at the summit should eliminate her from contention. Pavlukhina for Astana is well-suited here, but the race should really suit Rasa Leleivyte's skillset. Orica have much of their Women's Tour team here again, albeit without Sarah Roy, but still without most of their biggest names - Annemiek, Amanda Spratt and Katrin Garfoot are all absent. The most exciting thing to see, perhaps, will be how Nikola Nosková does, after her incredible baptism of fire at the Emakumeen Bira. Guderzo is also riding for the national team and is a superb rider at her best, however her form at the Women's Tour was pretty bad.
And one more piece of news, Allie Dragoo has left Cervélo-Bigla mid-season, returning to the US to race for Twenty20, the same team she left to come to Europe.