The fifth stage of the Tour de France is the first hilly, bumpy stage of this years route.
The start takes place in Lorient, a town and seaport in Brittany (Bretagne), a cultural region in the French Republic. The area has been inhabited for thousands of years, but the modern Lorient is a relatively new town, considering aforementioned timeframe. The cause of that, is the Missisippi Company choosing to place their headquarters some 300 hundred years ago, which gave a boost to Lorients population and status in the country. In 1769 the town's infrastructure became property of the King of France, and it evolved as a naval base for
La Royale
, the French navy. In World War II, while France was under occupation by Germany, Lorient became home to a submarine base, Keroman, which was in use by the navy until the turn of the century, eventually turning to a museum, open to the public.
Even though the base isn't in function anymore, the offshore sector is still very big in Lorient, which isn't called "the five port city" for nothing! The many marinas, passenger ships, the largest cargo port in Brittany (Kergroise), and a shipyard, where warships are built.
Culturally, Lorient being located in Brittany, Celtic influence is definitely to be felt. The culmination of this is the Inter-Celtic Festival of Lorient (celebrated annually from 1970), which is a celebration of Celtic culture and tradition, whether it being music and dancing, or other crafts.
A Tour de France stage has ended in Lorient 7 times, two of them in this century. In the 9th stage of the 2002 Tour, a 52 kilometer long time trail ended in Lorient, where Santiago Botero won, beating runner-up (and 2nd in GC after the stage) Lance Armstrong by 11 seconds. The last time was in 2006, where Sylvain Calzati from AG2R won after attacking from the break.
The stage passes by the town of Pont-Aven, the hometown of the Pont-Aven-School, which is a term of artwork picturing Pont-Aven, where painters Emile Bernard and Paul Gauguin was enchanted by the picturesque town. Below Gauguin's "Watermill in Pont-Aven" from 1894, which can be seen with your own eyes in Musee d'Orsay in Paris.
By Paul Gauguin - The Yorck Project (2002) 10.000 Meisterwerke der Malerei (DVD-ROM), distributed by DIRECTMEDIA Publishing GmbH. ISBN: 3936122202., Public Domain, https://commons.wikimedia.org/w/index.php?curid=151293
The stage finish is in the town of Quimper, where the peloton might get a view of the gothic style Saint Corentin Cathedral of Quimper, which has been standing tall and proud for 800 years.
A cathedral as this isn't something you can take home as a souvenir, but lucky for you, Quimper produces fine tin glazed pottery, also called faience. The faience in this town, called Quimper faïence, has been produced since the year 1708, and even today is still painted by hand.
The faïence typically features the "petit Breton", a Breton man or woman in traditional outfit, and which is a classic souvenir to treat yourself with or perhaps as a gift to a dear friend?
Quimper has laid asphalt to 4 Tour stage finishes, last time in 2004, while a young Thomas Voeckler was in yellow, where Thor Hushovd won after a dog caused a crash in the last part of the stage.
Have a look at the facts of the stage...
Profile
Time bonus sprint
Map of the last kilometers, provided by

Robert5091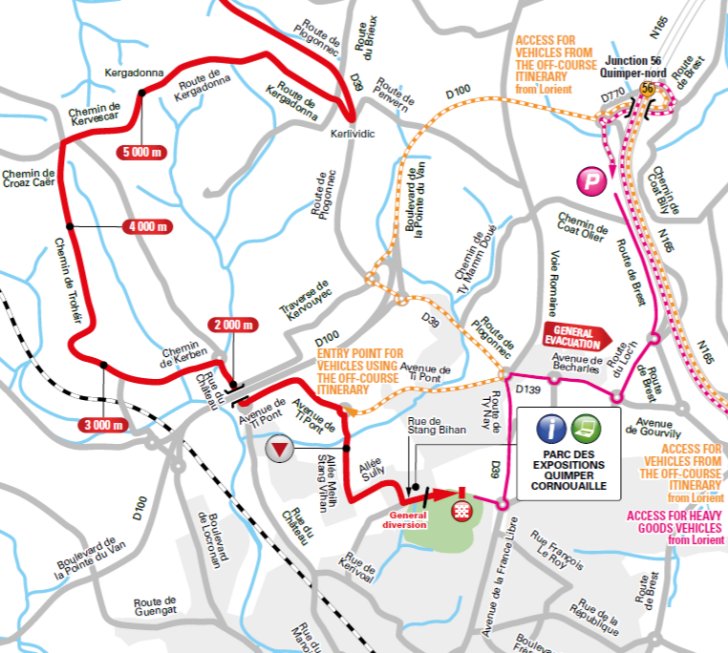 Last kilometer
...and tell us, who will end up with victory? Can a GC contender be caught off guard today, or will someone take advantage of the bumpy nature of the stage to take some time of his rivals?
General classification before tomorrow:
1. Greg Van AVERMAET (BMC)
2. Tejay van GARDEREN (BMC)
s.t.
3. Geraint THOMAS (SKY)
+ 3''
4. Philippe GILBERT (Quickstep)
+ 5''
5. Bob JUNGELS (Quickstep)
+ 7''
6. Julian ALAPHILIPPE (Quickstep)
s.t.
7. Tom DUMOULIN (Sunweb)
+ 11''
8. Søren KRAGH ANDERSEN (Sunweb)
st.
*
9. Michael MATTHEWS (Sunweb)
st.
10. Rigoberto URAN (EF-ED)
+ 35''
*
Youth classification leader
Polka-dot jersey competition before tomorrow:
1. Dion SMITH (Wanty)
1
2. Kevin LEDANOIS (Fortuneo)
1
3. Anthony PEREZ (Cofidis)
1
Points jersey competition before tomorrow:
1. Peter SAGAN (Bora)
143
2. Fernando GAVIRIA (Quickstep)
139
3. Alexander KRISTOFF (UAE)
72
4. André GREIPEL (Lotto-Soudal)
65
5. Arnaud DEMARE (G.FDJ)
52
Weather forecast
Lorient, morning:
Quimper, afternoon: