Stage 10 : Beaufort - Col du Granon, 245km.
I hope you are actually rested after the break.
Because you'll need that as that stage might tire you just by looking at it.
In fact, i've basically tried to fit as many horrible climbs as possible in there. I'm just mean.
Its without a question the hardest of the Tour. I would like to see the queen stage, sometimes, earlier than Day 18 or 19, as riders are too often prone to wait for it before considering alternative tactics.
Anyway, there will be blood. There will be tears.
We start that stage from Beaufort, famous for its cheese.
It never received the Tour for a stage start/finish, but its big enough. (Over 2.000 inhabitants.)
Its in fact the starting point of the Cormet de Roselend, first ascent of the day.
Not a regular climb, and very long (20km).
It will be followed by an horribly, horribly long one. L'Iseran, coming from Bourg-Saint-Maurice. That's 48km.
It could be split in two parts, before and after Val d'Isère. In fact, the Iseran has been climbed entirely only one once in 50 years.
With such a length, legs will be burning soon enough.
Lungs wont be forgotten, because of the altitude, the Iseran reaching 2764m of elevation.
The second part is the hardest with the last 2 kilometers being the worst (over 9%). The road also changes, the view and the surroundings being much nicer after Val d'Isère.
After 20km of descent, we reach the Mont-Cenis. Yes, we're going to visit Italy. That climb is not the biggest of the day, but its quite a nice one with the lake on the top.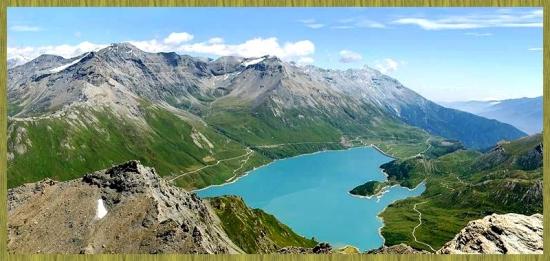 We're then in Susa. And we're going to jump through the window.
The mighty Finestre awaits. One of the brillant decisions of Zomegnan. The main group should already be torn apart at this point and reduced to a small number of men.
And now, its time to separate men from boys, good from greats.
As usual, the Finestre is followed by the painfully long climb to Sestrieres.
(We're reaching the road from Usseaux, about 1/3 of the distance from the finish)
Im not really in favour of finishing in Italy, since we already should go to Andorra, so Montgenevre, here we go.
Like Sestrieres, not that hard, but we're past 200km and thats the sixth climb of the day.
Im not forced to comply to this kind of things, but the word is that Briançon and ASO are not exactly in a friendly situation. So, we cant finish there. Thats just too bad.
So we are forced by the fate to add a seventh climb. Thats so sad. Some might say that this is not an accident. Unfortunately for the poor fellas suffering, its a big one.
The Col du Granon, climbed only once in the Tour's history.
A great way to crown a queen stage.
It is unfortunately ignored by ASO, and its unfair.
That climb is arguably harder than say, l'Alpe d'Huez, who has been done over and over again in the last 20 years.
After 6km of flat, on a road shared with the ascent to the false pass of the Lautaret, we reach le Villard-Laté, and now, you're in trouble.
After that point, the gradient never gets under 8.5%. You still have 10km to go.
It will even be as severe as 11.5% for an entire kilometer, and it comes after 6 climbs and 230km of racing.
This is going to be a very long day.
There is more than 125 km of climbing to be done, with an elevation gain registered over 8000m.