Time to bring back my DeutschlandTour after the previous delays thanks to the Race Design Challenge. When we left off we'd had the following:
1) Dresden - Dresden ITT with a cobbled climb at the start
2) Chemnitz - Halle with a large number of cobbled sectors
3) Magdeburg - Buchholz/Nordheide with a couple of cobbled sectors near the end
4) Verden - Clausthal-Zellerfeld a flat stage with a couple of smallish climbs late on
5) Göttingen - Winterberg a tough intermediate stage with a lot of up and down
6) Frankenberg/Eder - Königstein/Taunus an intermediate stage with a long gradual climb followed by a short steep puncheur's finale
7) Hanau - Schleusingen a medium mountain stage with a range of potential outcomes and a cat.2 25km out.
Stage 8: Bayreuth - Regensburg, 179km
GPM:
Koppelberg (cat.3) 3,1km @ 5,1%
Löffelsberg (cat.4) 1,9km @ 4,6%
Tannenberg (cat.4) 1,5km @ 8,8%
Wundsheimer Sender (cat.4) 1,9km @ 8,5%
Eckartsreuth (cat.4) 2,8km @ 5,1%
Schneitweg (cat.3) 3,2km @ 5,0%
A slightly odd choice of stage for a weekend, you may point out, but I will also point out in response that we are trying to capitalise on Germany's rekindled interest in cycling, and so a stage that offers potential interest but also gives a good chance of a home triumph (depending on the audience's feelings regarding Bavarian regional identity of course), which with Germany's biggest names in the sport bar one being sprinters at the moment rather limits things.
This is also a stage steeped in cultural history, as it links two UNESCO World Heritage sites and will give some pretty impressive scenery to look at during the stage as we head through eastern Bavaria. The départ fictif will be from in front of the Margravia Opernhaus, the stunning baroque opera tied to the city's heritage.
The neutral zone will feature an out-and-back to the
Festspielhaus
, built for the performance of Wagner's work owing to the orchestra pit at the traditional Opernhaus not being able to accommodate the multitude of musicians needed for his work. Though not from Bayreuth, the city has become synonymous with Wagner, and both he and Franz Liszt (whose daughter was married to Wagner) are buried in the city. The Nazis tried to turn it into the model German city (to their model, anyway) and it was especially popular with the party, owing in part to Hitler's love of Wagner; however it was also a city where the synagogue was allowed to be left standing as its proximity to the Opernhaus made razing it risky.
The actual stage is mostly rolling and southbound through eastern Bavaria, running mostly parallel to the Czech border. A couple of the climbs are relatively steep, the Tannenberg and the Wundsheimer Sender, both of which are short and feature gradients of up to 15%, but which are both categorized only 4 owing to their distance from the finish. Nevertheless, there are a lot of small mountain points to duke out today, so a rider looking to safeguard a lead or get a day in the jersey could fight these out.
The main body of the stage is the stretch after the town of Bruck in der Oberpfalz.
After this the riders head into the valley of the Regen river, a tributary of the Danube. This is close to where it flows into the larger river and the valley it cuts is deep enough to add a couple of climbs to the top of the valley ridge to the stage. Both are fairly consistent and neither are especially threatening, but with the latter, coming after the scenic village of Regenstauf, ending with 25km remaining, there is the potential somebody may take a flyer if the break is within reach or has been caught early.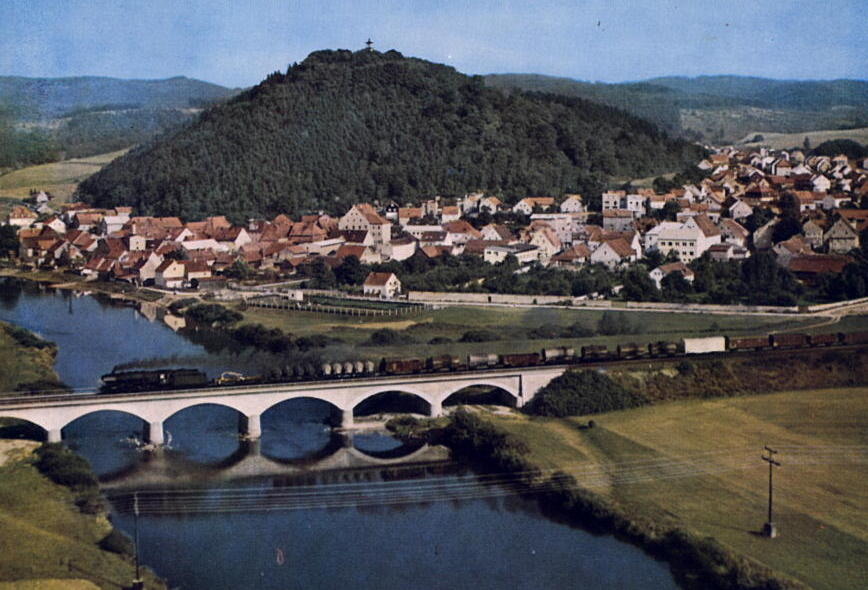 The first part of the descent after a rolling phase atop the climb is quite twisty, but it opens out lower down. There is then an uncategorised climb cresting 8,1km from the finish which could be used as a fulcrum to attack if the group is reduced or if the break is looking like staying away, before crossing the Danube itself in the final kilometre for a frenetic last rush to a finish on a wide open street adjacent to Regensburg's UNESCO World Heritage site inner city, one of very few preserved medieval old towns north of the Alps, also containing some remainder of the city's Roman heritage. This will be a scenic run-in and provide some interesting camera views if it is a tedious sprint stage; the stage will, however, be more likely to favour a durable sprinter like Degenkolb or Kristoff than a pure flat engine like Kittel; Greipel may fight to be there but perhaps Germany's most likely winners other than Degenkolb would be Rüdiger Selig or Gerald Ciolek... but how's about this for a finishing straight?