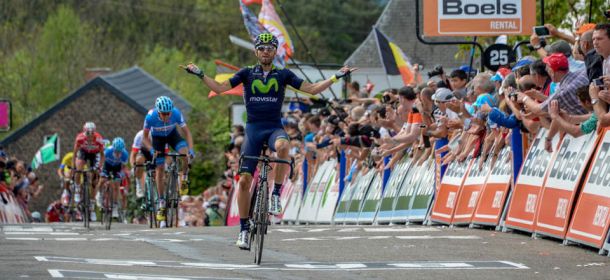 A race many love to hate but which is dear to my heart. I know it's only 5-10 minutes of action but the finale up the Mur de Huy is one of my favorite cycling moments of the year. I'd actually be really disappointed if by some miracle someone took the win from a break. On the other hand, something like Betancur almost pulled off in 2013 would be exciting. What an effort he made! I wish Alberto had given Flèche another shot. He came so close to pulling off the win but Cadel rode a much smarter race having had more experience with the Mur.
And the Mur. 1.3k at 9.6% with a max over 20%.
Startlist:

AG2R LA MONDIALE
BAKELANTS Jan Belgium
CHEREL Mickaël France
GASTAUER Ben Luxembourg
GAUTIER Cyril France
LATOUR Pierre-Roger France
MINARD Sébastien France
MONTAGUTI Matteo Italy
RIBLON Christophe France

ASTANA PRO TEAM
CATALDO Dario Italy
GRIVKO Andriy Ukraine
LUTSENKO Alexey Kazahkstan
ROSA Diego Italy
SANCHEZ GIL Luis Leon Spain
SMUKULIS Gatis Latvia
ZEITS Andrey Kazahkstan

BMC RACING TEAM
DE MARCHI Alessandro Italy
DILLIER Silvan Switzerland
GILBERT Philippe Belgium
HERMANS Ben Belgium
KUENG Stefan Switzerland
SANCHEZ GONZALEZ Samuel Spain
TEUNS Dylan Belgium
VLIEGEN Loïc Belgium
CANNONDALE PRO CYCLING TEAM
BROWN Nathan United States
CLARKE Simon Australia
CRADDOCK Lawson United States
HOWES Alex United States
KING Benjamin United States
SKUJINS Toms Latvia
SLAGTER Tom Jelte Netherlands
WOODS Michael Canada
COFIDIS, SOLUTIONS CRÉDITS
EDET Nicolas France
HARDY Romain France
JEANNESSON Arnold France
MATE MARDONES Luis Angel Spain
MOLARD Rudy France
NAVARRO GARCIA Daniel Spain
SIMON Julien France
TURGIS Anthony France
DELKO MARSEILLE PROVENCE KTM
COMBAUD Romain France
DI GREGORIO Rémy France
DIAZ Daniel Argentina
DUQUE Leonardo Colombia
EL FARES Julien France
FERNANDEZ CRUZ Delio Spain
MARTINEZ Yannick France
PACHER Quentin France

DIMENSION DATA
ANTON HERNANDEZ Igor Basque Country
BERHANE TEWELDEMEDHIN Natnael Eritrea
CUMMINGS Stephen United Kingdom
FRAILE MATARRANZ Omar Basque Country
PAUWELS Serge Belgium
REGUIGUI Youcef Algeria
TEKLEHAYMANOT Daniel Eritrea
VENTER Jacobus South Africa

ETIXX - QUICK STEP
ALAPHILIPPE Julian France
BRAMBILLA Gianluca Italy
DE LA CRUZ MELGAREJO David Spain
DE PLUS Laurens Belgium
JUNGELS Bob Luxembourg
MARTIN Daniel Ireland
SERRY Pieter Belgium
VAKOC Petr Czech Republic

FDJ
BONNET William France
EIKING Odd Christian Norway
PICHON Laurent France
REZA Kevin France
ROUX Anthony France
ROY Jérémy France
VAUGRENARD Benoît France
VICHOT Arthur France

FORTUNEO-VITAL CONCEPT
BRUN Frédéric France
DELAPLACE Anthony France
FEILLU Brice France
FONSECA Armindo France
LEDANOIS Kevin France
LOUBET Julien France
SØRENSEN Chris Anker Denmark
VACHON Florian France
IAM CYCLING
CHEVRIER Clement France
DENIFL Stefan Austria
DEVENYNS Dries Belgium
LAENGEN Vegard Stake Norway
PANTANO GOMEZ Jarlinson Colombia
WARBASSE Larry United States
WYSS Marcel Switzerland
ZAUGG Oliver Switzerland
LAMPRE - MERIDA
BONO Matteo Italy
CONTI Valerio Italy
FARIA DA COSTA Mario Jorge Portugal
FARIA DA COSTA Rui Alberto Portugal
MEINTJES Louis South Africa
MORI Manuele Italy
POLANC Jan Slovenia
ULISSI Diego Italy
LOTTO - SOUDAL
ARMEE Sander Belgium
DE CLERCQ Bart Belgium
DE GENDT Thomas Belgium
GALLOPIN Tony France
MARCZYNSKI Tomasz Poland
VAN DER SANDE Tosh Belgium
VANENDERT Jelle Belgium
WELLENS Tim Belgium

MOVISTAR TEAM
BETANCUR GOMEZ Carlos Alberto Colombia
ERVITI Imanol Spain
FERNANDEZ ANDUJAR Rubén Spain
IZAGUIRRE INSAUSTI Jon Basque Country
MORENO FERNANDEZ Daniel Spain
SUTHERLAND Rory Australia
VALVERDE BELMONTE Alejandro Spain
VISCONTI Giovanni Italy

ORICA GREENEDGE
ALBASINI Michael Switzerland
HAIG Jack Australia
HAYMAN Mathew Australia
JUUL JENSEN Christopher Denmark
KEUKELEIRE Jens Belgium
MATTHEWS Michael Australia
MEIER Christian Canada
YATES Adam United Kingdom

ROOMPOT ORANJE PELOTON
DE MAAR Marc Netherlands Antilles
DUYN Huub Netherlands
HOOGERLAND Johnny Netherlands
KREDER Michel Netherlands
LAMMERTINK Maurits Netherlands
TOLHOEK Antwan Netherlands
VAN DER LIJKE Nick Netherlands
WEENING Pieter Netherlands

STÖLTING SERVICE GROUP
GERDEMANN Linus Germany
HANSEN Lasse Norman Denmark
KIRSCH Alex Luxembourg
LEMARCHAND Romain France
MAGER Christian Germany
PEDERSEN Mads Denmark
REIHS Michael Denmark
WEGMANN Fabian Germany

TEAM GIANT-ALPECIN
BARGUIL Warren France
FAIRLY Caleb United States
FROHLINGER Johannes Germany
GESCHKE Simon Germany
HAGA Chad United States
LUDVIGSSON Fredrik Sweden
OOMEN Sam Netherlands
PREIDLER Georg Austria
TEAM KATUSHA

BYSTROM Sven Erik Norway
CHERNETSKY Sergey Russia
LOSADA ALGUACIL Alberto Spain
MACHADO Tiago Portugal
RODRIGUEZ OLIVER Joaquin Spain
TSATEVITCH Alexey Russia
VAN DEN BROECK Jurgen Belgium
VICIOSO ARCOS Angel Spain

TEAM LOTTO NL - JUMBO
BATTAGLIN Enrico Italy
BOUWMAN Koen Netherlands
CAMPENAERTS Victor Belgium
GESINK Robert Netherlands
KELDERMAN Wilco Netherlands
LINDEMAN Bertjan Netherlands
MARTENS Paul Germany
VERMEULEN Alexey United States

TEAM SKY
GOLAS Michal Poland
HENAO GOMEZ Sebastian Colombia
HENAO MONTOYA Sergio Colombia
NORDHAUG Lars Petter Norway
POELS Wouter Netherlands
PUCCIO Salvatore Italy
SWIFT Ben United Kingdom
VAN POPPEL Danny Netherlands

TINKOFF TEAM
BRUTT Pavel Russia
KISERLOVSKI Robert Croatia
KREUZIGER Roman Czech Republic
PETROV Evgeni Russia
POLJANSKI Pawel Poland
ROVNY Ivan Russia
TROFIMOV Yury Russia
VALGREN ANDERSEN Michael Denmark

TOPSPORT VLAANDEREN - BALOISE
DE TIER Floris Belgium
DECLERCQ Tim Belgium
HELVEN Sander Belgium
LIETAER Eliot Belgium
VAN GESTEL Dries Belgium
VAN HECKE Preben Belgium
VANSPEYBROUCK Pieter Belgium
VERGAERDE Otto Belgium

TREK FACTORY RACING
BEPPU Fumiyuki Japan
BONIFAZIO Niccolo Italy
DIDIER Laurent Luxembourg
HESJEDAL Ryder Canada
REIJNEN Kiel United States
SCHLECK Frank Luxembourg
STETINA Peter United States
ZUBELDIA AGIRRE Haimar Basque Country

WANTY – GROUPE GOBERT
BAUGNIES Jérôme Belgium
BILLE Gaetan Belgium
DRON Boris Belgium
GASPAROTTO Enrico Italy
MARTIN Guillaume France
MINNAARD Marco Netherlands
THURAU Bjorn Germany
VAN MELSEN Kevin Belgium
I know this is from the Tour stage up the Mur but I love this one:
Past Winners:
2015 VALVERDE Alejandro
2014 VALVERDE Alejandro
2013 MORENO Daniel
2012 RODRíGUEZ Joaquim
2011 GILBERT Philippe
2010 EVANS Cadel
2009 REBELLIN Davide
2008 KIRCHEN Kim
2007 REBELLIN Davide
2006 VALVERDE Alejandro

2015 Results:
1.VALVERDE Alejandro
2.ALAPHILIPPE Julian
3.ALBASINI Michael
4.RODRíGUEZ Joaquim
5.MORENO Daniel
6.VUILLERMOZ Alexis
7.HENAO Sergio Luis
8.FUGLSANG Jakob
9.SLAGTER Tom-Jelte
10.KELDERMAN Wilco
Some favorites:
Valverde - as always, but is he coming in a bit undercooked this year?
Henao - eventually he'll get a big win somewhere, right?
Purito - not sure where his form is
Alaphilippe - seems to peaking at about the right time
Martin - can he finally position himself well rather than having to make up so much ground?
Gilbert - I don't see it. Injury has set him back
Albasini - Often good here
Moreno - in front group at Amstel - coming into form?
Gasparotto - obviously in good form but never really performs here
SSanchez - going well, but his chance of winning this is probably past him
Ulissi - will he ever podium one of the Ardennes races?
Kelderman - 10th last year and in decent form
Others:
Poels, Wellens, Slagter, Vakoc, Costa, Yates, Gallopin, Vanendert...I'm sure I'm leaving out some guys. Valgren looked super strong at AGR but has he ever even finished this race?

I'll go:
*****Valverde, Henao
****Purito, Alaphilippe, Martin
***Moreno, SSanchez
**Albasini, Gasparotto, Ulissi
*Gilbert, Kelderman, Poels, Slagter, Yates, Vakoc, Valgren