2019 Critérium du Dauphiné stage 5 Boën-sur-Lignon - Voiron 201 km
The 5th stage of the Critérium du Dauphiné is likely to see a sprint finish in Voiron. The 201 kilometres race is played out on rolling roads before the last 60 kilometres are predominantly flat.
The sprinters will have a second day to themselves on the fifth day of action. The route includes four intermediate climbs at shallow gradients in the first 111 kilometres before the race continues on the flat to a downhill with approximately 10 kilometres remaining. The last 3 kilometres run false flat uphill.
Start 11.35 CET TV from 15.00 CET
(Weather forecast for warm sunny weather but a strong southerly wind, so if you like echelons, today might be your lucky day)
Profile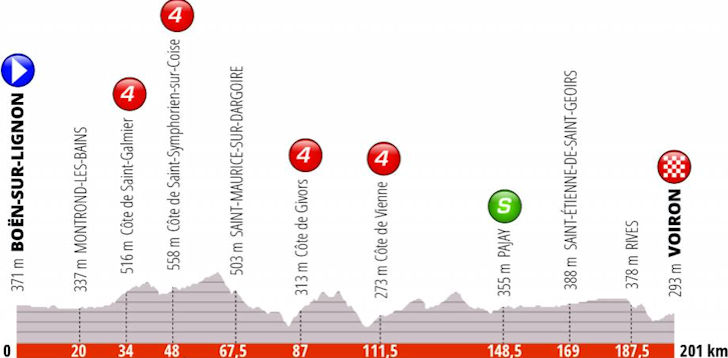 map