Another six stages in the book with six more to go in this Vuelta. a flat, 2 mountain top finishes, 1 hilly stage, a medium mountain stage with a top finish, and the final timetrail to go in a race that has all of the classifications in contention.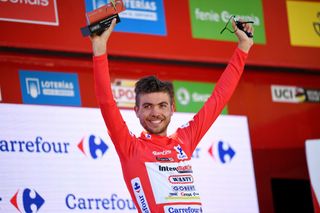 Odd Christian Eiking
has been leading the general classification the last six days. Odds are he will drop the lead and finish in bottom of the top 10. but miracles can happen. The fight between Roglic and Mas has been close with TJV resurgence since the first stages. Movistar has been racked with injury but have a powerful one-two punch in Mas and Movistar. Bernal and A. Yates can still make a splash with Bernal riding better and Ineos able to cause trouble.
General Classification after stage 15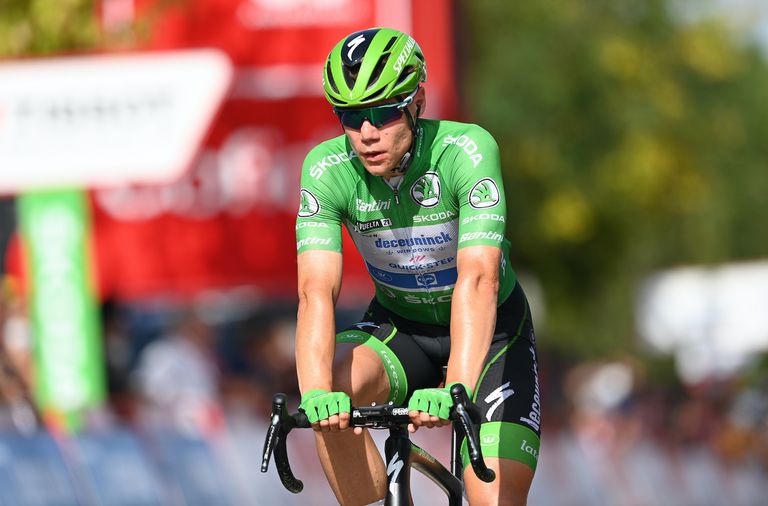 Fabio Jakobsen's return to Grand Tour racing has started with success and he has a huge lead in the points classification. Tomorrow is the last stage he will be able to gain a lot of points over the others if the break doesn't take it. It will be a huge comeback to win 3 stages and the points classification on his return. Roglic should be his only competitor but might only have 4 stages he can gain points on Jakobsen. The issue being Roglic can win all of those stages with luck. We could be seeing a 2012 Giro repeat when Rodriquez barely beat Cavendish for the jersey.
Points Classification after stage 15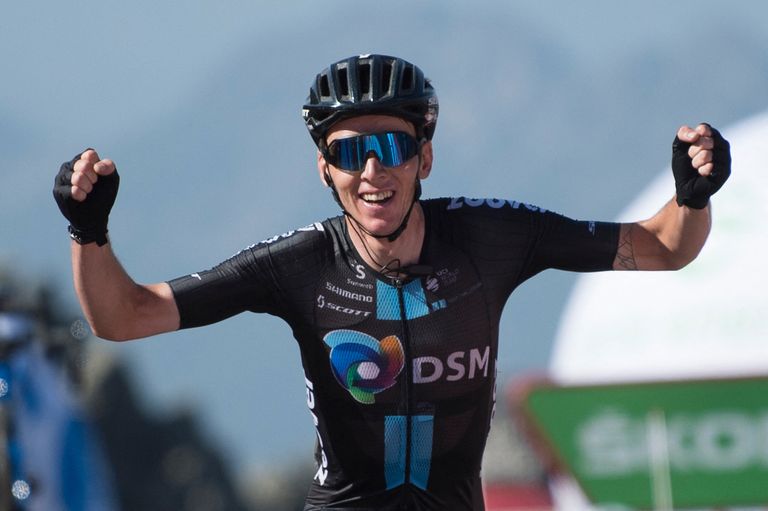 Romain Bardet has come in clutch to secure a 19 point lead with Caruso not attempting to get any points yesterday. This should come down to the wire between Bardet, Caruso, and Majka with Roglic and others too far back unless they get points on every climb. All odds look to Bardet winning his second King of the Mountains.
King of the Mountains after stage 15
Unless a blowup happens, Egan Bernal looks set to win his third Youth Classification and be the first to do it in every Grand Tour. Vlasov is the only one that can pass Bernal but he has not been up to his Giro form.
Youth Classification after stage 15
The team classification has flipped on it's head with Ineos going in the breakaway. They should be able to win the classification and what would be there fourth team classification win.
Team Classification after stage 15
Combativity
Award
Stage 2 Diego Rubio Burgos BH
Stage 3 Julen Amezqueta Caja Rural-Seguros RGA
Stage 4 Angel Madrazo Burgos BH
Stage 5 Oier Lazkano Caja Rural-Seguros RGA
Stage 6 Joan Bou Euskaltel Euskadi
Stage 7 Michael Storer Team DSM
Stage 8 Aritz Bagues Caja Rural-Seguros RGA
Stage 9 Julen Amezqueta Caja Rural-Seguros RGA
Stage 10 Matteo Trentin Uae Team Emirates
Stage 11 Jonathan Lastra Caja Rural-Seguros RGA
Stage 12 Julen Amezqueta Caja Rural-Seguros RGA
Stage 13 Aivaro Cuadros Caja Rural-Seguros RGA
Stage 14 Daniel Navarro Burgos BH
Stage 15 Radal Majka Uae Team Emirates
Caja has been running away with this competition and should continue to do so the remaining stages.
Last edited: