From
@Eshnar
's excellent 2023 Giro d'Italia: Stage-by-stage Analysis thread:
https://forum.cyclingnews.com/threads/2023-giro-ditalia-stage-by-stage-analysis.38851/#post-2828615
Stage 4: Venosa – Lago Laceno 175 km
Tuesday, May 9th, 12:30 – 17:10 CEST
Technical Overview:
The stage starts in Venosa and provides tough terrain right off the bat, with two uncategorized climbs of 3 km at 7% and 5 km at 4% before a quick descent brings everyone to the first categorized climb of the day, Passo delle Crocelle (GPM2, 13.6 km at 4.3%). This is a long ascent without steep ramps, so it will only be good for warming up and perhaps to determine the composition of the breakaway, if it has not gone already. It is followed by a long descent on wide roads and a very short flat section before the next climb, which includes the intermediate sprint of Muro Lucano. Valico di Monte Carruozzo (GPM2, 19.9 km at 3.8%) is a somewhat tougher climb than the previous one, but still nothing more than a warm up compared to what is to come. Plus, its top is still at 65 km to go. The following descent is very straightforward, with only a short twisty section near the end, and it brings to an ascending false flat 25 km long. Finally, at 12.5 km to go, after a short descent and the intermediate sprint of Montella, the final climb and main dish of the day starts. Colle Molella (GPM2, 9.6 km at 6.2%) is the first GC-grade climb of this Giro, with its 3 km section at over 9% near the top which might see the first real attacks of this edition. The top is at 3 km to go, basically all false flat until the finish in Lago Laceno.
The Climbs:

Passo delle Crocelle
: GPM2, 13.6 km at 4.3%
Its average gradient is reduced by two short flat sections, but even so, it rarely goes over 6%. At least I think. The profiles I could find are all over the place.
Valico di Monte Carruozzo
: GPM2, 19.9 km at 3.8%
Just like the previous one, the average gradient does not say much. The initial ramp of Muro Lucano can get a bit steeper, but not by much.
Colle Molella
: GPM2, 9.6 km at 6.2%
It is basically one steep 3 km ramp preceded by very gentle slopes. It did not do a lot of damage last time they finished right after it, in 2012, but that Giro is best forgotten. In 1998 instead, it was a great ascent.
What to Expect:
A big selection, if not proper attacks by GC favourites. Last time the Giro came here we have not been lucky to say the least, but even then it showed attacks can stick here. GC contenders will need to be on their toes.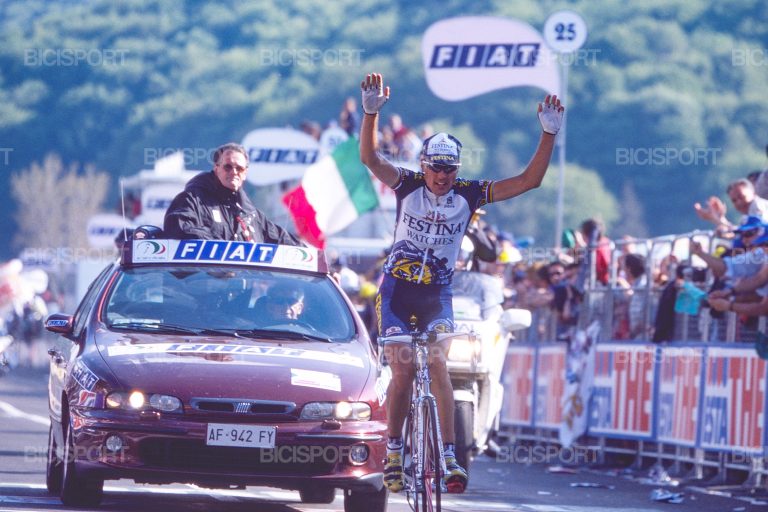 Alex Zülle winning solo in Lago Laceno, Giro 1998