It's a very busy week with four stage races going on at the same time, but this still deserves attention.
Startlist
Stage 1: Cazouls-lès-Béziers - Lacaune-les-Bains, 156.5k
The kind of Massif Central stage that isn't hard enough for the climbers. Maybe FDJ will try to control this for Démare; if not, we may get a scenario like 2017 where the breakaway gets handed a lot of time and it ends up deciding the GC.
Col de Fontfroide:
Final 15k, not the most sprinter-friendly but also not steep:
Stage 2: Villefranche-de-Rouergue - Auch, 198.7k
The flattest stage of the bunch. However, the final kilometer features quite a few tight curves with the final 600 meters at roughly 6%, including a section of 140 meters at 10% that comes from 400 until 260 meters to go. I believe it's a repeat of
this stage in the 2015 edition
, won by Steven Tronet.
Stage 3: Pierrefitte-Nestalas - Le Mourtis, 191.8k
Queen stage that's all about the easier (but still pretty difficult) side of Mourtis (which is basically Col de Menté with an extra ramp at the end). The GC battle won't end here, though.
Col du Tourmalet:
Côte de Mauvezin: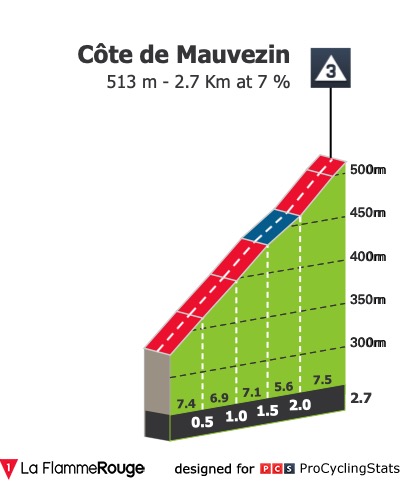 Col de Larrieu (final 3.4k only):
Le Mourtis:
Stage 4: Lavelanet - Pays d'Olmes - Duilhac-sous-Peyrepertuse, 151.2k
Unusually for this race, the final stage is also an MTF. The only downside is that it's a garage ramp.
Col de Montségur:
Col du Linas:
Grau de Maury sous Quéribus:
Château de Peyrepertuse (minus the final dark red ramp):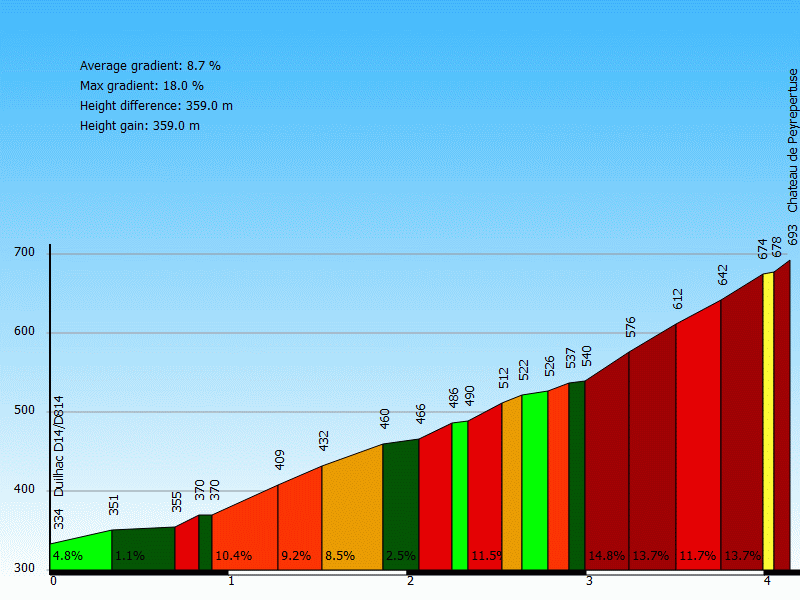 Last edited: