Of course there must be a deadline right now. I could wait untill there would be more space, but i'll have a rather crazy next week (lots of work). New Zeland... afair you can find a bunch of tough muros there, while rarely being explored (Australia is more popular). It seems there are allready the likes of "6.1 Km at 10.2%". Good luck.
Maybe it's just me, as for me presenting a course is by far the worst part of stage/race design. Also, sorry in advance if i'm copying someone's idea. I prefered not to check it up. I'll do it after i'll post this one. BTW, this is not a realistic option, it's just me having fun.
I did check out the Basque country outside of nice, punchy climbs with sometimes >20% slopes. I guess for cycling the country is very good, but... i guess it's one of the european office and transport centers, hence the heavy traffic and large amount of truck depos. The road system also could be better, as there are some instances, where i almost was (while Clasica San Sebastian is) forced to use a motorway, but managed to find some smaller bypasses.
Outside of cycling i didn't find anything interesting. It's one of the blandest and most boring regions of Spain. Everything is heavily forested, so there's lack of interesting visuals. The towns are relatively modern and heavily industrialized. It's just not for me. I definitely prefer the likes of La Serena or Serranía de Cuenca in central Spain or Las Alpujarras south of Sierra Nevada. The only place i really had fun is the coast. Donostia is a really picturesque place and the roads on the coast can be very beautiful.
Basque coast near Bermeo.
Gaztelugatxe Islet near Bermeo.
I wonder, what if Vuelta País Vasco was just a one-day race, monument status, competing with the likes of Liege-Bastogne-Liege or Flanders. Also, it could be an alternative to Clasica San Sebastian, as it partialy uses it's route. I think i failed the challenge, as this race seems to be more comparable with Giro di Lombardia. I've managed to pack roughly 5000m of climbing in roughly 210km. That's high mountain status, even if the highest point of the race is 789m.
Placing of this classic should be vital, as April-May tends to be quite rainy, while August (Clasica San Sebastian) seems to be more dry. Many section in this race are quite narrow and twisty, and in rain in some places they can be borderline unusable. I guess Nibalis, Sagans and Bardets of peloton would be happy.
Because the main interest i have with the country is in cycling department, i tried to commemorate as many Basque cyclists as i could remember – mainly birth places. I'm a young lad, so guys like Joseba Beloki or Igor González de Galdeano are a bit out of my range. Libertine would definitely do a better job of it.
Sorry in advance for my poor basque, i'm absolutely alien to this language.
País Vasco Klasika, Donostia-San Sebastián – Vitoria-Gasteiz, 247,7km, ~5300m uphill.
https://www.la-flamme-rouge.eu/maps/viewtrack/hd/147536
Start
: Donostia, Hernani Kalea, Alderdi Eder
Km 0
: Donostia, Oriamendi Pasealekua, 5,1km from the start
Finish
: Gasteiz, Gasteiz Hiribidea, 500m straight
Feed zone
: Etxeberria, BI-2636
Start – km 0
:
Hernani Kalea – Andia Kalea – Urbieta Kalea – San Bartolome Kalea – Aldapeta Galtzada – Aiete Pasealekua – Oriamendi Pasealekua
Climbs
:
Alkiza Gaina
– 4km, 6,5%, 2 cat.
Elosua Mendatea
– 7km, 7,7%, 1 cat.
Azurki Mendatea (Izarraitz)
– 5,4km, 8,2%, max 20%, 1 cat.
San Migeleko Mendatea
– 5km, 6%, 3 cat.
Gauntzegarai Gaina – 3,7km, 5,6%, 3 cat.
Oiz Gaina
– 6,1km, 9,7%, max 25%, 1 cat.
Arrate Gaina
– 5km, 9,6%, max 22%, 1 cat.
Karabieta Mendatea
– 6,7km, 6,5%, 2 cat.
Untzilla Gaina
– 2,4km, 8,5%, 3 cat.
Gatzaga Gaina
– 2,8km, 9,4%, max 20%, 2 cat.
Hormigón
:
Bekoetxeberri – 800m
Izarraitz (Azurki Mendatea) – 2km
Garai – 10,7km
(Arrate – 2,6km)?
País Vasco Klasika
(i hope the spelling is okay) uses mainly the Gipuzkoa region and only partly Bizkaia (116-157km) and partly Araba (last 20km). It combines the ideas of Clasica San Sebastian and stage 20 from Vuelta 2011.

Vuelta 2011 Stage 20.
The design is similar to that particular stage, but the last flat portion in the vast plateau of Arabako Lautada (Llanada Alavesa) is much shorter and slightly trickier. Also, the stage is much tougher with some hormigón and 20% features. I guess such design could work as a last mountain/medium-mountain GT stage, but i think it's mainly created for one-day racing, where nobody holds down and the last flat 20km have lesser impact. It should also force longer range attacks, as the toughest part ends 55km from the finish line.
The start is in
Donostia
(Spanish: San Sebastián) on Hernani Kalea near Alderdi Eder park and Donostiako Udala, former casino from 1887. Riders will then go close to 1897's Artzain Onaren Katedrala and then on an isolated Aiete Pasealekua and Oriamendi Pasealekua to km 0 near Hernani, 5,1km from the start. Who is from Donostia? José Luis Arrieta is a well known name. I also recognize Pello Ruiz-Cabestany, who was a fine rider in the 80's.
Start in Donostia-San Sebastián.
Overview of Donostia-San Sebastián.
Donostiako Udala.
The voyage in the Oria valley is very tricky, mainly because of a dodgy road system, which forces to use the A-1 motorway, but i've managed to find some alternatives. The race passes through Hernani, Andoain and Villabona before the first categorised climb of the day – Alkiza Gaina.
This race has also a secondary climbing competition similar to Tour de France and Vuelta. Here used are cat. from 3 to 1. The first climb –
Alkiza Gaina
(Alto de Alkiza) is a borderline cat. 3/2. It's
4km
at a stable
6,5%
. The climb (in reverse) is known from Clasica San Sebastian. Some of the roads on this race can be narrow and twisty. This climb is not that bad as the road up and down is roughly 1,5-lane wide.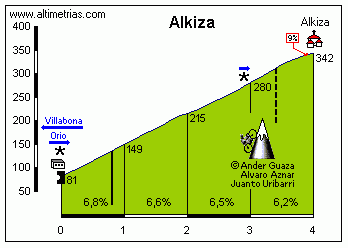 Profile of Alkiza Gaina.
Roughly 10km before Alkiza is a small hormigón section, just to get used to it and to limit the usage of the A-1 motorway. The road is obviously narrow and at some parts very steep with 400m at 10% and a 100m short and straight, but very steep descent on Lugar Barrio Sorabilla to Bekoetxeberri.
Hormigón section in Bekoetxeberri, near Andoain.
From the top of Alkiza the descent goes to Anoeta, home of Abraham Olano. The race then goes alongside in the Oria valley to nearby
Tolosa
, home to a well known football player Xabi Alonso.
Tolosa.
From Tolosa the race one again leaves Oria valley just to bypass another use of the said motorway. It will result in a small climb to
Sasiain
(Amategi Aldea, GI-3620) from GI-2135 in the Araxes valley (tributary of Oria). It's a slightly narrower, but fine quality road in the woods. It's short but quite steep with
1,3km
at roughly
7,7%
. The descent to Alegia is on a similar road.
From Alegia there's finally a parallel road to the motorway. The next roughly 25km are flat as the race continues in the Oria valley passing through the communities of Lazkao (Joseba Beloki), Ordizia – home to completely unknown to me but very rich and historic
Ordiziako Klasika
(Vandenbroucke, Jalabert, Lefevre, Otxoa, Olano, Lejarreta, Vicente López Carril, Valverde, Purito, Cardenas, Karpets, Gorka Izagirre, Madrazo, Miguel María Lasa, Teklehaymanot and even Simon Yates) before reaching the town of Beasain.
Beasain.
In
Beasain
the race leaves Oria for GI-2632 to Zumarraga going through Ormaiztegi – home to the Izagirre bros. The road also starts to go uphill, but it's nothing serious.
Zumárraga
is home to Aitor González – winner of 2002 Vuelta. It was the same edition, which saw the kaboom of Oscar Sevilla and Heras ripping apart Angliru.
Zumarraga.
From Zumarraga the road continues to go slightly uphill to
Deskarga Mendatea
(Puerto de Deskarga) on GI-632. The descent to Bergara is quite steep, but on a wide road with some nice views of the more rural side of the Basque country.
Bergara
is one of the older settlements in basque interior, being founded in XIII c. It was a trade centre controlling one of the trade routes between the Bay of Biscay and Castilla. It was also a science centre. Here Fausto de Elhuyar in 1780 discovered wolfram (tungsten).
Bergara.
From Bergara, 76km from the start and over 170km from the finish line starts the first tough part of the race. The first cat. 1 climb of the day is
Elosua (Elosu) Mendatea
(Puerto de Elosua), the 2nd highest peak of the day at 682m. It's quite serious with
7km
at a regular
7,7%
(max 11%). It was featured in Vuelta 2011 as the 2nd climb of the day (after Karabieta). The road (GI-3750) is wide and in good condition. The road is mostly forested, but there is some open space near the top. The descent to Azkoitia is wide, but quite tricky.
Azkoitia
is where Saint Ignatius of Loyola (Ignazio Loiolakoa) comes from. He's the founder of Jesuits.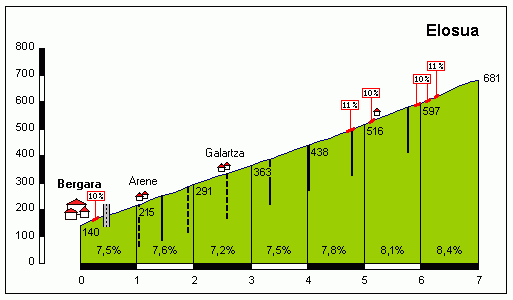 Profile of Elosua Mendatea.
Loiolako Santutegia (Santuario de Loyola), Azkoitia.
From Azkoitia there's no catching breath as the next cat. 1 climb starts right away. It's up to
Azurki Mendatea
(Puerto de Azurki) over Azkarate Mendatea (Puerto de Azkarate), or more exact, a place called
Izarraitz
near the puerto. After a short section on wide and nice GI-2634 to Elgoibar riders will turn into a smaller road to the village of Olaso. The first part is on a ridge with some fine views, but soon the road disappears in the neverending forest. The road to the village, while narrower, is in fine condition. The interesting bit starts after the village, where the surface changes into
hormigón
and the climb toughens up significantly.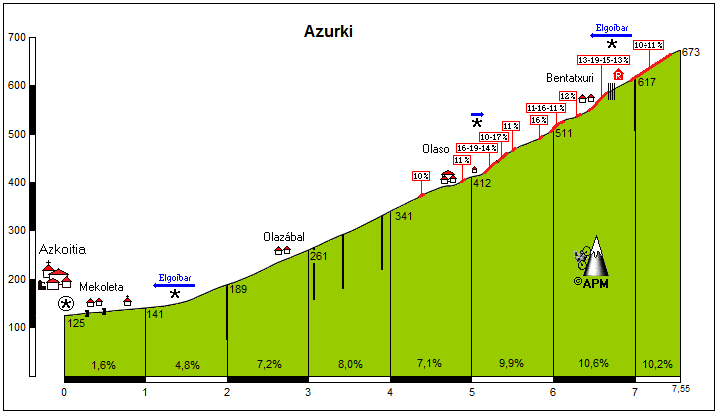 Azurki Mendatea. The climb ends on the Elgoibar sign.
The first roughly 4km to Olaso are already quite steep with roughly 6,5% (max 10%). The last
2km
from the village are much more menacing with roughly
9,5%
, plenty of over 10% sections and small parts of
19-20%
. As you can see below, the hormigón is also not in the best of conditions, which can add up to the challenge. The summit is over 145km from the finish line, so i don't expect any attacks, but the peloton may heavily diminish and if someone big is caught up behind (the road is narrow), then the pace could be picked up on the long and technical (but this time much wider) descent to Elgoibar. I assume there will be only motos with spare wheels on the climb as the road is too narrow for cars.
Hormigón on Azurki Mendatea.
Elgoibar.
I guess the combination of Elosua and Azurki could create a fine Pais Vasco stage finishing in
Elgoibar
, as the town should be big enough to maybe even host a Vuelta finish. From Elgoibar, which lies in the 2nd of the big basque valleys – Deba valley, the race calmes down a bit, as the next climb –
San Migeleko Mendatea
(Puerto de San Miguel) on GI-2636 from Elgoibar to Markina-Xemein is not that hard –
5km
at
6%
is just cat. 3. The top is 130km from the finish line.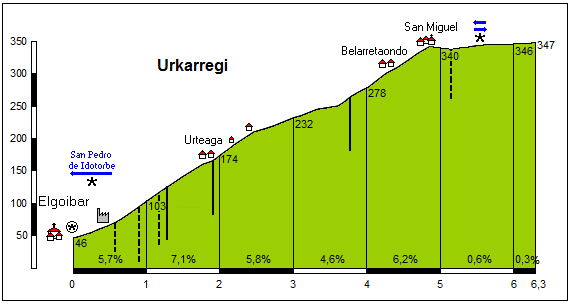 Profile of San Migeleko Mendatea.
The descent leads to Etxebarria, home of Amets Txurruka. In Etxebarria is the feed zone. Roughly 3km from Etxebarria is the town of
Markina-Xemein
in the Artibai valley, which is on the border of Gipuzkoa and Bizkaia provinces. After a small flat section in the valley another climb –
Gauntzegarai (Gontzegarai) Gaina
(Alto de Gauntzegarai) starts. It's easy with
3,7km
at
5,6%
on a nice, wide road. The pace however should be quite high, as just after the descent to Gerrikaitz one of the crucial parts of the race starts.
Markina-Xemein.
In Gerrikaitz riders turn into BI-3231 to
Bizkaiko Begiratokia
(Balcón de Bizkaia), home to a rally event. It's
3,3km
at roughly
6,5%
, nothing special. Before the mirador however riders leave the nice and wide road for another narrow section on
hormigón
entering the toughest part of the entire race.
The last
3km
to Oiz from Bizkaiko Begiratokia are at roughly
12,5%
with many, many places over 15% and some section reaching as far as
25%
. The road at first is in a forest, but soon it opens up to finally some breathtaking views. I think these 3km should be hard enough to break the peloton, and considering there was a lot of climbing allready, maybe someone will try to push for luck and go for a testing attack – RVV style, but there's still 105km to the finish.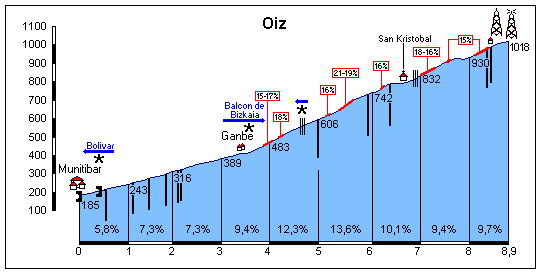 Oiz Gaina. The last part from the Durango/San Kristobal sign is not ridden.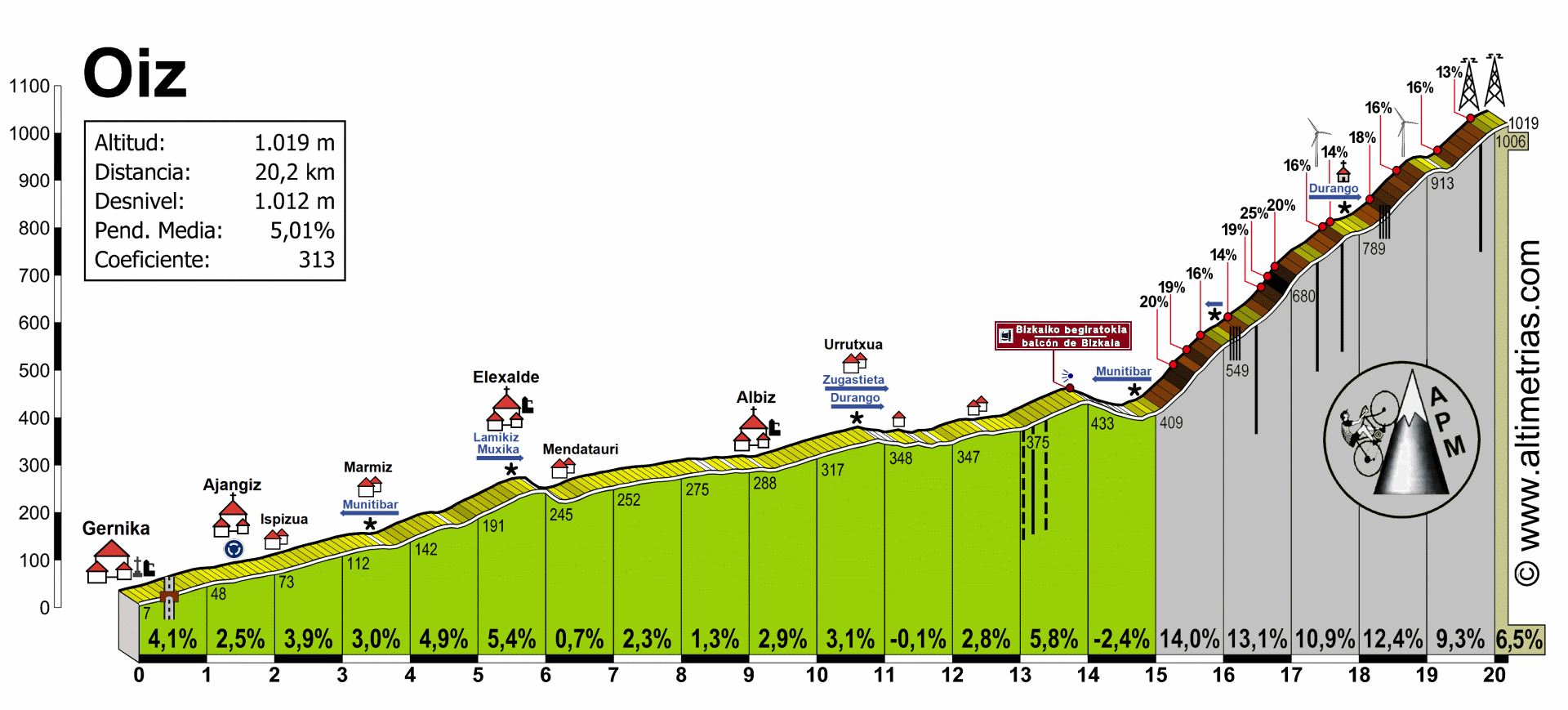 Alternative profile of Oiz.
Surface on Oiz Gaina.
At the top of
Oiz Gaina
(Alto de Oiz) there are a small chapel Ermita San Kristobal, a mirador Astoagana and a major wind power station with 9-10 wind turbines and a large antenna. It's one of the higher summits in the area standing at 1026 m. In the middle ages it was an important administrative place, where the Bizkaiko Jaurerria (Lordship of Biscay) was gathering. It's also home to some religious myths (a pagan summit?).
Views from the top.
Wind power plant on top of Oiz.
The descent from Oiz is very interesting, as the majority of it continues on hormigón. It's however much flatter with 8km at 5% (max 11%) and not really that technical. The turns also seems to have a buffer zone for wider lanes. The descent leads to a small hamlet of Goierri, where riders will take left into a wide BI-3341 to Garai and then Gerediaga on the eastern edge of Durango.
Descent from Oiz.
Durango
, in the Ibaizabal valley between Oiz and Urkiola is one of the older cities in the Basque interior, being founded in XI c. It's the capital of Durangaldea comarca. In the middle ages it was the capital of Bizkaia province. Because of cholera epidemics and various wars with France in XVIII c. the town was heavily damaged. In 1937 it was the first place in the world to be attacked by the Luftwaffe. It should be big enough to host a Pais Vasco (Vuelta?) finish, potentially after Oiz.
Durango.
From Durango the race goes first via BI-633 to Berriz (birthplace of Marino Lejarreta) and then on N-634 through Zaldibar (Rubén Pérez) and Ermua (Igor Astarloa) to Eibar... or rather underneath the city taking a bunch of tunnels to an Azitain truck depo, where the race will leave the main N-634 for a smaller Azitaingo Industrialdea road through various offices to start the next climb of the day. From the bottom of Oiz to Azitain are roughly 17km of a relatively flat road.
From Azitain riders will start a rather familiar ascent known from
Vuelta Pais Vasco
. After going through some offices riders will take a hidden, hormigón (?) backroad. I need to admit, that in 2016 i didn't saw any concrete, so maybe the road was recently resurfaced. Even, if the road is on a fresh surface, it doesn't change the
5km
at
9,6%
, with 2,5km at over 13% and max
22%
. It's also a quite irregular ascent, as the hard parts are mixed up with much easier ones. The time diffs in
2016
looked quite ok with top 10 inside 1:30 mark. I guess it should be a good time for a major selection with a 10-20 man group contesting for the overall win even, if the summit is 70km from the finish. The descent to Eibar, while on a wide road, is steep and quite technical.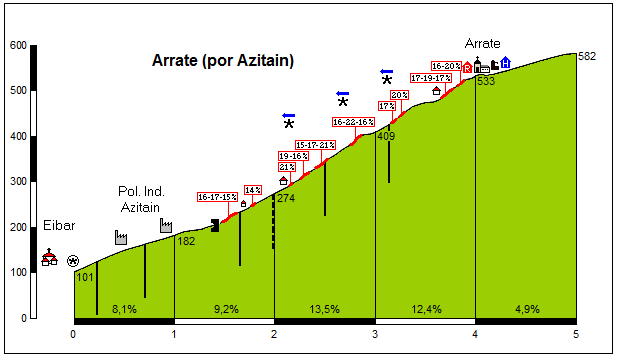 Profile of Arrate.
Road to Arrate in 2013.
Sanctuary on Arrate.
Eibar.
There's also an alternative variant to the climb, but it doesn't reach the top. It's
this
climb via Matsaria (Mandiola Balle Aldea). It's shorter than the side i've used (2km at roughly 15%) and has a similar max slope (22%) but overally it's much more constant compared to rather irregular option i've decided on. It also seems to have a smaller portion of hormigón, which maybe exists to this day. It should be a fine alternative.
On the descent riders will go over the tunnels on N-634 and reach the town of
Eibar
, roughly 60km from the finish. Arrate will be accentuated by
Karabieta Mendatea
(Puerto de Karabieta) on GI-2639 between Eibar and Mondragoe, which featured in 2011 Vuelta as the first climb of stage 20. it's a much more humble ascent with
6,7km
at a regular
6,5%
, making it cat. 2. The road is also much wider.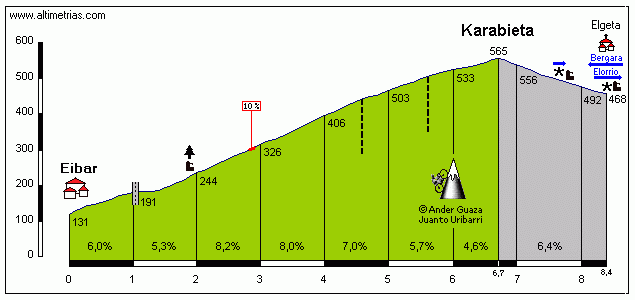 Profile of Karabieta.
After a short plateau the descent leads to
Mondragoe
(Mondragón) in the Bolibar valley (where riders will basically stay for the rest of the stage), at the border of Gipuzkoa and Araba provinces.
Mondragoe.
Rather than staying in Bolibar valley riders will take a short detour via A-2620 and then A-3920 via Gesalibar to reach next to last climb of the day –
Untzilla Gaina
(Alto de Untzilla). It's 20km from the top of Karabieta and 35km from the finish. It's quite steep with
2,4km
at
8,5%
, which is cat. 3. The descent has a very steep (max 15%) first km, but then is flattens out. The road is wide, but quite technical. The descent leads to Aretxabaleta, back to Bolibar valley. Next 7km in the valley, from Aretxabaleta to Leintz-Gatzaga (Salinas de Léniz) are flat.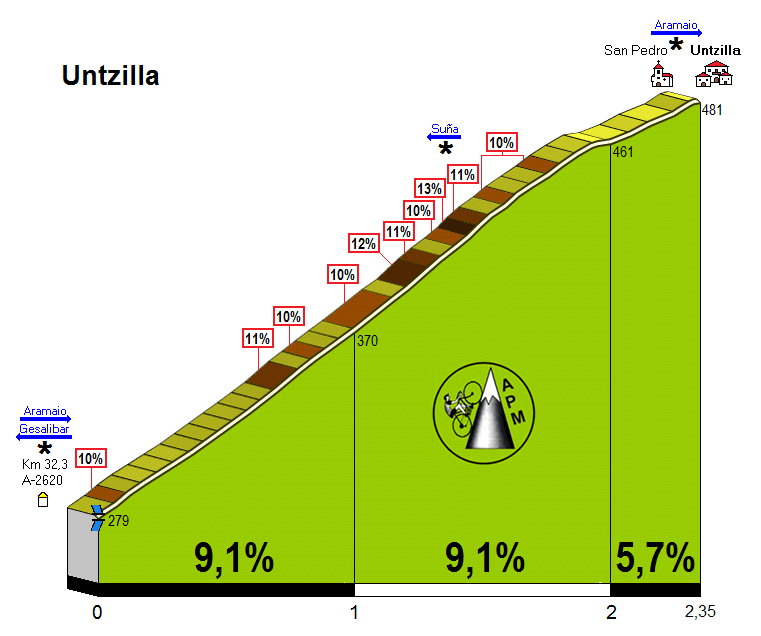 Profile of Untzilla Gaina.
Leintz-Gatzaga
was a major ancient salt mine closed in XIX c. It was also an important trade centre located on the "royal road" from the Bay of Biscay to Castille (Vitoria-Gasteiz road). The village still has a well preserved historical centre from XVI-XVII c.
Leintz-Gatzaga.
Just before the town, road (GI-3310) starts to rise significantly. First going around the village and then up to
Gatzaga Gaina
(Alto de Gatzaga) near Arlaban Mendatea (Puerto de Arlaban, GI-627). While the parallel ascent to Arlaban is much flatter with 7,5km at 4%, the Gatzaga side is
2,8km
at
9,4%
(max
20%
), which is not far away from Arrate or Oiz. There are also some fine views on the ascent, as the road is thankfully not that forested. The top is just over 20km from the finish line.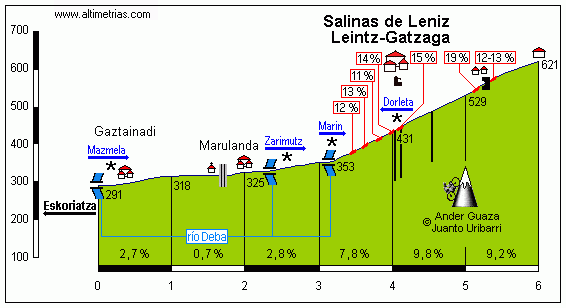 Profile of Gatzaga Gaina.
Views on the ascent to Gatzaga Gaina.
There's hardly any descent from Gatzaga, as the race enters very flat Arabako Lautada (Llanada Alavesa) plateau. Rather than use 11km straight N-240 like in 2011 Vuelta i've decided to use the parallel A-3002 road via Arroiabe – it's shorter and has only 7km of straight. The first roughly 9km from Landa (interesting name) to Arroiabe twist around the coast of
Uribarri Ganboako Urtegia
(Embalse de Ullíbarri-Gamboa).
Uribarri Ganboako Urtegia.
The vllage of Uribarri Ganboa.
With the first 9km of flat being technical i hope any potential attacks from Gatzaga or earlier will have a higher chance of surviving. From
Arroiabe
the road however straigthens out. 7km later riders will enter
Vitoria-Gasteiz
– capital of basque country, historical centre and 2nd biggest city in the region after Bilbao. The city is home to Koldo Fernández (a basque sprinter), Victor de la Parte and once major rider Igor González de Galdeano (overshadowed, like most of that generation, by Armstrong and Ullrich). The finish line is almost at the same place as in 2011, but the run-in is from the other side, so there's no need to go around the city, limiting potentialy more flat from Gatzaga.
Finish in Vitoria-Gasteiz.
Vitoria-Gasteiz.
I've changed the run-in from 2011 hoping a longer range try would have a better chance of succeding. The hardest part ends with Karabieta 55km from the finish. The last 22km are on flat, but i hope the first twisty 9km around the lake and the last summit (Gatzaga) much closer than Urkiola in 2011 will give a better chance for an attack to stay to the finish. Of course Urkiola is much closer to Oiz than Arrate (only 5km around Durango), but the flat run-in would be over 30km long, which isn't thrilling.
Because this post is already way too long, i'll stop here. Cheers.