Since this became official thread: Olympics road race 2016 Rio de Janeiro. Official route has apparently been shortened to 237.5km. Profile: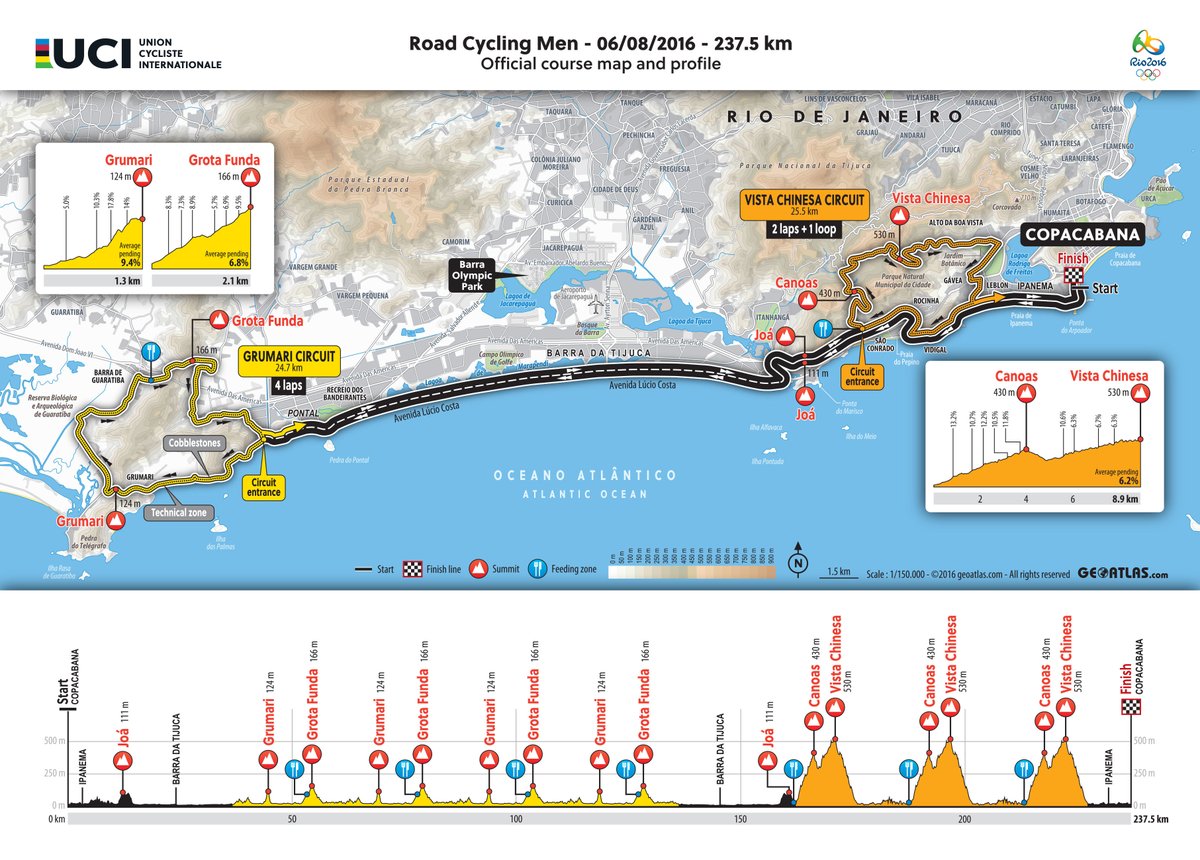 Climbs:
(1st circuit)
4x circuit of Grumari (1.3km; average grad 9.4%; max grad 24.1%)
and 4x Grota Funda (2.1km; average grad 6.8%; max grad 10.3%)
(2nd circuit)
3x circuit of Canoas Vista Chinesa (8.9km; average grad 6.2%; max grad 19.9%) but also includes a 1km decent.
6km relatively technical descent following third and last pass of Vista Chinesa, then 12.2km flat till the finish.
Start time: August 6th, local time 09:30, approximate finish time: 16:30.
Temperature in the high 20°Cs near the finish time, sunny and low wind.
Poll related: Who will win Olympics Road race in Rio? Included country with the main contenders from each. Previous Olympics have always delivered, even on much easier routes, with very small groups contesting the win. Very likely a lone finisher, and probably to be too hard for non-climbers.
Belgium (Gilbert, Wellens, GVA, Pauwels, De Plus)
Colombia (Henao, Uran, Chaves, Pantano, Lopez)
France (Alaphillipe, Bardet, Barguil, Vuillermoz)
Great Britain (Froome, Thomas, Adam Yates, Cummings, Stannard)
Ireland (Dan Martin, Roche)
Italy (Nibali, Aru, Rosa, Caruso, De Marchi)
Netherlands (Poels, Mollema, Dumoulin, Kruijswijk)
Poland (Kwiatkowski, Majka, Bodnar, Golas)
Spain (Valverde, Rodriguez, Ion Izagirre, Castroviejo, Erviti)
Other (Porte, Costa, Albasini, etc)
Start list with backnumbers, August 5, 2016:
KAZAKHSTAN
1 KOZHATAYEV Bakhtiyar
2 ZEITS Andrey
SPAIN
3 CASTROVIEJO Jonathan
4 ERVITI Imanol
5 IZAGUIRRE Jon
6 RODRIGUEZ Joaquin
7 VALVERDE Alejandro
COLOMBIA
8 CHAVES Johan Esteban
9 HENAO Sergio
10 LÓPEZ Miguel Ángel
11 PANTANO Jarlinson
12 URAN Rigoberto
FRANCE
13 ALAPHILIPPE Julian
14 BARDET Romain
15 BARGUIL Warren
16 VUILLERMOZ Alexis
GREAT BRITAIN
17 CUMMINGS Stephen
18 FROOME Christopher
19 STANNARD Ian
20 THOMAS Geraint
21 YATES Adam
AUSTRALIA
22 CLARKE Simon
23 DENNIS Rohan
24 BOWDEN Scott
25 PORTE Richie
BELGIUM
26 DE PLUS Laurens
27 GILBERT Philippe
28 PAUWELS Serge
29 VAN AVERMAET Greg
30 WELLENS Tim
NETHERLANDS
31 DUMOULIN Tom
32 KRUIJSWIJK Steven
33 MOLLEMA Bauke
34 POELS Wouter
ITALY
35 ARU Fabio
36 CARUSO Damiano
37 DE MARCHI Alessandro
38 NIBALI Vincenzo
39 ROSA Diego
SLOVAKIA
40 TYBOR Patrik
SWITZERLAND
41 ALBASINI Michael
42 CANCELLARA Fabian
43 MORABITO Steve
44 REICHENBACH Sébastien
IRELAND
47 MARTIN Daniel
48 ROCHE Nicholas
GERMANY
49 BUCHMANN Emanuel
50 GESCHKE Simon
51 LEVY Maximilian
52 MARTIN Tony
NORWAY
53 BOASSON HAGEN Edvald
54 BYSTROM Sven Erik
55 LAENGEN Vegard Stake
56 NORDHAUG Lars Petter
POLAND
57 BODNAR Maciej
58 GOLAS Michal
59 KWIATKOWSKI Michal
60 MAJKA Rafal
DENMARK
61 FUGLSANG Jakob
62 JUUL JENSEN Christopher
63 SØRENSEN Chris Anker
CZECH REPUBLIC
64 BARTA Jan
65 KONIG Leopold
66 STYBAR Zdenek
67 VAKOC Petr
UKRAINE
68 GRIVKO Andriy
69 KOSTYUK Denys
70 KHRIPTA Andriy
SLOVENIA
71 MOHORIC Matej
72 POLANC Jan
73 ROGLIC Primoz
74 SPILAK Simon
ERITREA
75 TEKLEHAYMANOT Daniel
IRAN
76 MIZBANI ERANAGH Ghader
77 MOAZEMI GOUDARZI Arvin
78 POURSEYEDI GOLAKHOUR Mirsamad
PORTUGAL
79 CARDOSO Andre Fernando S. Martins
80 FARIA DA COSTA Rui Alberto
81 PIMENTA COSTA José Joao
82 SANTOS SIMOES Nelson Filipe
ALGERIA
83 MANSOURI Abderrahmane
84 REGUIGUI Youcef
AUSTRIA
85 DENIFL Stefan
86 PREIDLER Georg
MOROCCO
87 AIT EL ABDIA Anasse
88 HADDI Soufiane
89 LAHSAINI Mouhssine
UNITED STATES
90 BOOKWALTER Brent
91 PHINNEY Taylor
ESTONIA
92 KANGERT Tanel
93 TAARAMAE Rein
LITHUANIA
94 KONOVALOVAS Ignatas
95 NAVARDAUSKAS Ramunas
NEW ZEALAND
96 BENNETT George
97 WILLIAMS Zac
CANADA
98 DUCHESNE Antoine
99 HOULE Hugo
100 WOODS Michael
BELARUS
101 KIRYIENKA Vasil
102 SIUTSOU Kanstantsin
JAPAN
103 ARASHIRO Yukiya
104 UCHIMA Kohei
KOREA
105 KIM Ok Cheol
106 SEO Joon Yong
VENEZUELA
107 MONSALVE Jonathan
108 UBETO APONTE Miguel
CROATIA
109 DURASEK Kristijan
110 KVASINA Matija
LUXEMBOURG
111 SCHLECK Frank
ARGENTINA
112 DIAZ Daniel
113 RICHEZE Ariel Maximiliano
114 SEPULVEDA Eduardo
SOUTH AFRICA
115 IMPEY Daryl
116 MEINTJES Louis
LATVIA
117 SARAMOTINS Aleksejs
118 SKUJINS Toms
HONG KONG
119 CHEUNG King Lok
CHILE
120 RODRIGUEZ Jose Luis
RWANDA
121 NIYONSHUTI Adrien
AZERBAIJAN
122 AVERIN Maxim
ROMANIA
123 TVETCOV Serghei
MEXICO
124 LEMUS Luis Enrique
TURKEY
125 BALKAN Onur
126 ORKEN Ahmet
COSTA RICA
127 AMADOR Andrey
BRASIL
128 DA SILVA Kleber
129 FISCHER Murilo Antonio
GREECE
130 TAMOURIDIS Ioannis
TUNISIA
131 NOUISRI Ali
BULGARIA
132 KOYCHEV HRISTOV Stefan
GUATEMALA
133 RODAS OCHOA Manuel
ECUADOR
134 GUAMA DE LA CRUZ Byron
SERBIA
135 STEVIC Ivan
ETHIOPIA
136 GRMAY Tsgabu Gebremaryam
DOMINICAN REPUBLIC
137 MILAN JIMENEZ Diego
NAMIBIA
138 CRAVEN Dan
BOLIVIA
139 SOLIZ VILCA Oscar
KOSOVO
140 GURI Qendrim
PUERTO RICO
141 BABILONIA Brian
UNITED ARAB EMIRATES
142 MIRZA BANIHAMMAD Yousef
LAOS
143 DESTRIBOIS PHOUNSAVATH Alex Ariya
RUSSIA
45 CHERNETSKY Sergey
46 KOCHETKOV Pavel
144 KURBATOV Alexey