New topic, don't know if there is another, if there is, please merge this one with it. Rules are simle, which rider, top ten, little explanation, maybe a nice picture with it.
I'll start off.
1:
Surprise surprise, Greg LeMond. First saw him at the worlds 1982 when he went after his 'compatriot' Jonathan Boyer, finishing second after Beppe Saronni. Second time I saw him, was 9 at that time, he WON the worlds. So much willpower, he got me into following cycling, not my father who was a huge Hinault fan. Hinault was boring, he won everything, LeMond was new.

Still have that ugly shirt, kinda still fits me also.
2:
Marco Pantani
Why? Well, to be fair. It took me a few years to realise what was going on in pro-cycling. Didn't have the internet back then, we relied on the 'media'. The media who told us Miguel Indurain had lungs of 44444 litres of oxygen. That's why he was soooooo good. Yet sooooo boring. I thought my hero Greg had just got lazy and didn't train anymore. Totally had forgotten that same Indurain slipstreamed him in 1990 on Luz Ardiden without even breathing. Then the little Italian stood up, challenged Indurain in the Giro 1994, broke his neck which gave Berzin his first and luckily his last GT. This little Italian broke the boringness pro - cycling had become. In the Tour, Giro, everywhere he would ride there was a 'woooooosh'.
Too bad he got killed by Verbruggen et all on Pampeago.
3:
Eric Vanderaerden
Maybe translated into now the Mark Cavendish of his age but then a complete cyclist. Arrogant, allmost not Belgian, allmost Dutch [n dikke nek], great sprinter, fearless. A 'sprinter' who wins Paris-Roubaix...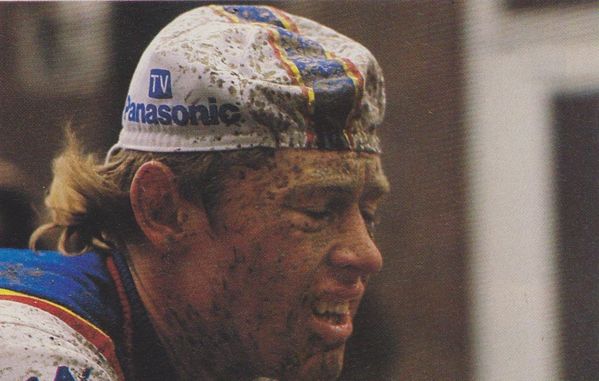 4:
Steve Bauer
When u think of Steve you think on willpower. Not the biggest talent around but he would fight till the end. Criquillion got to know that too. Big cojones.