Stage 14: Carcassonne – Quillan, 183.7 km
Mid-mountain stage through one of the forgotten corners of the Pyrenees. There's some good ramps scattered throughout the stage including on the final climb, but realistically this isn't hard enough for the GC riders to bother – I would like to see a stage like this in Route d'Occitanie or a major women's race, though. The breakaway action should be good, though.
Map and profile
Route details
A rolling first 45 kilometers, including a stingy, but uncategorised climb into Montréal (no, not that one) will feature a presumably drawn-out battle to make the break, which may not have formed by the time the first climb of the day, Col du Bac, is reached.
This is followed by the intermediate sprint in Lavelanet, just after a minor climb.
The remaining 100 kilometers of the stage are much more mountainous, starting with the harder side of Col de Montségur.
It is followed by the irregular Col de la Croix des Morts.
Côte de Galinagues is the first 2.2 kilometers of the profile below, however all bar the last 1.9 kilometers feature in the stage today.
The section from here until the final climb is much easier, with only the uncategorised Col de Campérié to trouble the riders.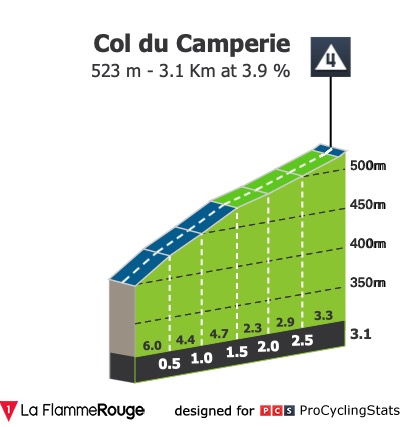 The final climb, Col de Saint-Louis, includes 1.4 kilometers at 10% in the middle, but it's probably a little too far from the finish to tempt a GC rider. Even so, it's nice to see ASO introdue this kind of unheralded climb to the race.
Final kilometers
Gradual descent until about 7 kilometers to go, then an easy route to the finish line.