Stage 5: Changé – Laval Espace Mayenne, 27.2 km (ITT)
For the first time since 2008, the first week features a decent-length time trial. I would say it sets up the hard mountain stages nicely, but then I remembered the rest of the route, and the fact that so many GC riders are banged up. At least we should get a battle for the yellow jersey here.
Map and profile
Route details
The first section of this time trial is rolling, with the climb below just about starting immediately…
…followed by a ramp of 550 meters at 6.0%, and then this bump that was used as a KOM at Boucles de la Mayenne this year directly after the first time check.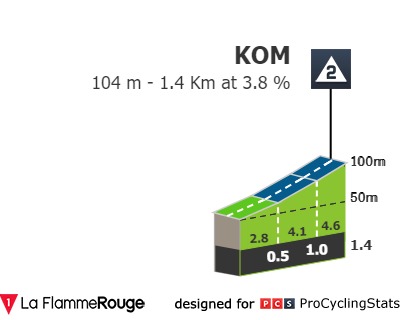 The next 15 kilometers are basically flat, then the final stretch in Laval features 850 meters at 4.7%, made harder by a tight double left-hander at the bottom leading into the steepest bit at roughly 9%.
Final kilometers
The most technical part of the course, with the aforementioned climb.