Last stage before the second rest day as the Tour enters the Alps with a relatively easy mountain stage. The last big climb doesn't seem the most suited for GC action, can the breakaway specialists capitalise on their best opportunity so far?
Profile
Map
Stage description
The stage starts from Aigle, home to the headquarters of the UCI, which are passed in the neutralisation. From here, the riders embark on a very weird route, consisting of a 150-kilometre loop through Romandie to return to Aigle, before heading up the Rhône valley to reach the final climb, after which the final 9.8 kilometres are in France.
The first part of the route takes the riders out of the Alps and back to Lake Geneva, passing by Chillon castle and through Montreux, a holy ground for music thanks to its renowned jazz festival and studios. Undoubtedly every commentator will take the opportunity to tell how the 1978 Tour passing through Montreux (supposedly) inspired Freddie Mercury to write
Bicycle Race
. From here, the race takes a detour to include more of the shoreline and eventually loop back by climbing the first KOM of the day, Côte de Bellevue.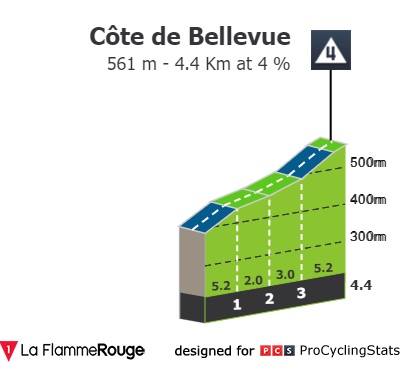 After a short rolling section on the higher road parallel to the lake, the riders take on the final 8.4 kilometres of the profile below to climb up to the edge of the Swiss plateau at Châtel-Saint-Denis.
The next 40 kilometres are rolling. Early on in this section, we have the intermediate sprint in Semsales, atop a drag.
Eventually, the race passes below the fortified town of Gruyères, famous for the eponymous cheese, to reenter the Alps. Soon, the road starts to climb up to the Col des Mosses.
After heading down the short descent, the riders make their way to Les Diablerets for the next climb, Col de la Croix. This is the easy side of the climb, making for a low cat. 1, and corresponds with the second half of the profile below.
Following the long descent back into Aigle, there are 14 kilometres of respite as the riders cross the Rhône valley into Monthey for the final climb of the day, Pas de Morgins. The summit is also the border crossing, there are 9.1 kilometres left to race from the end of the profile (the KOM is 700 metres before that).
After a short and shallow descent, the road turns uphill once more to rise to the finish.
Final kilometres
Descent until 4.2 kilometres to go, then a drag up to the finish line with a surprisingly solid ramp in the second part.
Peak Walk on the Glacier des Diablerets.