At 160.1 kilometres, stage 12 in the Vuelta a España is an entirely Andalucian affairs. The first 84 kilometers are raced on the flat shores of the Costa del Sol, while two tough climbs mark the second half of the race. The line is in Antequera, 17.5 kilometres after cresting the last peak, El Torcal.
After leaving Motríl the route travels along the Mediterranean coast before turning inland in Rincón de la Victoria. The riders follow the dry riverbed of the Totalán and start climbing the Puerto del Léon appears. It amounts to 17.4 kilometres and is extremely irregular, especially on the lower slopes. Higher up the mountain it will be easier to find a good cadence with longer stretches of 6 to 7%, while the climb eventually flattens out to 2 and 4%. The Puerto del Léon is averaging 4.9%.
The route of stage 12 in the Vuelta takes the riders further inland. With 134 kilometres done they are at the base of El Torcal, an 7.6 kilometres climb at 7%. With steepest kilometres of 10 to 11%, the ascent is fairly regular for Spanish standards. The summit is crested with 17.5 kilometres remaining before a drop leads to an uphill stretch of 750 metres at 5% that runs to the line.
The last time the Vuelta visited arrival place Antequera was in 2013. Back then stage 9 left here to finish on a punchy arrival in Valdepeñas de Jaén. Dani Moreno pushed hard to take the victory ahead of Alejandro Valverde and Joaquim Rodríguez.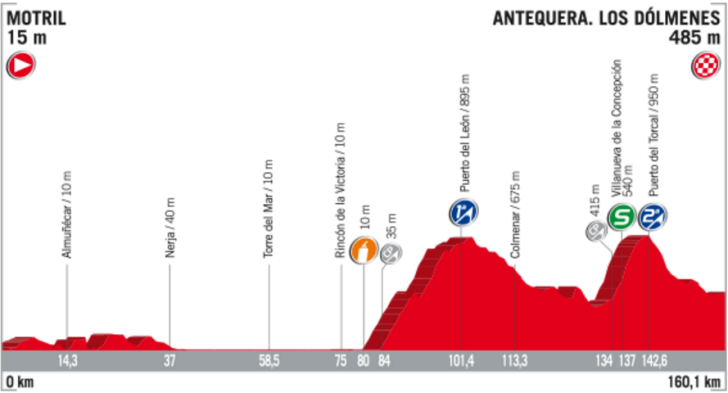 Puerto del León 17.4 kilometre-long climb at 4.9% - category 1
Think this is correct - El Torcal