http://www.vueltaburgos.com/
You can find there all the information about the race.
I hope to explain other days better the parcours and more.
There is an stage for sprinters, or maybe echelons, there is one stage not for pure esprinters, Clunia, that we have seen before, there is Neila as Queen stage, but this year there is 2 new stages that I know really well.
The TTT is THE MOST SPECTACULAR TT I have ever seen, not just TT, ITT, just one ITT in Milan in il Giro was close to this. The scenario is amazing. I am not talking about sportive importance of the stage...a short TTT maybe has not a big sportive interest, but is really hard and very technical.
The stage start in the Evolution Museum, about Atapuerca (World heritage) and finish just in the main gate of the Cathedral, woldk heritage...in the parcous, Las Huelgas monastery, amazing, a hard pavé, the castle, a new climb of the castle, with high slopes, very technical descent, and cross through the medieval city centre for Santiago s way (as well world heritage) with the cathedral at just beside and with pave, in soft climb, at the first not a hard pave, later really tought, I think he will improve it, becouse therre is some part really nasty...Later another technical descent and the last part is as well thecnical and with pavé...There is just one part at the middle with wide straigh roads to be quickly, the rest is going to be a hell for the riders.
And Pineda stage, a finish with 3.5 km quite hard, especially the first km , in a beatifull place of Sierra de la Demanda... the stage is harder than looks, and it is an stage for the same people than in Neila. All the stage is up and down, and the flat parts are really windy. The profils of the web are bad.
The view from the end: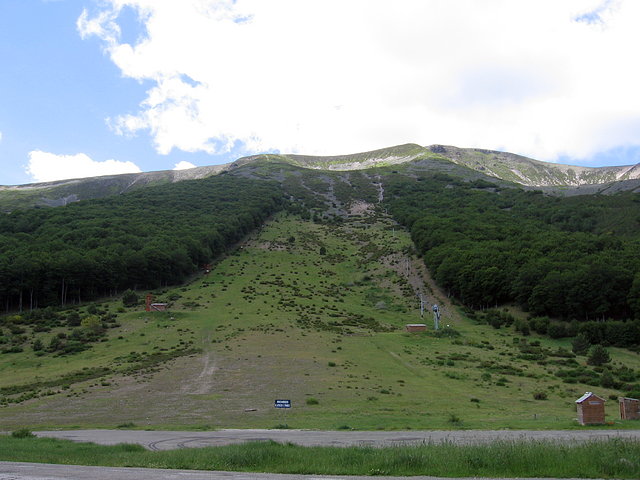 I dont know about the starlist, i just know that Landa will be there, Luis Leon in Astana as well, and Dani Moreno, but I hope AG2R with a good team, as Caja Rural with his best.
As always here wind and hot and sometimes bad roads.