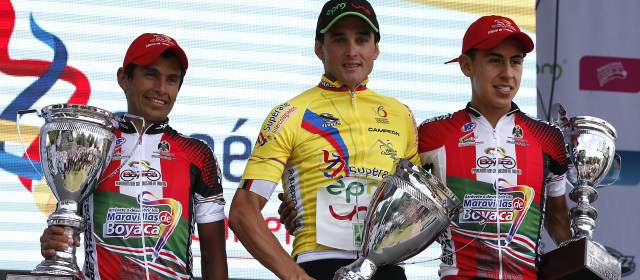 Looks like there is no OP about the biggest race in Colombia yet! On the 2th of August, the 65th edition of one of the biggest and most exciting races on this planet will be hold. More then 1600 kilometers, 2 ITT, 1 TTT, multiple mountain stages, some flat stages and La Linea will decide who is going to win this race, and who will be a living legend in Colombia and abroad!
Will it be good old Oscar Sevilla for a 3rd in a row? Or 37-year old Fernando Camargo, who is fighting for his last chance? Two other big favorites are Oscar Soliz, last year winner of Clasico RCN, and Robinson Chalapud, who is riding extremely well the last couple of weeks with a win in the Clasico Nacional Marco Fidel Suárez. Or will it be a fairy tale ending with José Rujano clinching his second title after 2009?
Stages
Stage 1: Bogotá-Bogotá (24 km, TTT)
Quite lumpy TTT through the town of Bogotá. Good opportunity for a team like EPM (Sevilla) to get some time on their rivals.
Stage 2: Bogotá-Paipa (174.6 km)
Some climbs in the middle of the stage, but should be a sprint of a big group. Although you never know in Colombia. Roldan? Forero? Salas? Someone else?
Stage 3: Paipa-Cota (172.1 km)
Another sprint opportunity. Looks like a pretty flat finish. Don't expect some full genius attack on Alto Sisga.
Stage 4: Guadas-Guadas (203.8 km)
First stage where the GC-guys will come out and play. Could not find any details of the climb, but it looks pretty long (not that steep), but the summit is at 5 km from the finish. Expect a lot of attacks on the final climb and some first gaps.
Stage 5: Mariquita-Ibague (172.5 km)
Another lumpy stage with a tough final. The last 35 km are all slightly uphill, which makes it a tough expedition for the riders. Last year the riders also finished in Ibague, and it was Sevilla who outsprinted Flober Pena and some 25 other GC guys. Expect something similar to happen this year, although last year they finished at 1400 meter. This year it's a little bit 'easier' with 1200 meter.
Stage 6: Ibague-Salento (136.6 km)
If you look at the profile, you don't think they would climb the Alto de la Linea today. But they will. Every cycling fan knows this monster of a climb. It's a real classic in the Vuelta a Colombia. It was the deciding factor in this race for many years, although the last years La Linea has lost some importance because it's situated further from the finish line. La Linea is 21.7 km's long with a gradient of 7.6%. However, there are a lot of steep pitches of 10/11%.
Expect a real massacre on this climb. When the first riders crest the summit, there are still 80 (!) kilometers left till the finish in Salento. Expect a bigger group coming together on the descent and in the valley, and organization from teams/riders who lost time on La Linea in a desperate chase to come back at the front. Don't be surprised if a group of 25/30 riders will fight it out for the stage win. It's not an easy finish either. The last 5 km are uphill.
Stage 7: Armenia-Riosucio (156.7 km)
You perhaps thought the riders would have given a flatter stage to recover from their efforts of the last few days. No way. The first 60 km are tricky with 2 climbs of the 3rd category. After that, it will be easier with 70 km of 'flat road'. The final will be difficult again with the climb of Alto de Matadero. The last km's are flat and even slightly downhill. A good climber/puncheur will win this imo.
Stage 8: Viterbo-La Virgina (23.2 km, ITT)
There is no profile available of this ITT. Rather short ITT, but still long enough to create some differences, especially for guys like Sevilla and Soliz.
Stage 9: Cartago-Alto Boquerón El Tambo (157.1 km)
It looks like a Unipublic designed Vuelta stage, but it's really a stage in the Vuelta a Colombia. 120 flat km's till we arrive at the first climb of the day, the Alto Cerrito (3rd category). After the Cerrito, the road will rise gradually before the riders tackle the final climb of El Tambo. The last 4/5 km look pretty steep, so we can expect a very explosive and exciting final of this stage.
Stage 10: Villa María-Alto de Minas (158.6 km)
Another MTF. The Alto de Minas is another famous climb in the Vuelta a Colombia. It has been used many times in the past, for example last year when Fernando Camargo was the fastest rider. It's almost 40 km (!) long at 4.3%. It's quite irregular, which means there are also harder parts in it. At moments the maximum gradient is 10%.
Stage 11: Don Matías-Ituango (146.6 km)
It's already stage 11 and fatigue is the most used word in the peloton right now. That's why strange things can happen at this point of the race. The last 25 kilometer are difficult with the climb of Alto Galgos. This looks like the last opportunity for some GC riders to get time or make up time ahead of the ITT.
Stage 12: Ituango-Bello (153.1 km)
The last 'normal' stage before the ITT. The most difficult part of this stage is in the beginning, with the HC climb of Cruce San Jose. Big chance the peloton is completely shattered. But there's also a big chance the riders will regroup, because the last 100 km are pretty flat. Bunch sprint or breakaway, if you ask me.
Stage 13: Medellín-Alto de Palmas (ITT, 17.5 km)
Strange things can happen on the Alto de Palmas. Just ask Miguel Angel Rubiano, who defended his leaders yersey in the same ITT, two days before the end. He lost 6.13 in 17 km on the winner of the stage, Alvaro Gomez. It just shows how tough a mountain ITT is, and how difficult the Alto de Palmas. Also this edition you can expect total collapses and crazy times, in a good and bad way, on this climb.
In case Fernando Camargo is in the lead after this stage, there's some good news for him. There is, instead of last year, no flat stage to end this Vuelta a Colombia. And no risk of losing the race on the last day by 1 second due to bonifications to an old Spanish climber.
Favorites
Based on the last months, there are four favorites: Oscar Sevilla, Oscar Soliz, Fernando Camargo and Robinson Chalapud.
- Sevilla because he's the most allround (good TT'er, good climber and regular) and he's got a really strong team with EPM. He can count on master descender Juan Pablo Suarez, the brilliant but highly irregular and vulnerable climber Rafael Infantino and other strong riders. He will already have an advantage after the TTT. However, he's again a year older and sometimes he's vulnerable on the really tough climbs. For example, he traditionaly suffers on La Linea comparing the better Colombian climbers. If guys like Camargo make the race extremely hard on climbs like La Linea, he could be in trouble.
- Soliz is an extremely strong climber. He can also do a really strong TT, like he did in last years Clasico RCN where he destroyed his opponents. He's in form and really motivated to win this Vuelta a Colombia.
- Fernando Camargo is perhaps the best climber of the four. Surely one of the best climbers of the country, despite his age. His time trial is a weaker point however. The ITT on Alto del Palmas is in his favour however. He showed that last year when he finished 3rd in that ITT.
- Robinson Chalapud is imo the least capable of winning this Vuelta. He's a good climber but not a pure one. He will always suffer on climbs like Linea. However, he can climb when he's good. His strong points that he's explosive, really good in hilly stages, allround, a good TT, is strong on the flat and he's got a lot of experience. Orgullo Antioqueño, his team, is also one of the strongest squads with Mauricio Ortega (2x 2nd) and attacking climbers like Christian Montoya, Oscar Sanchez and Rafael Montiel.
Two familiar riders who are not there this year are Freddy Montana (attacking climber who finished 5th last year) and Julio Alexis Camacho (3rd last year). Montana is injured and Camacho is not selected by his team Orgullo.
Other candidates are
Mauricio Ortega
(who like i said is in the same squad as Chalapud but was 4th last year)
Danny Osorio
(6th last year)
Francisco Colorado
(4th in 2010 and winner of Vuelta a Mexico this year)
José Rujano
(You never know with the guy. Last year he was nowhere, but he won Tachira this year)
Jose Flober Pena
(41 years old but still going strong. 3rd in 2012 and 9th last year)
Juan Pablo Suarez
(likely he has to work for Sevilla, but in case the latter isn's strong enough, he can step up)
Some young riders to keep an eye on
Aldemar Reyes
(20 yrs) (very strong rider and big talent. He won the youth competition last year in this race and finished 23th. Curious to see if he can progress)
Miguel Florez
(19 yrs) (big talent, great climber. Will be his first Vuelta a Colombia, so don't expect too much)
Hernan Aguirre
(19 yrs) (winner of the Vuelta a Colombia juniors in 2013, big prospect from the Manzana Postobon team)
Bernardo Suaza
(22 yrs) (heavy build rider with an incredible engine and good climbing legs. Won the famous Giro della Valle d'Aosta last year, after started his cycling career only at the age of 18)
Start list
http://www.revistamundociclistico.com/ruta/19162-listado-de-los-equipos-presentes-en-la-vuelta-a-colombia-2015.html