Time for this Vuelta to really get serious. For who will this day be unlucky number thirteen?
The stage starts from Formigal, the favourite destination of both Chris Froome and Primoz Roglic. A whopping 3.3% of the stage takes place in Spain, which is somehow nowhere near the record (stage 14 in 2016 had its official start approximately 100 metres from the border). These 4.4 kilometres are the final 4.4k of Puerto de Portalet.
And that will be the last we see of Spain for a fair while. By the time we return, four out of five ESP climbs will have been raced and the GC battle should be looking very different. Speaking of ESP climbs, Aubisque is up next, following the long, shallow and untechnical descent of Portalet.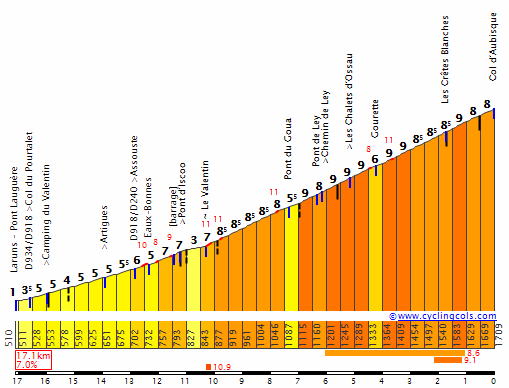 The descent, as always, is interrupted by the short ramp up to Soulor.
We then descend to the north for a return to a climb that had a rather spectacular GT debut last year. Spandelles probably won't see an equivalent to Pogacar's final roll of the dice this time, but will still play a big part in ensuring the race is reasonably selective prior to the MTF.
After a narrow descent and a long valley section, it's time for the decisive part of this stage. Somehow, the western side of Tourmalet hasn't been seen on TV (it did feature early in the queen stage of Occitanie in 2021 though) since Pinot beat Alaphilippe here in the 2019 Tour, when it was also an MTF. The gaps were fairly disappointing that time, but this stage does have a significantly harder run-in. In any case, this is unquestionably the biggest and most important test of the race so far, and surely the point where we find out who the true contenders are.
Oh, and we have the potential for Libertine's worst nightmare: Kuss winning, in red, on a Tourmalet MTF. Hide your kittens.