Last time on La Vuelta: ten participants tried to make an early move, and Ineos were not happy about it. Then, the unthinkable happened: teams started attacking themselves rather than each other. Jonas left his leader behind, and Finn refused to help his teammates. In the end, Jonas was the first to reach the finish. Sepp stayed in the lead, but emotions within Jumbo-Visma ran high at the finish.
On this episode: teams are pushed to their limits as climb Spain's most famous wall. Will Jonas and Sepp work together this time? And can UAE overcome their differences and challenge Jumbo?
…wait, I'm not surprised to spin this one like this is a crappy reality TV show. But seriously, the dynamics on Bejes would have fit perfectly within one.
Anyway, moving on to bigger things - literally:
The riders have transferred into Asturias overnight. This is the antipenultimate province visited by this Vuelta, and the final one located on the coast. In fact, the start in Ribadesella/Ribadeseya marks the last time the riders will see the sea in this race. That doesn't mean we start climbing immediately, as the early parts of the stage are all on valley roads. Only in Nava, the town at the bottom of Les Praeres two-fifths of the way in, do we reach some uncategorised climbing. There are two easy hills in short succession, unfortunately I only have a profile of the first of these.
By the time the second hill is over, we are past the halfway point, and so we are overdue for some real climbing. Thankfully, this is provided by Alto de la Colladiella.
After a valley section that contains the intermediate sprint, it's time for one of cycling's most frequently used combinations, with Alto del Cordal…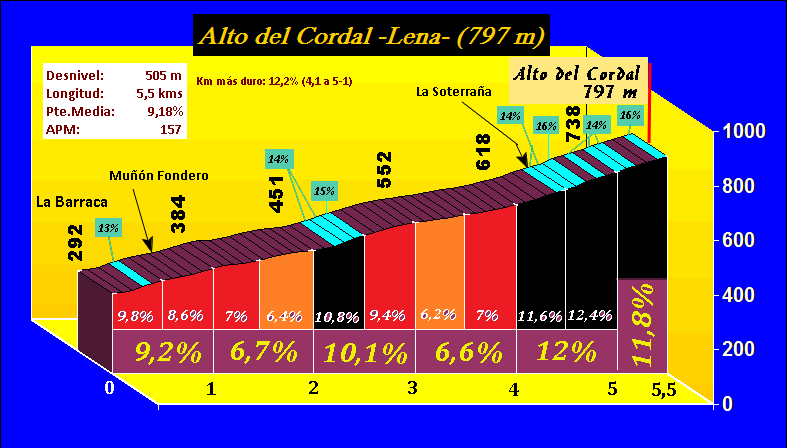 …reprising its traditional role as the little brother of Angliru. This type of climb has struggled to live up to the hype in recent years - in fact, the first seven riders were within 26 seconds of each other on this one's last outing in 2020. With Vingegaard evidently looking to take red, though, I expect bigger gaps this time round.