Round one of the annual Spanish wallclimbing championships. With Martinez in red, it's not as good an opportunity for the breakaway as the previous mountain stage, but this is not the easiest stage to control.
The start is in Dénia, at the northern end of the land of second home owners and beach tourists that is the Costa Blanca. Not much of the stage is on the coast proper, but of course the developments have long since grown beyond the actual coast - the proof is in the name attached to the finish. Speaking of the coast, the riders won't be seeing much of it today, and this results in the first few kilometres being what is almost the only flat section of the day. We soon leave the coast to tackle the Alto de Vall d'Ebo, right in the area that was so badly hit by wildfires last year.
After a short descent, the riders head up the road to Alcalà de la Jovada. This road is mostly a false flat, interspersed by some surprisingly steep ramps.
This is followed almost immediately by Puerto de Tollos, where the overall gradient rises but the climbing is just as irregular.
After an easier section, the riders hit a longer, but mostly more gradual climb - Puerto de Benifallim.
Its descent backs immediately into Puerto de la Carrasqueta, the day's portion of highway-style climbing as well as the bonification point.
While there are no more categorised climbs before the pseudo-MTF after this, the roads don't exactly become flat. Just after the intermediate sprint in Ibi, there is the Puerto de Ibi which could arguably have been a cat. 3.
The trek towards the bottom of the final climb is completed by heading over the final 2.7k of Alto de Banyeres...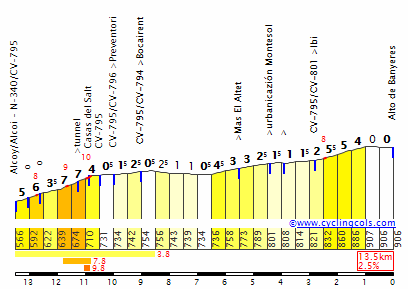 ...and the final 4.5k of Puerto de Onil.
And then, the main act. This is the seventh time this climb features in the Vuelta, in addition to its appearances in the men's and women's stage races in this part of Spain, and hence it should need no introduction. From the summit, it's the usual short, untechnical descent that doesn't last quite until the line, allowing for a sprint for the win if necessary.