I posted this in the "Will Contador be Juiced" thread, but it's long and a lot to think about, and covers something I think important in the sport of cycling - or what remains of the sport. So I'm posting it here as a separate thread in hope of facilitating discussion.
Herein I explain as best I can, a) why Contador is a significant figure in cycling - its one true champion - and why his sanction for clenbuterol is largely irrelevant; b) why Sky doping is all but a certainty; and, c) why this is not mere fan favoritism.
Today, in 2016, it's pretty much settled business that cyclesport and doping go hand in hand. They always have. Starting with the end of the Armstrong era and going back through the decades we have it on record that virtually the entire GC was doped. The missing bits, the GC riders whose doping is not documented, are few indeed; but given what is documented, and given as well the attitude of the sport as a whole towards doping, we can infer that while there
may
have been, literally, one or two or three exceptions - it's possible - the entire GC was doped. If there were exceptions, then, they prove the rule: it's a sport that relies on PEDs.
Fans and sponsors and teams alike regarded this fact with complete equanimity until the death of Tom Simpson in 1967. Since then, however, it's been kept increasingly on the down-low.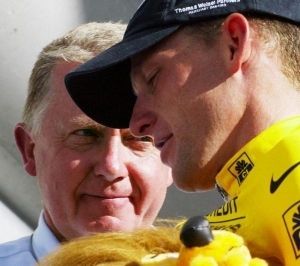 Keeping it on the down-low opened the sport to all kinds of corruption: intimidation, blackmail, bribery, sabotage, cover-ups, and race-fixing (though, admittedly, race-fixing has always had a role regardless). The UCI, which exists to govern the sport, was not immune from this corruption but complicit in it, due to its additional role of protecting and promoting the sport. Chosen, money-making riders such as Armstrong were protected; while their adversaries and lesser lights were popped. This served to prop up the money making while giving the impression of fighting PED use. Outside of the favored few, then, riders were subject to being caught, and sanctioned, if they stepped out of line, pissed off the wrong person, or simply made a mistake in implementing their own program.
After Armstrong - and after the interlude of Landis, which is its own story, one in which Verbruggen and Armstrong possibly had a hand - cycling had a new champion, Alberto Contador. Contador was an upcoming race leader of the classical European mold, and molded by the sport itself: talented, dedicated, solely focused on his sport. He kept his head down and his mouth shut and followed orders and in so doing met with great success. So far, so good. What had not yet been tested, though - or even forged, even after his first TdF win - was his true mettle as a champion. This finally happened when Armstrong decided to come back - to the team, it turned out, led by Contador himself.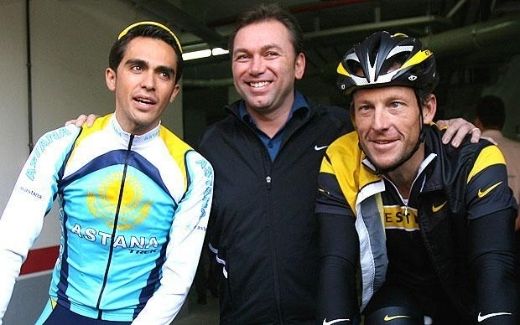 Now this Spanish boy who had always kept his head down and followed orders faced a true dilemma. What is a champion to do when cycling's
capo dei capi
, the UCI's own favored son, Verbruggen and Pat's best partner, and BFF of his own team manager, comes back determined to usurp the young champion's role, which the
capo dei capi
feels is rightfully his and his alone? If the Spanish boy knuckles under he concedes to himself and everyone watching that the champions' role was never truly his and never can be. But if he defies the bosses he has a very clear inkling, this son of cycling, of what's in store.
Well, we know how he responded and how the story played out. We know he won that Tour and how, subsequently, the next year, his blood sample was sent off for
extra-special
, extraordinary scrutiny - which turned up one one-millionth of a gram of clenbuterol, a controlled substance. And so he was duly sanctioned.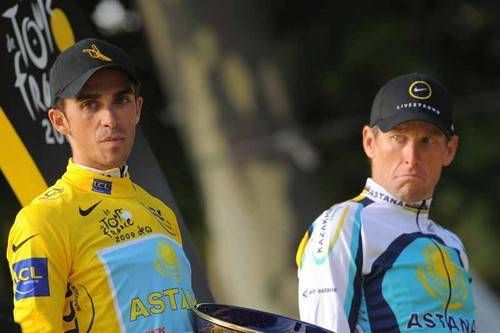 In standing up to these creeps and their coercion, in insisting on his role as champion even despite implied consequences, Contador actually proved himself to
be
champion. Not their champion, but
ours
, the fans and the riders - for if it isn't our sport, whose is it? In defying them, Contador
stole some fire from the mountain
(to take a line from Steve Jobs) and brought it back to where it rightfully belongs: away from the corrupt creeps controlling the sport, controlling its teams and riders, back to those who make the sport.
In doing this he redeemed himself as a man, as an athlete, and as champion - and he redeemed the honor of the sport, as well, even if only for a moment. He paid a price - the sanction - as he must have inferred he would; but this sanction, too, was redeemed -
absolved
- by what he achieved and reclaimed, for himself and for us.
Now the UCI has a new golden boy, a new money making machine: Rupert Murdoch, in the guise of the miraculous
Sky
team and its unlikely leader, Chris Froome. The Sky team and an entire nation of new, newly enthusiastic, naive, money spending fans.
Given the history, culture, context, and control of the sport as outlined above; and given as well their arguably suspect exploits and antecedents; and given additionally all the money being minted, and even national and corporate
soft power
being projected: it seems reasonable to look upon Sky with the most wary of eyes, and to question what those eyes think they see.
Cycling has a new golden boy, but as of now it has only one true champion: Alberto Contador.
Agree? Disagree? Discuss.