The "Battle for Norg" is back. Norg is a little town in the Drenthe province, Northern Netherlands. The "Slag om Norg" is a 164km long national race with ~50km on dirt roads, making it some sort of a Dutch version of the Tro Bro Leon.
Route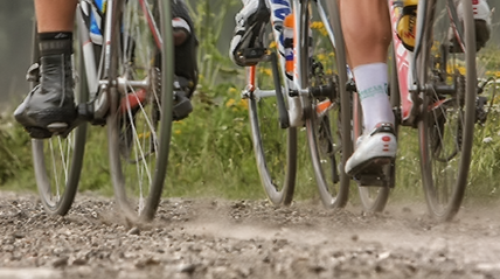 The first edition was held in 2012 and was won by Mike Teunissen. As a matter of fact that edition of the race was dominated by cyclocrossers as Niels Wubben tweeted:
"Slag om Norg Super mooi dat #stradebianchii #stofhappen. Top 5 alleen maar crossers waarvan 1-2-4-5 #rabogiantoffroad ikzelf 5." [Slag om Norg, super nice this #strade bianchii #dustbiting. Top5 only crossers among whom 1-2-4-5 #rabogiantoffroad myself 5]
1 Mike Teunissen Rabobank Rabobank - Giant Offroad Team 02:47:47
2 Emiel Dolfsma Rabobank - Giant Offroad Team 00:01
3 Tijmen Eising Sunweb - Revor 01:51
4 Gert-Jan Bosman Rabobank-Giant Offroad Team zt.
5 Niels Wubben Rabobank-Giant Offroad Team 01:53
Highlights of the 1st edition in Dutch
The organizer seemed to be ambitious in making it an international race but 3 years later it's still not the case.
In 2013, Rabo Giant doubled up with a win for Gert-Jan Bosman who outsprinted cross colleague Tijmen Eising, taking his revenge for his missed sprint for 3rd place the year before. Both riders are from Emmen, in the same province. Eising was racing in a black jersey as he had just been sacked by Sunweb …
1 BOSMAN Gert-Jan Rabobank Development Team
2 EISING Tijmen WSV Emmen
3 BEKKENK Ramses WV Noord-Holland [a former mountainbiker]
4 BOVENHUIS Jasper Rabobank Development Team
5 ARIESEN Johim Cycling team Jo Piels
6 BOUWMAN Koen Cycling team Jo Piels
7 POUTSMA Stefan Cycling team Jo Piels
9 CHAIGNEAU Robin Koga Cycling Team
10 ATZORI Umberto Koga Cycling Team
11 TE STROET Rens Cycling team Jo Piels
12 STROETINGA Wim Koga Cycling Team
13 VAN AERT Jan Royal Antwerp Bicycle Club
14 HUENDERS Mitchell Ruiter Dakkapellen Wielerteam
15 REINDERS Elmar Metec Continental Cycling Team
Highlights in Dutch
. Riders give very interesting info about their tube choices.
Gert-Jan Bosman describing his win (in Dutch)
More picture from 2013
here
2014 was the first win for a non-crosser, namely Ronan Van Zandbeek but he's not gonna defend his title since he's in Portugal climbing cobbled hills at 40kmh !
https://youtu.be/b8wcqDgRnQE
Ronan says it's a great race and wishes it were bigger, with more riders and teams.
Netherlands VAN ZANDBEEK Ronan Cyclingteam De Rijke
Netherlands VERMELTFOORT Coen Cyclingteam De Rijke >>> was great to see him back
Netherlands BRUSSELMAN Twan Cyclingteam Jo Piels
4 Netherlands VAN DER DUIN Patrick Baby Dump Cyclingteam
5 Netherlands OTTEMA Rick Veranclassic - Doltcini
6 Netherlands SYBRANDY Wouter
7 Netherlands TE STROET Rens Cyclingteam Jo Piels
8 Netherlands ARIESEN Tim Cyclingteam Jo Piels
9 Netherlands BUGTER Luuc Croford Cycling Team
10 Netherlands BOSMAN Gert-Jan Parkhotel Valkenburg CT
11 Netherlands BEKKENK Ramses NWV Groningen
12 Netherlands ROOD Bram vereniging MTB Noordwest
13 Netherlands DE KLEIJN Arvid Croford Cycling Team
14 Netherlands DIELISSEN Bart Baby Dump Cyclingteam
15 Belgium VAN AERT Jan WV de Jonge Renner
16 Netherlands HORRING Lars Parkhotel Valkenburg CT
17 Netherlands VREUGDENHIL Stefan Westland Wil Vooruit
18 Netherlands BOVENHUIS Jasper Koga Cycling Team
19 Netherlands BUGTER Jasper Croford Cycling Team
20 Netherlands HARMSEN Bart Croford Cycling Team
This year the race could have had a nice surprise as the initiator of it – Dirk Heuvelman – invited Magnificent Marianne Vos to race it … with the men ! Unfortunately, though magnificent she is, Magnificent Marianne Vos is not immune to injuries and it seems that her season is now over. It could have been Magnificent Marianne Vos' first race among the men, reminiscence of the great Alfonsina Strada. Shame!
http://www.rtvdrenthe.nl/nieuws/97055/Wordt-Slag-om-Norg-eerste-koers-van-Marianne-Vos-tussen-de-mannen
http://www.rtvdrenthe.nl/nieuws/97807/Geen-Slag-om-Norg-voor-Marianne-Vos
Provisional Start List
(if they're confirmed I'm gonna root for the two "Emmenaars": Gert-Jan Bosman & Tijmen Eising
)