Didn't know where to put this, so I made this thread.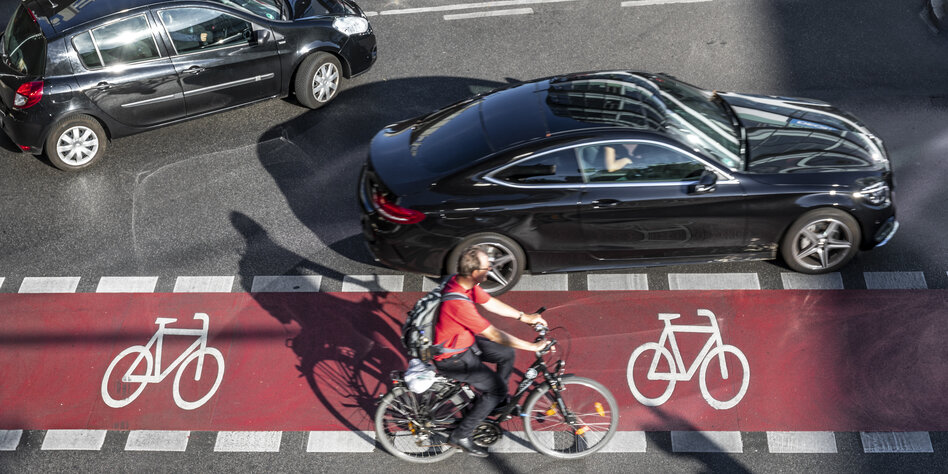 Jana Kühl ist ab November die erste Radprofessorin Deutschlands. Jede Maßnahme für das Fahrrad führe zu einer Grundsatzdebatte, kritisiert sie.

taz.de
Good interview. Google translation, so sometimes a bit weird, but one can figure it out, I guess.
Background:
"On November 1st, cycling receives academic consecration: Geographer Jana Kühl takes up her professorship for cycle traffic management at Ostfalia University in Salzgitter. She becomes the first cycling professor in Germany. Federal Transport Minister Andreas Scheuer (CSU) awarded seven endowed cycling professorships for which 33 universities had applied. The Federal Ministry of Transport is making a total of 8.3 million euros available for the professorships. The aim is to anchor cycling in research and teaching - from infrastructure planning to mobility management and legislation. In addition to the Ostfalia University of Applied Sciences, the contract was awarded to the Bergische Universität Wuppertal, the Frankfurt University of Applied Sciences, the Karlsruhe University of Applied Sciences, the RheinMain Wiesbaden University, the Wildau University of Applied Sciences in Brandenburg and the University of Kassel. The professorships have different focuses; they should network and complement each other. The Ostfalia University, for example, is responsible for bicycle traffic management, among other things. At the University of Kassel, for example, it is about road safety, bicycle traffic in rural areas and the planning of systems for bicycle and pedestrian traffic."
Interview:
taz: Ms. Kühl, you will take up the first German professorship for cycling when you move to Ostfalia University in Salzgitter on November 1st. What do you do as a professor for bicycle traffic management?
Jana Kühl: We want to train the bright minds of tomorrow who understand how to promote cycling. They are sensitive to questions of fairness in traffic and ecological problems. There is a great need in municipalities for staff who can implement the promotion of cycling in practice. We hear again and again that municipalities have no people to call up funding for cycling infrastructure, which is increasingly being made available, and to implement it in measures.
Hasn't there been cycling at German universities?
The focus on bicycles with the central position, as it is now possible through the cycling professorship, did not exist up to now. There are many professorships that deal with traffic management and traffic planning. Traditionally, and fortunately that has changed somewhat in the past few years, they have started with motorized individual transport, i.e. the car. Bicycle traffic does not have a strong position there - unless there are people who campaign for it.
Not only German society, but also the university landscape is car-dominated. Aren't you afraid of becoming a fig leaf?
No. The students should be able to recognize the need for cycling infrastructure and find suitable measures to make it easier for people to cycle. They should find solutions specifically for the environmental network, i.e. bicycle traffic, pedestrian traffic and public transport. In this way, the professorship offers the opportunity to give new impulses to the administrative structures, some of which are still dusty and which come from the days of traffic planning in the car-friendly city. There are people in administration who are committed to making sure that something changes. But it is difficult, the political majorities are not there yet.
Will Master of Cycle Traffic provide this impetus in future?
No. There is no master's degree in cycling management. It remains to be seen whether this will exist. First of all, we are integrating bicycle traffic management into the existing teaching of various courses, for example industrial engineering, mobility and traffic or tourism. The topic of mobility is already the subject of existing courses. The focus on cycling issues is new.
What were the reactions to the establishment of your professorship for cycling?
There is a lot of media interest. Significant are requests to speak in the comment columns on the Internet: Because of the small word "wheel" - there are already professorships in traffic - the whole thing is called into question there, described as completely absurd and illegitimate. This shows where cycling is still in the debate. On the other hand, there is also a group that says: Great, that's what we've been waiting for, that's what we need to get ahead.
Is there a cultural battle over the bike?
Definitely. We are socialized on the car. We have learned a strong car culture over the years. That was politically wanted, from an economic point of view there is a lot behind the car. We already saw that car traffic was being questioned after the oil crisis in the 1970s. This was followed by a debate about ecology, but also about the fair distribution of urban space, the risk from car traffic and so on. These debates are not new, now they are flaring up again. I think it's a shame that the argument often has nothing to do with exchanging opinions, but rather with juxtaposing opinions. These non-discussions are sometimes very rough.
Where does it come from?
Perhaps because we are still at a stage where what was previously considered normal is suddenly shaken and uncertainties arise. I can understand that too: if someone has oriented his or her life in the country around the car, there is no public transport, and now people say that he or she is no longer allowed to drive into the city, that's difficult.
Your professorship is one of seven funded by Federal Transport Minister Scheuer. Does that show a new appreciation of cycling by politics?
I hope so. The professorships are a statement on the seriousness of cycling. This sign is important. This makes it possible to finally treat cycling seriously in teaching and research and no longer as a marginal topic.
The federal government is making almost one billion euros available for new cycling infrastructure. Is Germany facing a cycle path boom?
Would be nice. But: There is the personnel problem that the funds cannot be called up. In addition, the implementation is sometimes very tedious. We still have to be very patient and continue to work to ensure that the promotion of cycling infrastructure is implemented with a different self-image. At the moment, every measure for the bike is a struggle that has sparked a fundamental debate. Why bike traffic now, what's that supposed to mean? That blocks a lot. We must get away from these fundamental debates. We could achieve a lot faster. You can see what's going on in the pop-up bike lanes, the temporary bike paths that were created in many places during the corona crisis.
What needs to be improved?
The infrastructure is very important. Unfortunately, you have to be tried and tested when you are out on your bike: There are, for example, the notorious bike paths that simply stop, or the uncomfortable feeling when the truck is next to you and wants to turn right. The issue of safety plays a major role, but also having enough space as a cyclist. There are still attempts to dismiss cycling as an ecotum or to label the promotion of cycling as a clientele policy.
Quite a few motorists and pedestrians are very bad at talking about cyclists. Aren't cyclists sometimes also unpleasant road users?
Yes and no. I ride my bike a lot and have often experienced situations in which I was bullied when I insisted on crossing the street unharmed when it was green. It is sometimes this built-in right of way for drivers that is shaken. It has become a bit established that cyclists then become the enemy. Unfortunately, as among motorists, there are also inconsiderate cyclists who annoy or endanger other people. On the other hand, the lack of cycling infrastructure creates a certain anarchy to ride all over the place. But this is also due to the fact that cyclists often cannot adhere to the rules because it often does not work. When the cycle path comes to an end or there is a construction site on a cycle path, they have to react. This is perceived by motorists as anarchic behavior. If we really get to the point where cycling will increase, then the culture of cycling has to change too.
You have five bikes.
Not entirely voluntarily. I wish I didn't have to own at least two. One is a cargo bike, I don't need it every day, but for shopping and to get my old dog from A to B. I don't need my own bike for that, I think it would be great if these bikes were available as rental bikes. The second is a folding bike, which I especially need when I'm using public transport and can't get to my destination. It would be better to close these chains of paths.
And the other three?
A mountain bike for sport and fun. I also have a good bike for long distances. And one that can stay at the train station and is still there afterwards.
A car?
I don't have a car. But we have a garage with two neighbors, in which we park our bikes.