The first MTF, and it's possibly the forum's least favourite climb – Planche des Belles Filles with the stupid gravel ramp (short, steep and as compacted as possible) on top. Uphill sprint like in 2019 or Pogacar going into murder mode early?
Profile
Map
Route description
The stage starts from Tomblaine at the stadium of AS Nancy, who were recently relegated to the French third tier after spending half a century going back and forth between Ligue 1 and 2. The team is best known for being the start of the playing career of Michel Platini (still the club's all-time top scorer) and the managerial career of Arsène Wenger.
There is very little to say about the first half of the stage, which is largely flat, so we'll have to make do with pretty pictures of places like the Château de Luneville, the 18th-century palace of the Dukes of Lorraine, once the breakaway has established itself. About halfway through, the flats of Lorraine give way to the mountains of the Vosges, where we quickly reach the intermediate sprint in Gérardmer, just like in the 2012 stage – also stage 7, also starting in Tomblaine, also ending on the same climb (albeit with the 'normal' finish).
Immediately after this, the road turns uphill for the first KOM of the day, Col de Grosse Pierre.
The next 25 kilometres are mostly on a gradual downhill, only interrupted by the false-flat drag to Col du Ménil. After this, it's time for the second cat. 3 of the day, Col des Croix.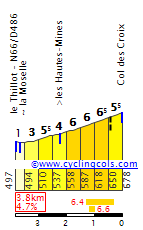 From here, the riders bypass Col des Chevrères to head via ASO's favourite easy route to the start of their favourite MTF. This entails heading up the drag to Col de la Chevestraye, just like in the 2020 TT.
We all know the drill for what's to come next. The finish is at the summit of the mountain itself, so unless ASO want to go the Dutch route and develop a waste dump here to later build a road on, we'll forever be spared of a Super Deluxe Planche des Belles Filles.
Final kilometres
The area around Planche des Belles Filles has been used for mining since prehistoric times; the industry reached its peak here around 1700. The mines have been permanently closed since the late 19th century. The small ski station that has become so familiar to us cycling fans originates from the 1970s.
18th-century Pont des Fées on the outskirts of Gérardmer.