One of the last bigger races this season that makes its return after a Covid-induced break last year. The route has suffered due to bad weather but it should still be a decent race.
Startlist at PCS (incomplete)
Route overview




Stage 1: Frauenfeld - Frauenfeld, 10.9k
Like in 2018, Frauenfeld hosts the start of the race, this time with a short, flat ITT. The route is pretty straightforward until the first time check and gets somewhat more technical after it.
Stage 2: Neuhausen am Rheinfall - Lachen, 178k
Hilly stage from the famous Rhine waterfall near the German border into the centre of the country. The final climb should shed all sprinters and might see GC action.
Ghöch: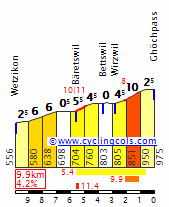 Oberricken:
Litschstrasse:
Stage 3: Lachen - Pfaffnau, 182.1k
Probable sprint stage, in spite of the final climb containing a kilometer averaging almost 10%. The finish is as dangerous as it usually is at this race with a sharp left-hander at 250 meters to go.
Schindellegi (the uncategorised climb early on): first 7.8k of the profile below
Ohmstalerstrasse:
Stage 4: Sankt Urban - Gstaad, 171.0k
A finish on the landing strip in Gstaad, with an identical finale to the 2018 stage where Christopher Juul-Jensen, the last man standing from the early break narrowly held off a reduced peloton led in by Michael Matthews.
Saanenmöser:
Stage 5: Gstaad - Leukerbad, 175.2k
The only of the three mountain stages that hasn't been altered. In 2018, Diego Ulissi won the stage here in a sprint of the elites, fortunately the route looks at least somewhat harder this time around.
Col du Pillon:
Höhenweg: first 7.7k of the profile below until the junction towards Feschel
Leukerbad: final 11k of the the profile below from the junction towards Guttet
Stage 6: Andermatt - Disentis-Sedrun, 130.1k
Looks too easy for proper GC action. Breakaway day?
Gotthardpass: final 8.5k of the profile below
Lukmanierpass:
Descent + climb to Via Lucomagno (from right to left):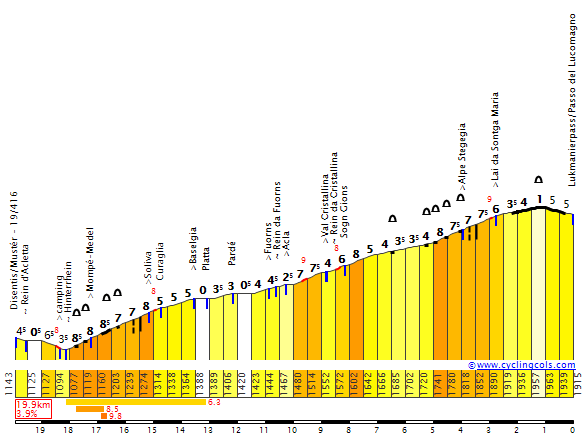 The final drag up to the finish line starting directly after the final GPM is the first 8.9k of the profile below, until Camischolas.
Final two stages in the next post due to the image limit.