Vuelta 2018 stage 19: Lleida - Col de la Rabassa 154.4 km start 13.30 CET
The 19th stage at the Vuelta a España sets off in Lleida to head north to Andorra. The route climbs gradually for 154.4 kilometres to the foot of the only KOM of the day, which is the Col de la Rabassa. Summit finish at the end of the 17.5 kilometres climb at 6.3%.
Departure place Lleida is located at an altitude of 150 metres and the Rabassa begins at 940 metres. Generally the route is a rolling false flat with some sections standing out – for instance the upward stretch to Cubélls. The riders move through Oliana and La Seu d'Urgell to reach Sant Julià de Lòria at the foot of the Col de la Rabassa. The haul up to the top recently featured in the Vuelta's of 2015 and 2017, although not as the final climb.
The Rabassa amounts to 17.5 kilometres and it kicks in hard with double digit ramps in the first half, yet the climb flattens out in the second half. The slope is mostly hovering around 4 to 5% with a few 7% sections standing out. When the flamme rouge flies over their heads the riders hit an uphill kick of 8%, and that's it. The average gradient of the Col de la Rabassa is 6.3%.
weather forecast is 25C & cloudy - colder up in Andorra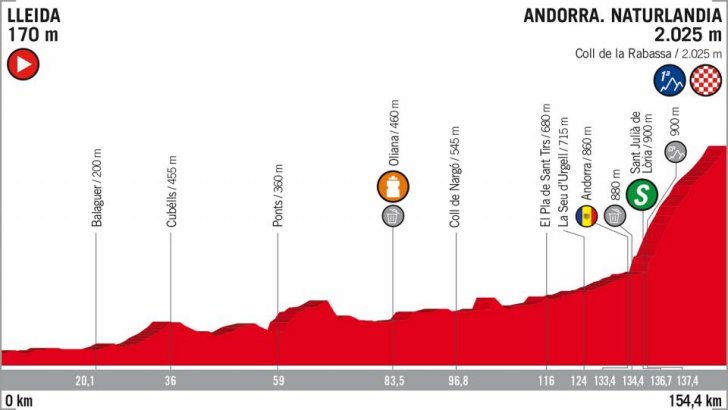 Coll de la Rabassa climb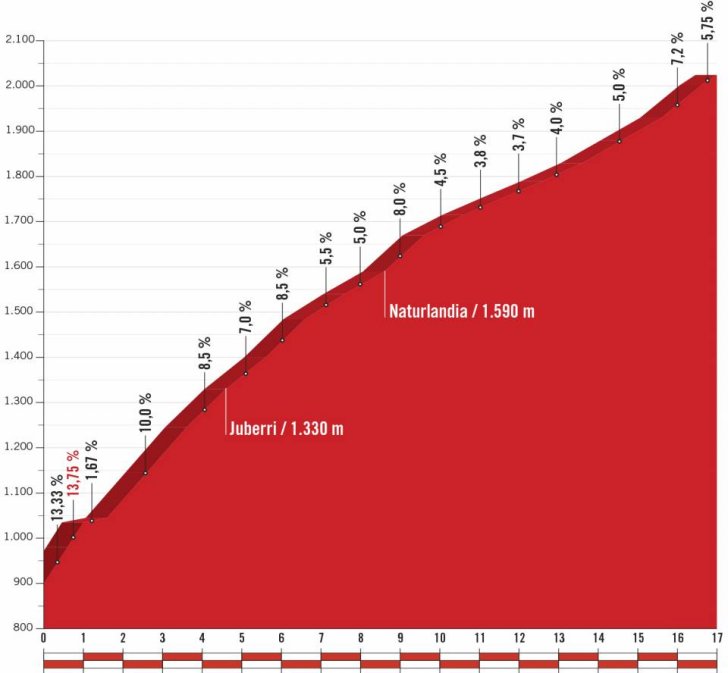 more details of climb