After years of dwindling fields and interest and a botched first outing with a better field in the new calendar slot next year due to poor rider safety, the Tour de Luxembourg is back with a new look. Gone is the focus on shorter hills and smaller gaps, replaced instead by a hard route with a queen stage that could be considered a mid-mountain stage and an unusually long TT for a five-day race in this day and age. With the likes of Almeida, Mollema, Gaudu, Pinot, Quintana, Ayuso, Formolo, Cosnefroy, Chaves and Ewan here, the startlist is the strongest it's been for a long time too. This should be a good one.
Startlist
The route
Stage 1: Luxembourg - Luxembourg, 140.0 km
The race starts with a shortish, but reasonably hilly affair. Despite some tricky hills in the middle of the stage, this one should be all about the final 10 kilometres, with the deceptively steep final categorised climb of the day and an uncategorised ascent of the Kirchberg, where the finish line is situated. There's a 90-degree left-hander at about 250 metres from the line, something to take note of if this is a reduced sprint.
Montée de Niklosbierg (the first 0.7 kilometres on easy cobbles, KOM after 4.7 kilometres):
Côte de Gralingen
Côte de Bourscheid:
Côte de Stafelter:
Kirchberg:
Stage 2: Steinfort - Eschdorf, 186.1 km
The queen stage comes quite early into the race. It's up and down all day, with some hard climbs before three difficult ascents of the climb to Eschdorf, 800 metres from the finish line.
Côte de Holtz
Côte de Boulaide (first 3k only)
Côte de Ringel:
Côte de Kaundorf:
Côte de Harlange-Poteau
Côte de Misärshaff
Côte de Heispelt (first 1.7k only)
Côte de Eschdorf (3x):
For anyone looking for video footage of the climb: it featured mid-stage in the third stage of the 2017 Tour de France.
Stage 3: Mondorf-les-Bains - Mamer, 189.3 km
The longest stage of the race is also the most realistic sprint opportunity. Having said that, there's still quite a bit of climbing to do, with all eyes on Lotto Soudal, there's more than one way this one could go. The lap circuit, completed twice, is rolling, and ends with 900 metres at 2.0% starting from the final roundabout.
Côte de Kazebierg
Montée de Berbuergerhaff
Côte de Beaufort
Montée de Brouderbur:
Montée de Mariendallerhaff:
Lap circuit:
Stage 4: Dudelange - Dudelange, 25.4 km (ITT)
Yes, it's actually longer than the Euros TT... and both hillier and more technical as well. The steep section in the PCS profile doesn't actually exist, though.
I've split my detailed profile in two halves:
Stage 5: Mersch - Luxembourg, 183.7 km
The final stage is on much more familiar terrain, with the classic Pabeierbierg featuring on a longer circuit than we're used to seeing in the final stage of this race. The finish line is also after the usual double right-hander 300 metres out.
Côte de Nommern
Côte de Lipperscheid (first 1.4k only)
Côte de Schlindermanderscheid: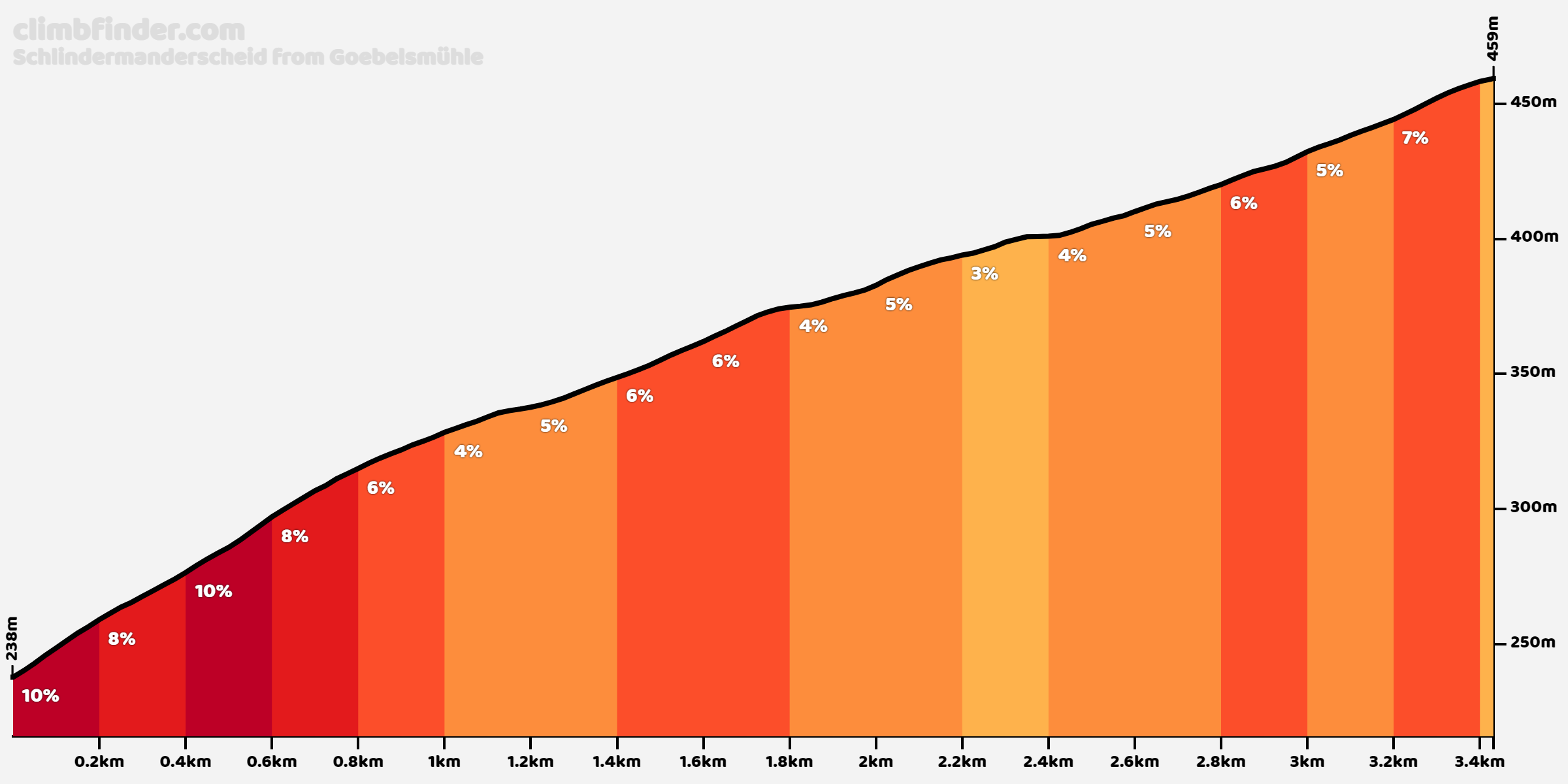 Côte de Kautenbach
Côte de Doncols
Côte de Misärshaff
Côte de Bridel
Lap circuit:
Last edited: