FERNANDO ESCARTÍN COMMENTARY
MOUNTAIN. A stage where escapes are likely to go well and last until the end. The succession of Las Alisas and the Collada de Bremes will create a natural selection before arriving at Jano Peak. This long, stretched-out, unprecedented mountain pass may leave one of the favourites behind if his strength fails him.
112,2 km: Puerto de Alisas (Cat 2) (8,1 km al 6,4%)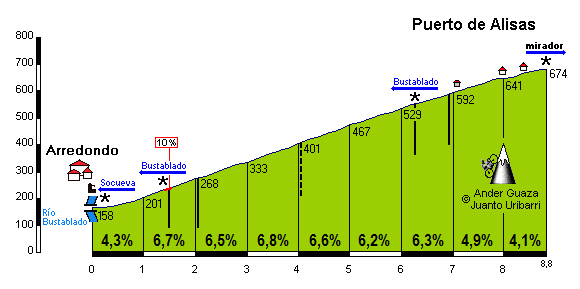 42,2 km: Collada de Brenes (Cat 1) (6,3 km al 8,6%)
12,6 km: Ascensión al Pico Jano (Cat 1) (12,4 km al 6,6%)
BILBAO
Bilbao reasserts its prominent role in this edition by hosting both a stage departure and a finish-line. It will be the third time that the Biscay capital fires the starting gun for a stage with a high-altitude finale, following the one in 1977 that ended in Urkiola and the one in 2019, with a finale at Los Machucos. La Vuelta 22 bids farewell to this Spanish cycling mecca surrounded by the fervour of Basque fans who always turn up to support the international peloton.
33 stages of La Vuelta have departed from Bilbao
350.184 inhabitants
Province of Biscay
ASCENSIÓN AL PICO JANO. SAN MIGUEL DE AGUAYO
Cantabria continues to provide us with new and spectacular finales. In 2017, Los Machucos became an instant race classic. In 2022, the Pico Jano hopes to become a new cycling reference. The first high-altitude finale for La Vuelta's 77th edition will put the peloton to the test with an almost 13km climb featuring several stretches with double-digit inclinations – all the right ingredients for a spectacular and unprecedented climb in the Spanish Grand Tour.
Unprecedented Vuelta finale
145 inhabitants
Region of Cantabria