Sorry that i've did this during the Vuelta but i prefer to do this during it rather than during the WC's.
I've decided to not categorise those two hills in Sacré-Cœur to keep the profile a bit more cleaner hence the existance of a dummy cat. 4 just to give someone a point.
Last stage:
link
https://www.la-flamme-rouge.eu/maps/viewtrack/210182
Tour de France 2 – stage 21. Fontainebleau – Paris-Champs-Élysées, 137km, flat, cobbles.
Climbs:
Côte de Villoison – 0,5km, 7%, cat. 4, 83m
Place Jean-Baptiste Clément – 650m, ~7,7%, 113m
Place du Tertre – 300m, ~10,3%, 131m
Cobbles:
Rue de Milly – 1,3km, ***
Rue des Montils – 0,9km, ***
Place Jean-Baptiste-Clément x4 – 300m, *
Place du Tertre x4 – 400m, *
Today i will only focus on the Paris laps. Of course their amount is random, so you can add more or less of them if you want. I will mention though that i decided to use two of three Champcueil cobbled sectors – Rue de Milly and Rue des Montils.
Map of the lap around Sacré-Cœur.
Château de Fontainebleau.
The lap starts with Rue de Rivoli, in front of the Louvre and the town hall after passing throguh Île de la Cité (Notre-Dame). From Rue de Rivoli the lap continues on Boulevard de Sébastopol, Boulevard de Magenta (near Gare du Nord) and Boulevard de Rochechouart. All of them are nice straightaways. The road changes drastically when entering the cobbled Rue Dancourt, where the climb to Place Jean-Baptiste Clément starts. The climb is entirely on cobbles. They're mainly the nice mainstream cobbles but there seems to be some slightly rougher moments in the last 250m on Rue Drevet, Rue Gabrielle and Place Jean-Baptiste Clément.
Cobbles of Rue Gabrielle.
This 650m at roughly 7,7% climb is two-stepped. The first 450m on Rue Dancourt, Rue Chappe and Rue Drevet are at roughly 10%. It's followed by a 140m false-flat on Rue Gabrielle before the final 55m push on Place Jean-Baptiste Clément. This uphill is followed by a short (roughly 530m), but complicated and cobbled descent on a quite steep and narrow Rue Lepic. This downhill is followed by a tiny uphill on Rue Girardon and then once again descends down on this time milder and wider Avenue Junot.
Rue Lepic.
The descent ends when reaching Place Constantin Pecqueur. After like 20m on Rue Caulaincourt i'm entering the cobbled Rue Saint-Vincent, where the next climb starts. This uphill is 300m at roughly 10%. It goes via Rue Saint-Vincent and Rue des Saules, both cobbled. The cobbles of Rue des Saules are slightly less refined as those of Rue Saint-Vincent. I guess some parts of Rue des Saules can reach 14-15%.
Rue des Saules.
At the top there are flat 120m on Rue Norvins. The descent starts on Rue du Cardinal Dubois in front of the Sacré-Cœur basilica. It's a very picturesque and rather straight descent with good views over Paris. However, the first 240m are cobbled. The descent is 850m at roughly 5%. It consists of Rue du Cardinal Dubois and straight (only 2 turns), but quite narrow Rue Lamarck. The descent ends when reaching Rue Caulaincourt.
Rue du Cardinal Dubois.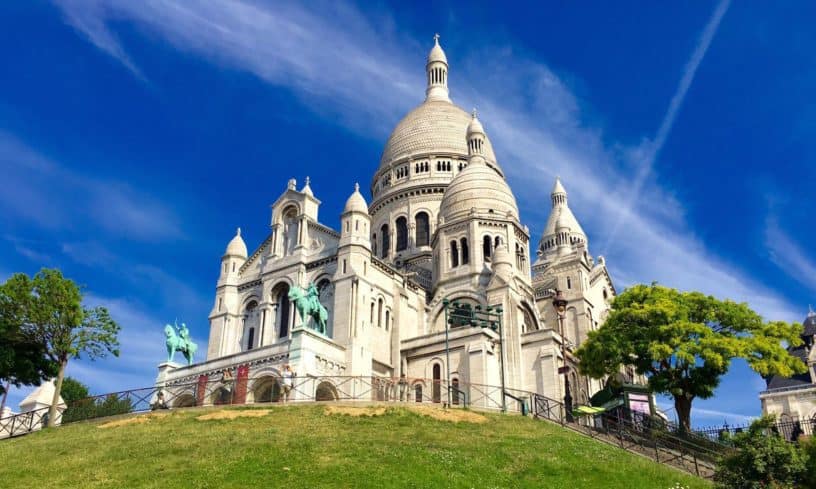 Sacré-Cœur.
I've decided to take a slightly longer route to not entangle with a previous section of the lap on Place Constantin Pecqueur. To do that i'm taking Rue Lamarck and Rue Damrémont before joining back the Rue Caulaincourt. None of these roads are particulary wide. When reaching Rue Caulaincourt it finally gets straightfoward. From here the race goes to Place de Clichy and Arc de Triomphe via Boulevard des Batignolles to then finish the race on Champs-Élysées.
Arc de Triomphe.
Champs-Élysées.
The laps are roughly 15km long. The top of the last uphill is 7km from the finish line of which the last 6 are flat. The majority of roads around Sacré-Cœur (3-4km) are cobbled and narrow while the rest is mostly wide and straight. I hope this lap around Sacré-Cœur is interesting enough for you to be entertained. Of course what can be expected is a lot of traffic jams, crashes if it's wet and potential GC fight if there's still something to be decided.
Link to the entire race:
https://www.la-flamme-rouge.eu/maps/tours/view/9861
So, that was my try on the 3-peak TdF "challenge", which was born in pain and convulsions. It was a 1-2 year voyage for me where at first i was going for the realism, then optimalisation and finally i've ended on a bunch of stages that visit some places that i would like to see in real life. I still tried to have the design basics ticked off like bunching mountain stages, longer time trial and following MTFs with descent finishes but it was mainly about going for the 3-peak race and just pleasing my own eyes. I hope it also pleased yours.
This tour was mainly focused on novelties, so this time i was way more leanient with the realism. The novelties were a finish on Mont Gerbier-de-Jonc, Vulcania Park, Pailhères, Pause, Tournaboup, Millefonts, (probably) cobbled finish in Avalon and (probably) murito finish in Coutances. Because the 2nd and 3rd mountain blocks are much closer to each other i've tried to do the 1st one a bit more selective, hence there are very tough climbs some distance away from the finishes. These mountain blocks are separted by at least one stage for ruleurs – in this race the stages to Gent and Blaye.
9 HC climbs is a lot but (almost) all of them are genuine HC. I could exclude Pause and Turini, which are a bit on the borderline side. At least there's no ridiculous HC's like Pré and Aubisque east. There were a number of over 2000m cols, but only two higher than 2100m – Tourmalet at 2115m and Bonette at 2802m (by far the highest point of the race). The other over 2000m cols are Madeleine (2000m), Pailhères (2001m), Millefonts (2035m) and Croix de Fer (2067m). The highest finish is at Millefonts. The longest stage is the mini RVV to Gent (230km). Other over 200km stages are to Moûtiers (219km) and Coutances (213km). It's not too many, but the majority of stages are at 180-190km. There's a big amount of stages featuring cobbles or dirt in meaningful locations. Those are stages 5 to Avallon, 7 to Gent (highest amount of cobbles), 9 to Trouville-sur-Mer, 12 to Col de Pause (dirt MTF) and the last stage in Paris.
I hope you liked what you've seen. Below are the stats and the library.
Race stats:
Overall length:
3587km
Flat stages:
4/5
Hilly stages:
4/5
Medium mountain stages:
3
Mountain stages:
7
Time trials:
2 (
overall:
62km)
Stages with cobbles/dirt roads:
5
MTFs:
4
HTFs:
2
Stage list (stage type roughly determined by the last 100km):
1. Évian-les-Bains prologue, 5,4km
2. Évian-les-Bains – Argentière-Le Tour, 180km
3. Saint-Gervais-les-Bains – Moûtiers, 219km
4. Aix-les-Bains – Mâcon, 170km
,
5. Cluny – Avallon, 189km
6. Auxerre – Épernay, 189km
7. Saint-Quentin – Gent, 230km
8. Kortrijk – Abbeville, 195km
9. Eu-Le Tréport – Deauville-Trouville-sur-Mer, 189km
10. Lisieux – Coutances, 213km
11. Salses-le-Château – Ascou-Pailhères, 181km
12. Ax-les-Thermes - Col de Pause, 186km
13. Saint-Lizier – Barèges-Tournaboup 1450, 183km
14. Tarbes – Marmande, 181km
15. Saint-Émilion – Blaye, 56,7km
16. Guéret – Vulcania Park, 196km
17. Brioude – Mont Gerbier-de-Jonc, 152km
18. Montélimar – Digne-les-Bains, 177km
19. Digne-les-Bains – Parking des Millefonts, 195km
20. Nice – Menton, 183km
21. Fontainebleau – Paris-Champs-Élysées, 137km
List of cat. 1 and HC (bolded) climbs per stage:
2. Col du Corbier, Col des Planches,
Col de la Forclaz
3.
Col de la Croix-de-Fer
,
Col de la Madeleine
11. Col de Creu,
Port de Pailhères
12. Col de Chioula, Port de Lers,
Col de Pause
13. Port de Balès, Col de Peyresourde, Col d'Aspin,
Col du Tourmalet
17. Col de Peyra Taillade, Col du Gerbier-de-Jonc
19.
Col de la Bonette
,
Parking des Millefonts
20. Col de Vence,
Col de Turini
, Col de Braus