Stage 10: Funchal - Funchal, 142km
GPM:
Alto do São Martinho (double climb)(cat.3) x 10
Alto do São Martinho (1a subida) 3,3km @ 5,4%
Alto do São Martinho (2a subida) 1,4km @ 7,8%
Part of the reason for the super brutal penultimate stage is the not-unreasonable expectation that quite a few riders will prefer not to make the journey to Madeira for the final two days, so therefore only those with real designs on jerseys, GC ranking, team support or specific intent on targeting those stages will be around, which will make the final two days of racing more difficult to control. After yesterday's brutal mountain odyssey compressed into 87 short but horrible kilometres (I think there could be close to 3 hours in the saddle despite the short distance in yesterday's stage, looking at climbing times - I think there's probably a good 2 hours of climbing for sure across the three ascents - using Mas de la Costa as an avatar for the first cat.1 (15-16 minutes approx with Valverde and Roglič setting the record), Les Praeres for the second (15-16 minutes approx with Simon Yates setting the record), but with a bit of climbing first and between those sections, so I'm thinking 40-45 minutes total for that first climb; using Rettenbachferner and recent passes of the Mortirolo as an avatar for the second pass of Poiso you get circa 45 minutes - possibly a little longer due to those early kilometres - and then you've got 40-45 minutes for the Alpe d'Huez/Jito d'Escarandí-like final climb. The final stage of the Volta is a more typical affair in terms of distance, a little on the short side but still conventional cycling stage length, as we take 10 laps of a hilly circuit around Funchal.
As mentioned in the last stage, with its population of just over 110.000 Funchal, which effectively means "fennel plantation", is the sixth largest city in the Portuguese nation, and the logical place to finish when racing in Madeira given its role as the island's capital and by far largest settlement. As an important strategic location on the island, given its suitability for establishing a port and its fertile soil for crop-growing, it was established as a city in the early 15th Century and quickly outgrew other Madeirense settlements thanks to its favourable location, having fertile land and a coastal position making it important for trade with the outside world. Gradually all of the other settlements sprung up around the economic centrality of Funchal on the island, and it became Portugal's most important source of sugar until the development of the Brazilian colonies. It became an important staging post between Portugal and its colonies in west Africa, round to the Indian subcontinent and of course to South America, and grew quickly. The Portuguese elites brought viticulture, which took over from sugar as the main home-spun profitable export when the New World became Iberia's principle source, and its wine is now world-renowned and mentioned in various cultural and literary spheres for hundreds of years. Its sheltered location and coastal position also lends it a milder climate than might be expected this far south, and as a result it won't be quite as blisteringly hot as many Volta stages have a tendency to be.
City centre
As mentioned in the last stage, sport in Madeira is largely centred around football; Marítimo, Nacional and União are the three teams in the city, with the former holding the most illustrious history and being the sole representative of Madeira in the top flight at present. Nacional is the one that holds the connection to the world's most famous
Madeirense
, however, for from the ages of 10 to 12, a young soccer player by the name of Cristiano Ronaldo plied his youthful trade in the Nacional academy, before being poached by Sporting Clube de Portugal, from whence he moved to Manchester United, Real Madrid and Juventus, and became one of the most mercurial, most talented and most divisive sportsmen ever to play the game. Love him or hate him, his record speaks for itself; even if it's rather artificially inflated by a huge number of penalties awarded, often dubiously. Ronaldo is the poster boy for everything that is bad about the sport, or was until Neymar arguably surpassed him by being even more all-about-the-money, equally bad at diving, and not as good at scoring goals. Cristiano is renowned for his selfishness, his arrogance, his sense of entitlement, and the incredible difference in strength he has between when he's fighting for the ball, and when he already has it, when despite his 187cm height and muscular physique it seems he's very top-heavy and a slight breeze can knock him over. And paradoxically, despite what a fabulous player he undoubtedly has been for club and country, the finest thing he ever did in a Portugal shirt was get injured in Euro 2016 by a pretty dubious, orchestrated-looking hit by Dimitri Payet - for much of that tournament he had been ruling the Portuguese team with an iron fist, insisting everything be played through him, berating his younger teammates for not passing him the ball even when better options were available, and because he wasn't on the top of his game, the team was bumbling their way through the tournament. When injured, however, he suddenly changed, and became an inspirational figure, supporting and guiding his teammates. Whether it was the new perspective from the touchline matched with his unsurpassable vision for the game, or whether it was an understanding that if he couldn't pull the team out of any mire it got into (as he had frequently had to do in the past, sometimes with and sometimes without success) he would need to show the others how to do it, but he was a man reborn, and with a combination of tactical wisdom, enthusiasm and the kind of support he'd never been showing those players on the pitch, he finally got the international trophy that a player of his talent undoubtedly deserves.
His arrogance is pretty unmatchable too, though. Madeira is pretty proud of its most famous son, though, and a museum built to house his trophies and filled with waxworks of the chinless marvel was inaugurated in 2013; three years later it was relocated to a more prominent location to fit in with a new hotel complex being constructed as part of a joint venture between the footballer and a construction company, along with a bronze statue of the man himself being added, and the Praça do Mar being renamed the Praça CR7 to honour him (I am not as much against the honouring of the man as much as them using the corporate creation rather than the man himself in the naming). He's not the only famous sportsman to come from the island, though - although the most prominent otherwise comes from an unlikely source - former second division footballer Álvaro Henriques came from a poor upbringing and when his career ended in 1988, he moved his family to Australia; his son Moisés has forged a successful career for himself not in Portugal's favourite winter sport, but in Australia's favourite summer sport, becoming an international cricketer in the competitive environment of the Australian national squad.
The start/finish of the circuit is on Avenida do Infante, and there were a couple of circuits that I used as an inspiration for the design here, both from Spanish races, and the course sits somewhere between the two in terms of difficulty. The first was the circuit used for the 2014 World Championships in Ponferrada, which included an early flat stretch, then a gradual - mostly false flats - ascent, then a descent before a second, steeper ascent and then a drop in toward the finish. That circuit was around 20km in length as there was a length of flat that there isn't quite as much of in mine, but the approximate shape is the same. The two climbs in that circuit were 5,1km @ 3,5% (realistically, 3,7km @ 4,4% with some flat and then a short kick-up at the end) and 1,2km @ 6% respectively.
The other, similarly shaped but much more difficult in practice, was the double-Aia circuit from the Vuelta al País Vasco, preferably the earlier versions finishing in Zarautz or Orio like in 2010. This double climb made for a fascinating race with the first climb softening the legs and then the steep finale cutting people to ribbons.
As I mention, my stage is not as difficult as Aia circuits, but it's harder than Ponferrada. The shape is largely similar though, with the first 4km or so being flat to rolling along the
Estrada Monumental
, which sits slightly inland and drifts up above and down to sea level as required by the rocky coastal path. After this it turns uphill for the first of two climbs into the district of São Martinho on the circuit, which totals at 3,3km at 5,4%, which starts off with a kilometre at 6%, then a second at 7,3%, before easing off down to 4-4,5% for the rest of the way, finishing at the
Igreja do São Martinho
.
Here, we turn right onto Avenida do Amparo. This is a
pretty steep road
which is also a dual carriageway separated by a central reservation that at parts is walled. It's nice and wide, and I therefore came up with the idea of descending down one side of the road, looping back around a roundabout and climbing the other side. After all we see this kind of back-and-forth on a dual carriageway in flat circuits all the time in the Middle East, South America and in parade stages in places like Paris, so why not do it on a non-flat circuit, when the roads are demarcated, separate and wide enough that it can be made safe? As a result, there's a descent of 1200m at 7,8%, and then an immediate ascent of 1400m at the exact same gradient (we ascend past the church to the actual high point of the circuit) including a steepest part of 400m at 10%. I have elected not to categorise them separately but instead give the cat.3 climb points at the end of the double climb on each circuit.
The rotonda at the base of the second climb
The final time over this double climb is with 4km to go, so you could leave it as late as that if you want. Hell, if the time gaps are
really
small (which I doubt given the race to date), you could leave it even later. The majority of the descent is on the V1 road, which we take a slip road onto at the top of the climb (immediately leaving and re-entering due to a complex junction between the V1 and 10 highways), and is mainly a dual carriageway once more so nice, wide and safe. There's then a roundabout where the dual carriageway gives way to a single - but multiple lane - two-way road, and then just before arriving at the 25. Abril tunnel we exit via a narrow and twisty set of corners - however the descent has flattened out here so it's not going to prove any danger, however it will let a break get out of sight and potentially out of mind coming into the run-in. We then return toward the coastline on
Avenida Calouste Gulbenkian
, named for the British-Armenian oil magnate and philanthropist. This then leads us into the final kilometre, where we have a couple of roundabouts, most notably Praça do Infante with 450m remaining. We turn right onto this, and then the final 450m is dead straight to the finishing line that finishes each lap. Only one catch…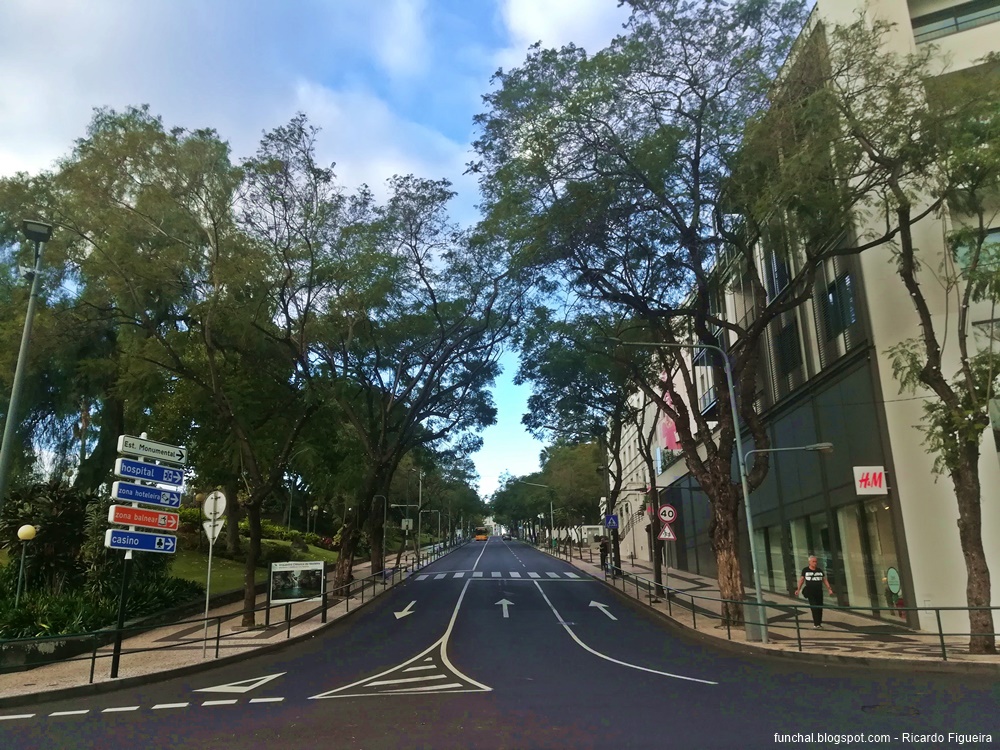 Yup, though too short to be categorised, this is
not
your average final stage sprint to the line. The final 400m climb 35 height metres, so average 8,75% - not quite the Hatta Dam madness, but still - it's too short too be a real puncheur finish, but it's too long at too high a gradient to be great for the sprinters too, and seeing as I can readily see a few sprinters, rouleur domestiques and time trial specialists electing not to travel to Madeira for the finale here, it seems unlikely that a bunch will be here to contest the finish, especially given that they'll have been around this circuit 10 times by the time they come to the line.
The overall circuit is 14,2km in length (obviously, since the stage is 142km long and features 10 laps of the circuit), with a feed zone at the finishing line on lap 5, and metas volantes on laps 4, 6 and 8. This stage was borne out of an idea that I had that I was going to do similar to the Nordic Series, but abandoned after a while, to design championship courses all over countries' non-contiguous parts and places that are usually unable to get involved in their countries' national tours - such as the Isle of Man and Northern Ireland for Great Britain (the Isle of Man has of course hosted the national championships in recent years), Ceuta, Melilla, Las Canarias and the Balearics for Spain (the original inspiration for the idea was the 1997 Spanish championships in Melilla, which I used to inform the Grand Départ of one of my Vuelta routes, while the championships have also been in Palma de Mallorca in 1936 and 1965), French championships in places like Cayenne, Mayotte and Guadeloupe, Danish championships in Nuuk or on Bornholm, Swedish championships in Gotland, and so on. This was the course I designed for a "non-ridiculous" championships course in Portugal, although originally there would have been more laps for it to be a championship-worthy race.
On the final day of an 11-day race, after the kind of mountains I've subjected the riders to, however, I think that 142km will be plenty here, because teams will be depleted from attrition even before we get to the rodadores being reluctant to travel over to Madeira for yesterday's absurdities. The stage is definitely hard enough to offer some options for real carnage, in much the same way as, in the Tour of Japan, Tabriz Petrochemical Team used to not use the Mount Fuji hillclimb stage, but instead the following day's Izu circuit stage, with dozens of small climbs, to open up the big gaps; they'd take control on Mount Fuji, but then they'd grind everybody into dust and make the big gaps on the Izu stage. Riders won't have the chance on a climb as brutal as the Paso do Poiso to take it easy, and even if they did, this stage is not hard enough to induce fear that would paralyse racing earlier. Instead, I just see this being a messy finish to a race which could be a really dramatic stage if there is still a GC battle going on, because it is like a hilly World Championships route, no? While it was designed with Ponferrada and the Aia doublet in mind, in terms of actual difficulty and length of circuit, what it has the most in common with is, in fact, the
Mendrisio World Championships circuit
. And I don't think many people would be unhappy to get the kind of racing we got at Mendrisio to finish a stage race?