2020 has been a strange year.
It is a year I can't wait to be over, it is a year I will look back on with absolutely zero fondness whatsoever - save for a small amount at the very start, where I spent some time in Östersund skiing and got to actually try my hand at biathlon, which was an experience I had been dreaming of for several years. But that's just about the only thing I will look back on 2020 fondly for.
It has, however, had some unusual and unintended consequences. From March, the sporting calendar was pretty much completely grinding to a halt. Paris-Nice was raced hell for leather by a collection of riders who never knew when the race would be called off. The biathlon World Championships took place in Antholz (in retrospect a highly regrettable decision) but the season thereafter was behind closed doors; three-time crystal globe winner Kaisa Mäkäräinen retired on her home snow in Kontiolahti, but with nobody there to see her ride into the sunset. Football stadia were empty, the hockey season was called off (meaning some trades designed to provide injury cover became instantly very regrettable, Koronin probably will know immediately the one I'm thinking of), and hundreds of races that would have characterised our spring were replaced by an empty void that a bunch of short distance e-races with depleted pélotons and MarioKart power-ups that served as nothing more than an extended advertisement for Zwift just couldn't fill for me. To sum up just how apocalyptically bad 2020 was, the proliferation of e-races led me to find common ground with my own personal bête noire, Peter Sagan, who concurred that these were awful and of no value.
At first I decided I would catch up on racing that
had
been able to take place in the first couple of months of the season using youtube and other streaming services, but there were limited amounts of it. The good thing about the Race Design Thread, however, is that it is fuelled by imagination and creativity, and of course geography. The need to find something to scratch that sporting itch meant that I could post a few things out of my backlog of races, although this has ground to a halt recently as once races have got back underway, a highly compressed calendar means there's seldom any downtime in the sporting world at present, as important race after important race fills every weekend and most weekdays until the end of the Vuelta well into November. In the earlier times of lockdown, however, the thread was a good bit more active as contributors added race after race. Early in lockdown, I drew up a Vuelta a la Independencia Nacional, as this was one of the races I had watched to get my cycling fix in the early days of lockdown - the race took place in February and had coverage available, plus I knew nothing of what had happened as the 2020 edition was not a UCI race. It was ideal, and stoked an interest to me in seeing what the country was able to offer. After all, while I can still find plenty to wring some new ideas out of Spain, France, Italy, Belgium, Switzerland… they're kind of known commodities. I've gone further afield plenty of times, but there were whole areas of the globe I hadn't even considered.
But then, we got some live racing back. It was an exciting fillip in negative and depressing times. We could watch some honest to god bike racing again, even if it was like stepping into a whole new world, which was like the bike racing we know but not quite the same. It was a three week cycling event with live coverage, helicam (actually drones), theme music, kings of mountains, teams in collusion and rivalries, it had drama and anticipation, it had completely bonkers imagery and racing, and it was in a stunningly beautiful backdrop that offered incredible choice for the traceur. This was the HTV Cycling Cup.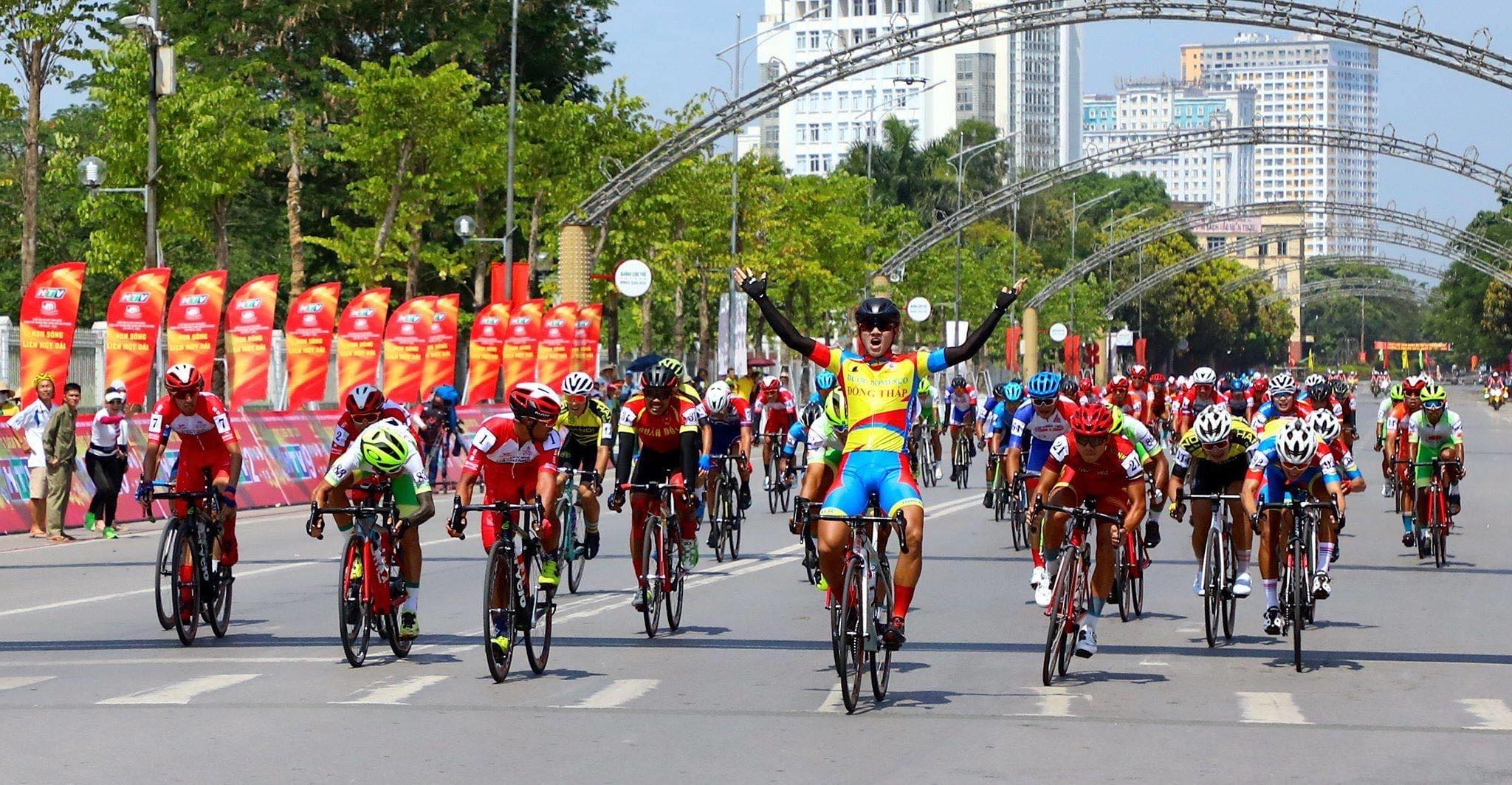 Words cannot express how much I love the HTV Cycling Cup. This must have been what it was like in Cold War times to accidentally stumble across coverage of one of the eastern bloc amateur races to somebody weaned on the Tour and the Giro. It was something completely recognisable and yet strangely different from what we were used to. It was long form stage racing, but on open highways decorated with socialist monuments, through tropical rainforest scenery, with a week 3 Team Time Trial (!?) and criterium stages interspersed in the middle of the race. With the lockdown having affected the race, none of the overseas riders that had frequented previous years' racing were on hand, and only two outsiders were able to start - France's Loïc Desriac and Spain's Javier Sardá, both of whom are based in Vietnam and had been there when lockdown began (Colombian Jordan Parra, who also rides in Vietnam, was back at home when the spread of the virus became unstoppable, and so has not returned). I knew literally no Vietnamese, but the amateurish charm of the presentation (especially when they went all out on staging, road closures, barriers and podiums) won me over and despite a parcours that resulted in a large number of sprints, soon I was invested in the names involved and talking like I was an expert in a cycling scene I knew next to nothing of. After all, Vietnamese cycling is pretty obscure even by the standards of the UCI Asia Tour, with no UCI categorised races.
Oh, one more thing about the presentation: their TV host is The Man. No, really. That's his name.
I knew straight away I wanted to 'do' the HTV Cup. The country was so ripe for discovery. It's an established race, having been held since the 80s. Cycling fans, starved of real competition for months, were giving the race more prominence worldwide than it had ever had, just through lack of any opposition in the calendar; the race can be as long as you want (the longest edition, 2018, being 30 stages in length), and Vietnam offers geographical diversity as well as historical and cultural sites I really hadn't investigated. I hadn't really done any Asia Tour races to date, and though I went with Taiwan first, I had had a go at doing a more creative Tour de Langkawi which I may post at some point. But the HTV Cup had piqued my interest and once I'd abandoned an early attempt which sacrilegiously went south to north (the very point of it being the HTV Cup means it has to end in Ho Chi Minh City since HTV is the Ho Chi Minh City TV station, but the absolutely pan flat terrain around the Mekong Delta made it difficult to put together a route I was happy with), a route eventually came into place.
My hope is that the race can build on its unexpected, serendipitous higher profile and when it can hopefully return to including overseas riders next year, they can continue to develop it, making a tougher and more varied route with a bigger péloton so that we don't see such a bogarting of the success by a small number of riders, since only 82 riders were able to start this year's race across 12 teams. In previous years, however, they have seen teams from neighbouring countries such as Cambodia, Laos and Thailand take part, as well as from further afield such as Korea and with riders like the infamous Mirsamad Pourseyedi turning up as mercenaries. Other Vietnamese races have seen teams from the Philippines, Indonesia and Malaysia also take part and my thinking is that although not all of these teams will necessarily want to peak for a 3 week race in Vietnam and may not be able to bring some of the ringers they sign specifically for racing Langkawi, the improved worldwide recognition of Vietnamese cycling afforded by their running opposition-free in a post-Covid world might make the race somewhat more attractive to them. And that that, in turn, would encourage the organisers to make a more rounded parcours.
In a 'normal' year, you could rely on the same 12 Vietnamese teams that contested the race this year:

Thành phố Hồ Chí Minh
- the team of 2019 and 2020 winner Javier Sardá, effectively the lead team of the race's home area. Lê Văn Duẩn is also very strong and with a wealth of experience.
Hồ Chí Minh-MM Mega Market
- sister team to the above, their kit is the same only orange instead of red. They are built around star sprinter Lê Nguyệt Minh, who with so many races ending in sprints is one of Vietnam's most recognised riders.
Bikelife-Đồng Nai
- the most international team, they race elsewhere in Southeast Asia often, and are led by French expat Loïc Désriac and Nguyễn Hoàng Sang, one of the better climbers in Vietnam and the nation's most successful rider of recent years in international competition.
Ynghua Đồng Nai
- sister team of Bikelife, quiet this year with Jordan Parra, their main name, stranded at home in Colombia.
Dược Domesco Đồng Tháp
(DDT) - brightly coloured team led by Nguyễn Tấn Hoài, a versatile all-rounder with a strong sprint who finishes high in the GC, akin to a Vietnamese Cândido Barbosa, and who led most of the 2020 edition of the race en route to 2nd in the final GC. Perhaps more fairly compared to somebody like Wout van Aert or Edvald Boasson Hagen in skillset, though obviously not to their kind of level.
Dopagan Đồng Tháp
- unfortunately named sister team to DDT, led by break specialist Trần Tuấn Kiệt, who won 3 stages of the 2020 edition. Their kits resemble Phonak.
Châu Thới Vĩnh Long
- southern team whose kits resemble Groupama-FDJ, led by the best young prospect in Vietnam, Võ Thanh An.
Lộc Trời
- smaller team with white and fluorescent green kits, who Pourseyedi subbed for as a mercenary.
Quân Khu 7
- a team with ties to the military I believe. Owners of the best kits in cycling. Truly glorious.
Quân đội
- less distinguished team also with military ties, but fewer high profile riders and lamer kits.
Nhựa Bình Minh Bình Dương
- fairly small team whose kits resemble Total-Direct Energie.
Hà Nội
- the team of the capital, they wear yellow and black and have a small team that will likely be looking for a mercenary signing or two.
Now, although it's less common nowadays, there have been plenty of overseas teams rock up at the HTV Cup in previous years, and if the race is going to grow, then they will probably want to entice a few more overseas teams to increase the international exposure. So I've taken a bit of a look at races in the same part of the world to consider who may reasonably be considered a plausible team to compete. Of course, however, the race does not pay bonanza UCI Asia Tour points, so we're not going to see the kind of International slightly star-studded cast that rocks up to the Tour de Langkawi; the political position and role of Vietnam will mean you're less likely to get the random US and European teams that turn up to the Tour of Taiwan; also, while there are some teams who are quite local to the Vietnamese border and could feasibly turn up, such as Yunnan Lvshan Landscape and Shenzhen Xidesheng, the current China-Vietnam relationship means it is unlikely that we will see Chinese teams with their Colombian and Ukrainian mercenaries on the startlist. Even so, there are a good few squads in South East Asia who can complement the national péloton.
I was thinking some of the following teams would potentially be interested:

7-Eleven-Cliqq-Air21 by Road Philippines - team led by Marcelo Felipe who has some good results across South East Asia in the last couple of years.
Go 4 Gold Philippines - team of younger development guys, a couple of whom went well in the Cambodia Bay Tour at the start of the year.

Cambodia Cycling Academy - some young Cambodians accompanied by some French expats and some Russians plying their trade in South East Asia, most notably Matvey Mamykin.

KFC Cycling Team - some useful riders, not least the rather impressive-looking Muhammad Abdurrohman.
Mula - A very strong team with both Aimen Cahyadi (TTs and lower gradient climbs) and Jamal Hibatullah (climbing specialist) who could be major players.

Team Sapura Cycling - most likely without their big money Euro acquisitions for Langkawi, still some useful Malaysian riders like Muhammad Nur Atman Zariff.
Terengganu Inc-TSG - a very good team including overseas acquisitions like Youcef Reguigui, Carlos Quintero and Metkel Eyob, though these may not ride a race like the HTV Cup. Mongolian star Maralerdene Batmunkh may, though - he's ridden the race a few times in the past - as might Singapore's best ever rider, Choon Huat Goh, and sprinter Muhammad Harif Saleh, who took some major scalps en route to two stages at Langkawi in February.

Thailand Continental Cycling - a very good team in the region with a number of strong riders, mostly from the home nation. Sarawut Sirironnachai looks the likely strongest.
Finally, I would expect a

Laotian national team, to be led by 2017 GC winner Alex Ariya Phounsavath, now that he and Thailand Continental have parted ways. He has moonlighted in the race for Vietnamese teams, but with the race now making occasional forays into Cambodia and Laos, a Laotian national team backing him could really add to the race, especially now CCN is no more. Of course, not all of these teams are likely to be interested, but just adding 3-4 of them would add a much stronger international flavour to the race, or at least a couple of notable names to come in as ringers like we have seen in the past.
Gong Hyo-Suk, of LX Cycling Team in South Korea, rocked up in 2019 after doing the race with his trade team in the early 2010s, and won the queen stage to Đà Lạt, while Colombia's Vladimir López also entered for Ynghua that year; he was part of the reason Jordan Parra was tempted to go and race for the team in the latter part of 2019, so he may be willing to return. A couple of the Iranian extraterrestrials have raced here too, but with no Asia Tour points, I wouldn't expect Foolad Mabarakeh or Tabriz. A few other riders who have moonlighted in smaller races in this part of the world are:
Valentin Midey, a 30 year old Frenchman whose career is almost entirely comprised of Thai races in the last couple of years;
Edgar Nohales Nieto, a 34 year old Spaniard who has been racing in Asia for eight seasons now, and who appeared as a mercenary in the HTV Cup in 2018;
Florian Hudry, a 25 year old Frenchman who has been racing in Japan for a few years and was briefly with Cambodia Cycling Academy;
Konstantin Fast, a 44 year old Russian veteran who has bounced around South East Asian racing for a number of years in his career twilight;
Amir Kolahdouzhagh, a 27 year old Iranian former motorbike who tends to bounce around early season before signing for a Chinese team to moonlight in races like Langkawi.
I have decided to produce something that is not like completely tearing up the fabric of the HTV Cup, but is also developing the race into something that looks more like a higher level race on the world calendar, with the range of geography and stage options that Vietnam offers, and allowing for finishes outside of major cities. There will still be the occasional criterium stage, as these happen within the HTV Cup, and stage lengths will vary significantly with a few real short stages mixed in with longer ones (the real race includes road stages of any length between 40km and 240km!), and aiming to showcase the full extent of what this beautiful and scenic country offers at the same time as also showing something that would not be unachievable for the race if it is able to continue the momentum its unexpected leap to prominence on the world scene has afforded it, so as to make itself into a race which can have the same kind of standing as, say, the Jelajah Malaysia or the Tour de Banyuwangi Ijen (I am not going to bite off more than I can chew and pretend it will become the Tour de Langkawi, besides that benefits from being outside of European cycling season, the HTV Cup traditionally finishes outside the Independence Palace on April 30). So here we have a 21-stage, normal Grand Tour sized race, within the confines of what might be realistically achievable in the short-to-mid-term for the race.
Stage 1: Hà Nội - Hà Nội, 59km
The HTV Cup typically has two route formats. Either it starts and ends in Ho Chi Minh City, or, given the geographical shape of Vietnam, essentially a long thing strip of land linking the Red River Delta at the north and the Mekong Delta at the south, it starts somewhere north and heads southwards in a point to point type style akin to, say, Paris-Nice. The last two editions began in Vinh, but 'twas not always thus. 2018's longest-ever edition began its 30-stage odyssey in Lạng Sơn, on the northeasternmost border of the country, while 2012 started in Huế. In 2008, 2010, 2015, and 2016, the race effectively linked the second biggest city of Vietnam - its capital - with its biggest - the traditional finish of the race. And that is what we are going to do this time too, starting and finishing the first stage of the race in Hanoi.
The other thing that we are doing is starting the race with one of its beloved criterium stages - in recent years pretty much every HTV Cup has started in this format, with only a couple of exceptions. Prologue time trials have been used twice in the last 15 years - 2005 and 2018 - and 2007, 2009 and 2011 had full length road stages. But these were shorter editions, 12, 9 and 9 stages respectively, and those are anomalous in a race which typically veers between 16 and 20 stages in length. No king of the mountains points are there for the taking, therefore, but with jersey sponsors of less inherent value in a single party state where the race organisers are themselves a state organ, giving them airtime is perhaps of less paramount importance. Either way, traditionally - and especially in the last ten years - the first stage of the HTV Cup is a criterium, usually of between 40 and 60km. So of course, I've gone for the longest level of this.
Racing in a single-party state often means some deference to pageantry and ceremony where the party is concerned, as any recollections of the Peace Race can tell you. We aren't going to be having all of our finishes in big city centres, so we can compensate with a very dramatic start to the race in the very heart of Hanoi, at Quảng trường Ba Đình, a major tourist site and pilgrimage site in the heart of the city.
Named for a royalist uprising against the French colonialists, it is a strange thing in that that history makes it a dual site of pilgrimage for those who reminisce about the old royal family and to those who wish to show deference to the most famous Vietnamese of them all worldwide, the Communist leader Hồ Chí Minh, whose body remains entombed in the Hồ Chí Minh Mausoleum, likening him to other iconic Communist leaders, most notably Lenin. A number of important government and administrative buildings are located around the outside of the square, making this a perfect place to race around and enable the TV coverage to show the might and ceremonial majesty of Vietnam.
A recent race was set up to celebrate 1000 years of Hanoi, but the Vietnamese capital is in fact much older than that, tracing its origins to the citadel of Cổ Loa, the capital of an old Yue kingdom by the name of Âu Lạc in the 3rd Century BC. The kingdom was overthrown and annexed by the wider kingdom of Nányuè (meaning 'southern Yue kingdom'), which encompassed most of modern southern China including Hong Kong and Macau, and which was rendered in the local tongue of Âu Lạc as "Nam Việt" - from which you can see where the modern country's name comes. It was renamed first Tống Bình, then Đại La, under which name it became the capital, but upon this honour being bestowed upon it, in 1010 it took the name Thăng Long, which it would bear among others (such as briefly being named Dongguan under Chinese control, and "Đông Kinh" or "eastern Capital", from which the obsolete European name for northern Vietnam, Tonkin, was taken) until the capital was moved in the early 19th Century to Huế. Not long after this the city inherited its present name, and it was restored as capital in the late 19th Century when the French colonised Indochina, and made Hanoi the capital of both the Vietnamese province and of French Indochina as a whole.
Hanoi was captured by the Japanese in 1940, and upon liberation the rebel Việt Minh movement declared independence, until the French reasserted their control in 1946. However, the first phase of the Vietnam War was ended in 1954 when the French conceded and North Vietnam became independent, setting up the more famous second phase. The aftermath of this left many investors sceptical of Vietnam, but following the 1986 implementation of Chính sách Đổi Mới, or "renovation policy" which saw the country rapidly develop and transition from a fully planned economy to a socialist-modelled state-controlled supply economy, the city has rapidly developed and with the economic advantages of the big cities and the shape of the country drawing people to Hanoi and Ho Chi Minh City, the population of Hanoi has trebled in the last 35 years, to its present 6,5 million.
My course is designed to showcase largely the governmental section and some of the developments, but also a bit more of traditional Hanoi, especially on the extension I have added to the crit course with the out and back along the edges of Hồ Tây, or Western Lake. Essentially the last part of the course is traversing this isthmus on Thanh Hien Road, which keeps the lake from the smaller counterpart Hồ Trúc Bạch. These lakes include the American War Monument, which commemorates the capture of future Presidential candidate John McCain, and also Trấn Quốc Pagoda, the oldest surviving Buddhist temple in the city and the oldest pagoda in the country. We also pass the Quán Thánh Temple, an 11th-Century Taoist temple which is one of Vietnam's leading tourist attractions.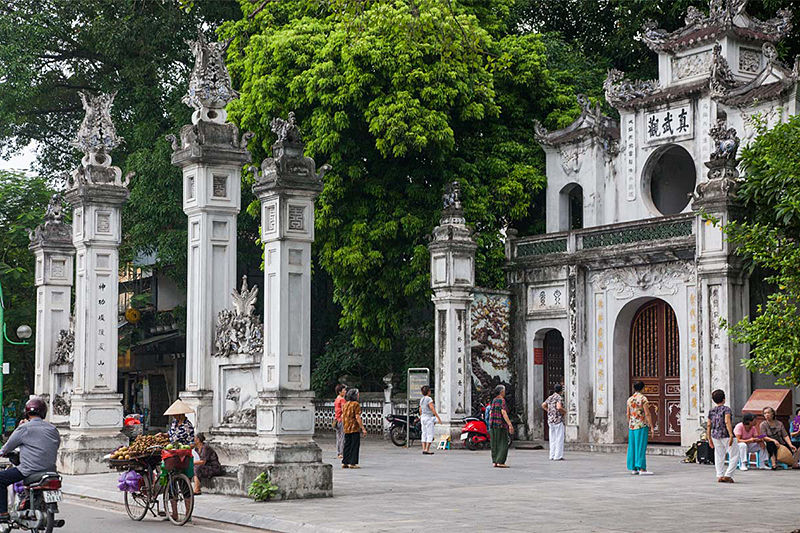 The stage is essentially 12 laps of a 4,9km circuit, which starts at Ba Đình Square and heads south, taking two right-angle lefts to head back up at the other side of the square, backing onto, on our right, the UNESCO-inscribed 11th-Century Citadel, effective enough to be used as a headquarters by the North Vietnamese army operations in the 1970s, and the adjoining former royal residence.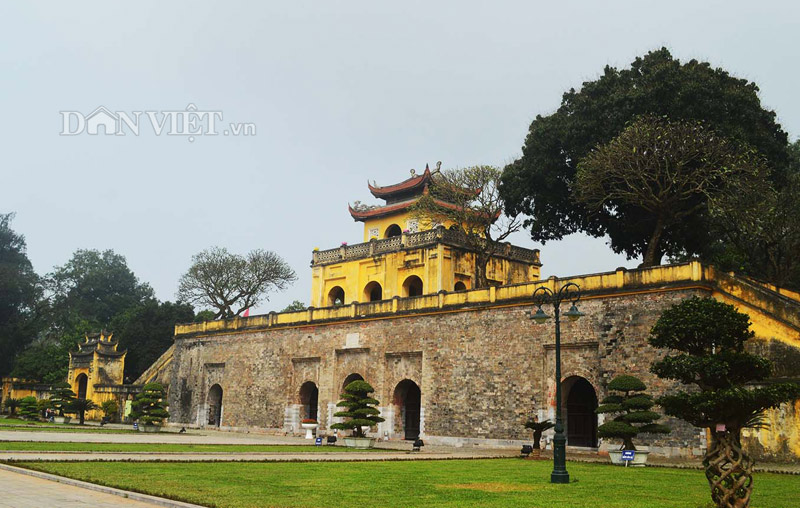 A left here onto Quán Thánh road, which takes us past the eponymous temple, then gives way to a 90º right, which takes us onto the road separating the lakes. A hairpin bend about a kilometre out gives way to a straight broken up about 400m from the line with a 75º left-hander, before a wider acceleration through a right-hander onto the final straight.
This stage should last barely over an hour and will probably be won by a sprinter, though in 2019 young rider Thanh Tùng Huỳnh of Quan Khu 7 escaped and won the crit in Vinh to hold the maillot jaune for the first 10 days of the race. And it will finish on the spot where the man who led North Vietnam through its growing pains first proclaimed its independence. I'm even tempted to make it an evening crit for the sake of the lighting and the atmosphere. It will no doubt only be showing the side of Vietnam that the state wants you to see. But at the same time, if you have these kind of cultural and historic resources and sites, why wouldn't you show them off?