One of the things about the Covid crisis and the whole changes that it has led to our lives has been that obviously we went through several months with no sport at all. The Race Design Thread has always been a depository for the fantastical and the imaginative, however, and so if anything it was buoyed by the various lockdowns taking place, as desire for sport and for travel combined and inspired a lot more interest in looking at what one 'could' do, with ever more places being declared off-limits. This has led to a considerable backlog of ideas, as you can imagine, especially once racing began again and we were left with a condensed calendar of continual race action, putting the kind of time and consideration required for the Race Design Thread to the back burner. Through much of lockdown I found myself finishing off ideas I'd never truly been happy with (the Volta do Brasil was one of these), and also investigating and designing races I'd have never thought of doing previously, such as my Vuelta a la Independencia Nacional, looking at the options in the Dominican Republic. I've also had a few goes at races that aren't really on my horizon ordinarily, such as the Tour of Taiwan and the Tour de Langkawi, as I've done precious little course design in Asia - but was inspired to take a closer look by an interest in the HTV Cycling Cup.
Other races were about putting finishing touches onto races that had been almost ready to go; I have a number of Vuelta options that I will go through at some point as well as a Tour, I posted my Romandie already, and there are some unusual races all that need posting but will probably need some minor tweaks first, covering the whole gamut of levels and styles of race, and a plethora of race designs in the graveyard because of changes of ideas, focus or simply the length of writeup being too daunting. Lots of ideas have fallen by the wayside, or I've wound up bringing them back many months later, and in some case a couple of
years
later. The one I'm going to now kind of falls into all categories at once, however, seeing as this has been on the cards and in the works since late 2020. It's actually a race I've tried to look at before, but gave up on because I couldn't quite get something I was happy with out of it. It's in a country I have an interest in and which has some cycling heritage, but one of stories that haven't been told and that I could discover more about. And it's a race outside of traditional cycling heartlands that hasn't been looked at much in the thread and so there's still a lot to find from a route perspective too.
This is the
Tour du Maroc
.
I've long been attracted by the possibilities of the Tour du Maroc. It's accessible and touchable for European cycling but is a completely different world; at the same time the scene of North African cycling is also detached from that of the rest of the Middle East (or at least the nebulous cultural entity of the Middle East, which places like Morocco and Algeria are often included in by virtue of being majority Muslim and speaking a variety of Arabic) and that of Sub-Saharan Africa. And yet, all of these groups come together in the strange mish-mash that is Morocco's national Tour; European pros and amateurs rub shoulders with the creme de la creme of the North African péloton, with Morocco's political ties to the Middle East through the Arab League attracting teams from places like UAE and Kuwait and also the importance for the UCI Africa Tour attracting teams from elsewhere on the continent; simultaneously the race's length and difficulty makes it attractive as a proving ground for teams from elsewhere.
The Tour du Maroc has a long and storied history going back all the way to the 1930s - it's only just younger than the Vuelta a España or the Volta a Portugal, although it has not run continuously. It has fluctuated in length between 10 and 16 stages, and its history can be divided into four distinct periods:
The formative period of pre-war cycling; this was largely dominated by the two colonial powers invested in Morocco, Spain and France, though Italy and Portugal also have some prominence. The first two editions were both won by Mariano Cañardo, one of Spain's earliest cycling heroes, and a stage of the 1939 edition was won by Vuelta champion Julián Berrendero. The first African victory came in 1938, when Tunisia's Jilani Ben Othman took stage 2, and two days later Ahmed Djelalhi won the host nation's first stage of its home race. However, further progress was prevented by the outbreak of World War II rendering the race untenable.
The post-war Professional era, from 1947 to 1960. The race was an "Open" race before that became a thing, and so a number of significant names in world cycling would appear at the race, with its early March timeslot serving them well to prepare for later stage races. Although winners of the race did not tend to be high profile as often the champions would repay their helpers with the chance to contest minor races such as this, a number of recognisable names crop up as stage winners or minor classification winners during this period - such as Albert Sercu, Volta a Portugal winner Alves Barbosa, French-Algerian cult hero Abdel-Kader Zaaf, veteran all-rounder Hilaire Couvreur and others. The highest profile would probably be Germain Derycke, an oft-underrated classics specialist who won the first two stages of the 1953 edition shortly after winning Paris-Roubaix, his first 'monument' classic (back before that was a 'thing') - he later won Milano-Sanremo, Liège-Bastogne-Liège and the Ronde van Vlaanderen for good measure. He is pushed for that role by Vuelta winner Fernando Manzaneque, mind.
The amateur era which runs from the restarting of the race in 1964 to 1987, plus a one-off reprise in 1993. The final winner of the 'open' era had been Morocco's greatest ever cyclist, Mohammed El Gourch; in 1959 he took three stage wins, before in 1960 he had become the first Moroccan to win the race. The field had been taking a bit of a hit and importance was reduced during the decolonialisation period, so an amateur race seemed a good compromise. The Poles rocked up from the word go, and later Peace Race winner Bernard Guyot also took a stage, however El Gourch was peaking for the race, proving just too strong, and won both the 1964 and 1965 editions. After that, however, the quality of opposition increased and though El Gourch would continue to finish on the podium and his record of three GC wins (and seven podiums) in the race has never been bettered, his victories were over as he was no match for the iron amateurs coming from Europe, such as the mighty Gösta Pettersson, later a Giro winner and Sweden's to date only GT victor (yes, even I find it difficult to count Susanne Ljungskog's Tour de l'Aude victories in 2007 and 2008 even though it was almost the same length as the Giro Donne). By 1971, the rest of the Eastern Bloc had discovered the race, and so they would send selections to compete, in return for Moroccan interest and submission of teams for the Peace Race. As a result, through much of the 70s and 80s, Eastern Europeans dominate the sometimes sporadically run race, with editions often running every other year and also being largely worn by Soviets, though Ladislav Ferebauer and Andreas Petermann got Czechoslovakia and East Germany onto the race's map. Other recognisable names among the stage winners - at least to connoisseurs of cycling behind the Iron Curtain - include Aleksandr Gusyatnikov, Valery Chaplygin, Aavo Pikkuus, Aleksandr Averin, Falk Boden and Olaf Jentzsch.
The post-2000 version of the race. Typically run over 10 stages, reduced from the traditional 15, this has become a noteworthy 2.2 race on the continental calendar and attracted a very unusual and interesting field as discussed above, with winners ranging from home favourites (Mouhsine Lahsaini, Anass Aït el Abdia) through prospects (Reinart Janse van Rensburg) to riders who are trying to get back in after falling out of top level favour (Mathieu Perget, Stefan Schumacher).
Mohammed El Gourch, Morocco's greatest ever cyclist
The original incarnation of the race was 11 stages long but it added stages with every edition and swiftly grew to 15 by 1951. A couple of times it reduced in length during the 1950s but by 1960 it had returned to a 15-day standard format. It stuck to around 12 for most of the 80s; since the reboot in the early 2000s it has largely been over 10 days with no rest day, though it has deviated from this, such as in 2001 (13 stages) and 2004-6 (11 stages). I'm going to restore the race to the 15-stage length that underpinned its glory days. I'm also going to make the race a bit harder. After all, there have been a lot of good cyclists come out of Morocco, but as often happens in these relatively isolated scenes, they reach a ceiling of development within that scene, and then often stall or fail to adapt when moving away from home roads - witness Tarik Chaoufi's torrid time with Euskaltel in 2013. As a result, if they want to get out and sell the sport to a wider level here, then they need to be doing more western-styled races.

And what helps us here is that Morocco is probably the best country in the whole continent for that line of thinking. It has a more stable political situation than many of its neighbours (disputed status of Western Sahara notwithstanding, though the race seldom heads into that area - although Laâyoune has shown up on the route on occasion during the Open days) and strong road and rail infrastructure, just about the best in the entire continent, which in large parts is driven by a more developed tourist industry that attracts a large number of holidaymakers especially from Western Europe and the large Moroccan expat communities in the Netherlands, Belgium, France and Spain. It has much greater geographic diversity in its topography than much of the continent too, ranging from desert ergs to snow-capped mountains, with roads (most of which are paved) connecting them all. There are even ski resorts within the Atlas Mountains, which are among very few in the continent, which offer up opportunities for finishing at summits, a real rarity in Africa. There are iconic passes in the history of the country (although these are largely long and too gradual to be that effective in pro cycling). And also, unlike most African races, the real-life Tour du Maroc is not shy of including transfers - even fairly long ones - and running stages of up toward and even occasionally beyond the 200km mark. So it's much easier to imagine a more 'traditional' major race here than elsewhere in Africa. So let's show what we have.
Tizi n'Tichka - not used in my race but a major obstacle every time it's used in the real race
I have chosen to increase the race length back to its earlier incarnation, because a 15 day race means I don't have to leave out so much and can bring the transfers down to a realistic level. There's also only one real long stage, which is counterbalanced by a few shorter stages to keep this to the kind of length and level seen in the real life race.
Another great thing about the Tour du Maroc is that the startlist is completely unpredictable. You could have ProConti teams down to amateur teams, and they could come from all over the place. As a long-form stage race it's a great development opportunity for young riders on national teams and on continental versions of major teams, plus you can often see elite amateur teams showing up with riders hungry to justify a step back to the pro level, such as race winners Mathieu Perget and Julien Loubet in 2013 and 2014 respectively, or riders at a level beneath their capabilities looking for a step up, like Tomasz Marczyński winning the race with Törku Seker Spor in 2015 and parlaying that into a return to the top level with Lotto-Soudal where he remained until his retirement at the end of 2021.
So… let's get to the race.
Stage 1: Oujda - Oujda, 147km
GPM:
Tafoughalt (cat.3) 3,3km @ 5,0%
Tizi n'Garbouz (cat.3) 4,1km @ 6,3%
The race starts with a fairly flat, comfortable beginning over by the eastern edge of Morocco, close to the border with perennial frenemies Algeria. The official name of the Kingdom of Morocco in the native Arabic is المغرب, "al-Maghrib" (usually transliterated as Maghreb after its rendering in the local vernacular - classical Arabic only has three vowels), which literally means 'the west'. In western parlance, "the Maghreb" historically referred to all of the Barbary coast as these were perceived as the 'western' Arabic kingdoms, so all of northern Morocco, the most populated pre-desert areas of Algeria, Tunisia and Libya, and continuing down into Western Sahara (claimed by Morocco of course) and parts of Mauritania. Therefore, beginning in the east of 'the west' is an interesting little paradox. In fact, the easternmost province of Morocco is called الشرق, "al-Sharq" (sometimes as-Sharq due to pronunciation rules) which literally translates as "the east" and is usually rendered in western languages as "Oriental" or some variation thereof.
Oujda, which hosts the start and finish of stage 1, is the capital city of the Oriental region, and with over half a million inhabitants is the 8th largest urban area in the country. Sitting a little above the easternmost Rif protrusion in the country, the city is traditionally Berber, and its 'real' name is "Wajda" (وجدة) although its romanisation reflects the French influence in Morocco and the local Maghrebi Arabic pronunciation. There are nearby Roman remains of a town known presently as Bled el-Gaada, but the modern city traces its origins to the 10th Century. Its position on the borders of the lands controlled by the dynasties and kingdoms that have become modern day Morocco and Algeria has meant repeated changes of hands and not infrequent warring taking place in the area, as the Merinids of Fés, the Saadi dynasty and their successors as rulers of Morocco, the Alaouites (who rule to this day) feuded with the Abdalwadid dynasty of Tlemcen, which now constitutes the northwestern part of Algeria. Lying east of the major mountain ranges of the country and sheltered from the cooling influence of both the mountains and the seas, it is also one of the country's hottest cities. Oujda has also had some heritage as an artistic melting pot, particularly musically where it is Morocco's hotbed for Raï, the popular Algerian song form, as well as having a tradition of Andalucian-influenced Gharnati music. The painter Abderrahman Zenati calls the city home, though its most important son is probably Abdelaziz Bouteflika, the dictatorial Algerian leader who controlled his country for 20 years until a heavily pressured resignation in 2019, after a highly controversial run at a fifth term in office, multiple health problems, and months of protests against his rule.
Like most Moroccan cities, the main sport in Oujda is football, and they have a strong tradition of it. The local club, Mouloudia, is named 'birth' as it was founded on the anniversary of Mohammed's birthday, and holds an important place in the sport's history here, having become the first winners of the Coupe du Trône, Morocco's most important cup competition, also taking three more in the first six years of the competition; they have also won the Botola, the top league in the country. The out-of-the-way nature of the Oriental province in Morocco means the Tour du Maroc does not come by especially frequently, though the prominence of the city means that whenever the race is in this part of the country Oujda invariably hosts a stage; the only well-documented stage to finish here prior to the 2000s reboot of the race was won by Aleksandr Yudin of the USSR - an unusual rider who had about 3-4 years of prominence and rode very well in some very strong Soviet squads but almost all of his results are confined to North African races. Perhaps the most noteworthy name to taste the champagne in Oujda (Morocco is one of the more liberal Islamic countries and with its colonial past and close ties to Europe, there isn't the same taboo relating to alcohol as there are in more strictly observant regimes) would be the storied Justin Jules, although for home fans Salaheddine Mraouni winning here in 2017 is perhaps more fondly recalled.
That stage began in Nador and was a bit longer than my stage, but it does have a similar finish, using the same final climb as I do but not appending the extra circuit around Oujda that I do.
Effectively, my stage is a race from Oujda to Berkane and back, encircling the easternmost major protrusion of the Rif mountains without really going into them, transitioning from the elevated plateau on which Oujda sits, down onto the coastal plains, and then back up again. Doing the circuit in the opposite direction would up the difficulty, but I didn't want to go all out just yet - I have plenty in store for the bunch here.
Because Oujda is relatively isolated as a border town, the first part of the stage is through an elevated plateau which covers what you might say is the stereotypical impression of Moroccan geography - very similar to 'those' kinds of stages in the Vuelta, lots of travelling between straw-coloured scorched fields. Not a single town until nearly 30km pass, and even then it's more notable that they pass the Lac de Fart, named to make anglophone schoolchildren giggle. There's then a short and gradual climb up to a summit near the village of Tafoughalt, in the Beni-Znassem Mountains, which is also known as Taforalt (the letter غ in Arabic is usually transliterated as 'gh', but is pronounced much the same as the French guttural 'r') and is known for the
Grotte des Pigeons
, a cave system which may also be the oldest known cemetery in North Africa, with evidence of human settlement going back over 80.000 years. It is on the tentative list for UNESCO World Heritage Site inscription. For us, however, it's a lopsided climb with a longer descent onto the coastal plains, where we head into Berkane for our first of three intermediate sprints.
Sitting at roughly the halfway point in the stage, Berkane is the capital of the citrus fruit industry in Morocco and has just over 100.000 inhabitants; it is named after a 9th Century martyr, and comes from a name derived from the Amazigh Berber word for 'black'. Until the early 20th Century it was a very small town but with heavy French development thanks to the fertile soil it rapidly developed and especially once Morocco and Algeria were separated people came from the high plains to the city in search of work, leading to its enormous expansiion. Its football team is the main rival to Mouloudia, and it has seen the Tour du Maroc once, in 2008, when it was an intermediate host for a semitappe - on stage 6a, Mohamed er-Ragragui won a short stage from Oujda to Berkane (that follows the path of the
rest of
the stage in reverse direction, rather than taking the route via Tafoughalt that I have), before Jesús María Silva of the Italian (registered Sammarinese) Cinelli-OPD team took a second semitappe from Berkane to Nador in the afternoon. That semitappe was very flat. How flat? Ivan Quaranta finished 2nd. Berkane is perhaps more famous, sporting-wise, however, for being the hometown and birthplace of one of Morocco's finest ever sportsmen - possibly even
the
finest of them all - Hicham el Guerrouj.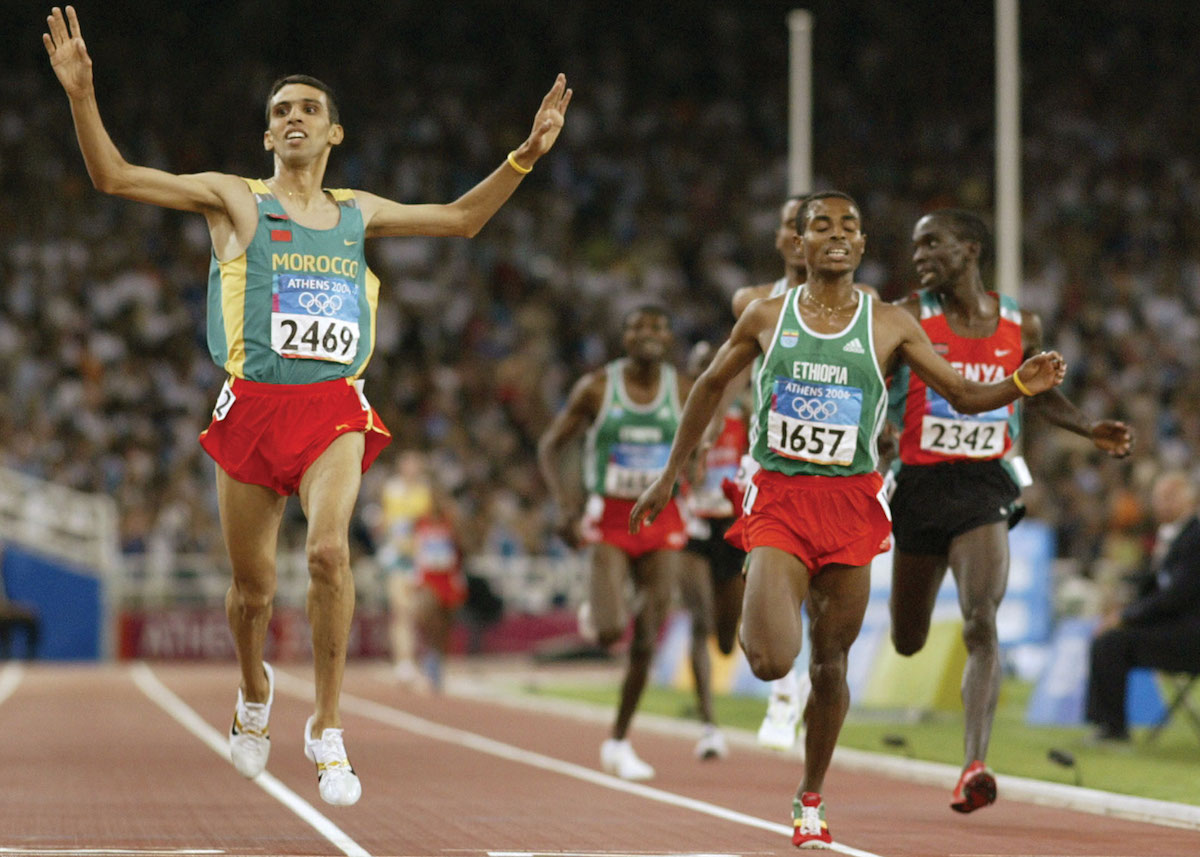 Although the boundaries are now broken down for the large part, there was for a long time certain truisms about athletic specialities, and different regions and countries' stars gravitated toward specific athletic events. It does still exist to some extent, but has been heavily diluted. Great Britain, for example, has a great record in the decathlon and heptathlon. Caribbean island nations obtain the lions' share of their Olympic athletics success in the sprint events. East Africans dominate the long distance races, with Kenyans and Ethiopians often engaged in a battle for supremacy. And for a long, long time, the middle distance races were the preserve of the North Africans. Hicham el Guerrouj was no different, and in fact for a lot of people he was straight up the catalyst for their wanting to run those distances. To this day he holds 7 of the all time top 10 times over 1500m AND in the mile, which is typically only run for specialist events now, having been replaced by the 1500m. To this day he holds the World Record in 1500m, 2000m and the mile, and only lost his indoor equivalents in 2019. He was almost unbeatable in his prime and was the IAAF's Athlete of the Year three years running in the early 2000s. However, great though he was in those distances - and undoubtedly he was, winning four World Championship golds back to back in the 1500m - rather than specialise 800-1500 as many did, he combined the 1500m with the 5000m, especially later in his career, and in 2004 he became the first man in 80 years, and only the second ever, to win both the 1500m and 5000m at the same Olympics. El Guerrouj recognised that replicating or bettering this achievement would be impossible and retired soon after, but his legacy remains strong.
For us, however, this is just a stop-off in the flat middle third of the course that next takes us, via a couple of intermediary towns, to Ahfir, another border town at which the passage to Algeria is closed following a number of border disputes between the two countries. With around 20.000 inhabitants, it's one of the larger transitory cities in the stage, so although we have to detour a bit to head around the city itself for the sprint, it's an obvious Meta Volante staging post. We then
wind through dusty landscape
toward our second cat.3 climb of the day, Tizi n'Garbouz, which is around 4km @ 6,5%, and crests at 45km from the line. As a result you'd expect this won't drop any but the most miserable of climbers, returning us to the higher plateau for a 36km run to Oujda, before a final 9km circuit around the town. This 36km is very, very straight - like, Tour of Qatar straight - so this will really favour the bunch. And although there are a couple of roundabouts, the wide roads and dual carriageways that make up most of the circuit mean that this is a very safe finish - not least considering the last 1200m are on a more or less straight road (it meanders a little to the right and there's a final slight left with around 150m to go, but it's literally about a 10º turn of a wide open and multi-laned road, so this is a very safe finish on Boulevard Allal el Fassi, just outside the city's icon, Bab Sidi Abdelwahab.
It is likely that a sprinter will pull on the first leaders' jersey here, but their reign is likely to be short-lived…