Since one decent result is apparently enough to get your own thread on this board, I thought I might open one for Richard Carapaz, a phenomenon from El Carmelo in Ecuador, currently riding for Spanish side Lizarte, and certainly a rider to keep an eye on as he makes his steps on European soil.
People who pay attention and are interested in South-American cycling are sure to be familiar with this name: Richard, often called Richie, Carapaz. Just last year Richie dominated every single Colombian in the Vuelta de la Juventud, basically the Vuelta a Colombia for the U23 ranks. He won two stages and the overall. Second came Aldemar Reyes, a pretty talented kid who was the best U23 rider in the Vuelta. Jhonatan Restrepo, currently riding for World Tour side Katusha, finished 3rd.
He continued so show promise when he won a stage in the Clasico RCN, pretty much the one of the biggest races in all of South-American cycling. Robinson Chalapud didn't stand a chance.
A few years back, in 2013, Richie rode his first ever race in Europe: he finished 9th the Tour des Pays de Savoie, behind some familiar names: Louis Vervaeke, Clement Chevrier, and Pierre Latour. Not a bad result at all, considering the circumstances.
Now, after starting the 2016 season with his team Strongman Campagnolo (and riding the Tour de San Luis), Carapaz is making his first steps to a professional career in Europe with Lizarte. Rumor has it a deal is already in place with Movistar, who continue to show to have a pretty decent scouting. Last week, in his first ever race with Lizarte, Richie managed to get a 2nd place (behind a teammate), and he won the KOM of the Memorial Aitor Bugallo. Later this season, Richie will return with his original team, Strongman Campagnolo, to ride the Vuelta a Colombia, to once again show his magnificent talent.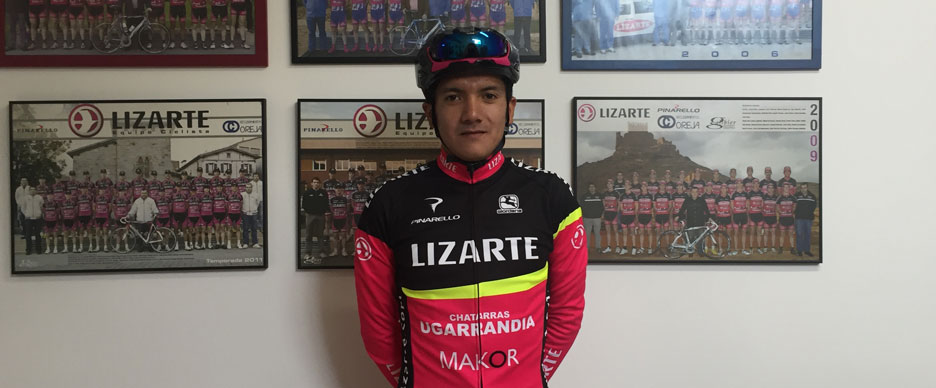 Results and victories:
2010
2010 2º in National Championship, Road, ITT, Juniors, Ecuador, Quito (Pichincha), Ecuador
2010 1º in National Championship, Road, Juniors, Ecuador, Ecuador
2010 1º in National Games, Road, ITT, Juniors, Ecuador, Cuenca (Azuay), Ecuador
2010 1º in National Games, Road, Juniors, Ecuador, Cuenca (Azuay), Ecuador
2011
2011 2º in National Championship, Road, ITT, Juniors, Ecuador, Guayaquil (Guayas), Ecuador
2012
2012 2º in Stage 8 Vuelta Ciclista a la Republica del Ecuador, Machachi (Pichincha), Ecuador
2013
2013 2º in Stage 5 Vuelta a Guatemala, Huehuetenango (Huehuetenango), Guatemala
2013 9º in General Classification Vuelta a Guatemala, Guatemala
2013 1º in Pan American Championships, Road, U23, Zacatecas (Zacatecas), Mexico
2013 4º in Stage 1 Tour des Pays de Savoie, Assy (Rhone-Alpes), France
2013 5º in Stage 2 Tour des Pays de Savoie, France
2013 2º in Stage 3 Tour des Pays de Savoie, Valmeinier (Rhone-Alpes), France
2013 9º in General Classification Tour des Pays de Savoie, France
2013 3º in Stage 5 Vuelta Ciclista a la Republica del Ecuador, Santo Domingo (Chimborazo), Ecuador
2013 3º in Stage 7 Vuelta Ciclista a la Republica del Ecuador, Puyo (Azuay), Ecuador
2013 2º in Stage 10 Vuelta Ciclista a la Republica del Ecuador, Romerillos (Pichincha), Ecuador
2013 2º in General Classification Vuelta Ciclista a la Republica del Ecuador, Ecuador
2013 4º in Juegos Bolivarianos, Road, ITT, Elite, Trujillo (La Libertad), Peru
2014
2014 3º in Stage 1 Vuelta Ciclista a la Republica del Ecuador, Ibarra (Pichincha), Ecuador
2014 2º in Stage 2 Vuelta Ciclista a la Republica del Ecuador, Cayambe (Pichincha), Ecuador
2014 2º in General Classification Vuelta Ciclista a la Republica del Ecuador, Ecuador
2015
2015 1º in Stage 3 Vuelta a Colombia, (Vuelta de la Juventud Colombia, U23), Riosucio (Caldas), Colombia
2015 1º in Stage 4 Vuelta a Colombia, (Vuelta de la Juventud Colombia, U23), Concordia (Antioquia), Colombia
2015 1º in General Classification Vuelta a Colombia, (Vuelta de la Juventud Colombia, U23), Colombia
2015 1º in Stage 2 Luis Carlos Galán Sarmiento, (Clásica Ciudad de Soacha), Colombia
2015 4º in General Classification Luis Carlos Galán Sarmiento, (Clásica Ciudad de Soacha), Colombia
2015 2º in Stage 4 Luis Carlos Galán Sarmiento, (Clásica Ciudad de Soacha), Colombia
2015 1º in Stage 4 Clásico RCN, Zipaquirá (Cundinamarca), Colombia
2015 3º in Stage 9 Clásico RCN, Ibagué (Tolima), Colombia
2016
2016 2º in Stage 2 Clásico Virgen de la Purificación, Ecuador
2016 4º in General Classification Vuelta al Valle del Cauca, Colombia
2016 2º in Memorial Aitor Bugallo, Spain