I think this deserves its own thread, because it may be the first time in major league baseball history that there has been a team-wide cheating scandal (at least since the infamous Black Sox fixing World Series games exactly a century ago), comparable to the team-wide doping programs we know have been used in pro cycling.
The Houston Astros stand accused—and the evidence is compelling—of using cameras to steal the signs that catchers use to communicate with pitchers about what kind of pitch—fastball, curve, change-up, etc.-to throw. Batters normally don't know what's coming, and have to guess, based on the pitcher's movement when he releases the ball. No one doubts that having this information before the pitch is thrown would help the hitter. No one doubts, either, that teams have long tried to steal signs. But in the past this was done without technology like cameras, and was permitted or at least tolerated. The Astros have clearly taken it to a new level.
The Astros began using this system early in the 2017 season, and already their World Series championship that year is being considered tainted. It's noteworthy that in the deciding Game 7, the Astros hit Dodgers pitcher Yu Darvish hard, basically turning the game in their favor. Even at the time, before anyone knew about the sign-stealing system, it was thought that Darvish was tipping his pitches, through some unconscious movements. In retrospect, it looks much worse than that.
The Astros will almost certainly be subject to some stiff penalties, and some heads will probably roll. An interesting question, though, is whether some of those heads will be of the players. By using this system, they were clearly cheating, maybe gaining as much or more of an advantage than through PEDS. A recent article provides some quantitative estimates of this benefit: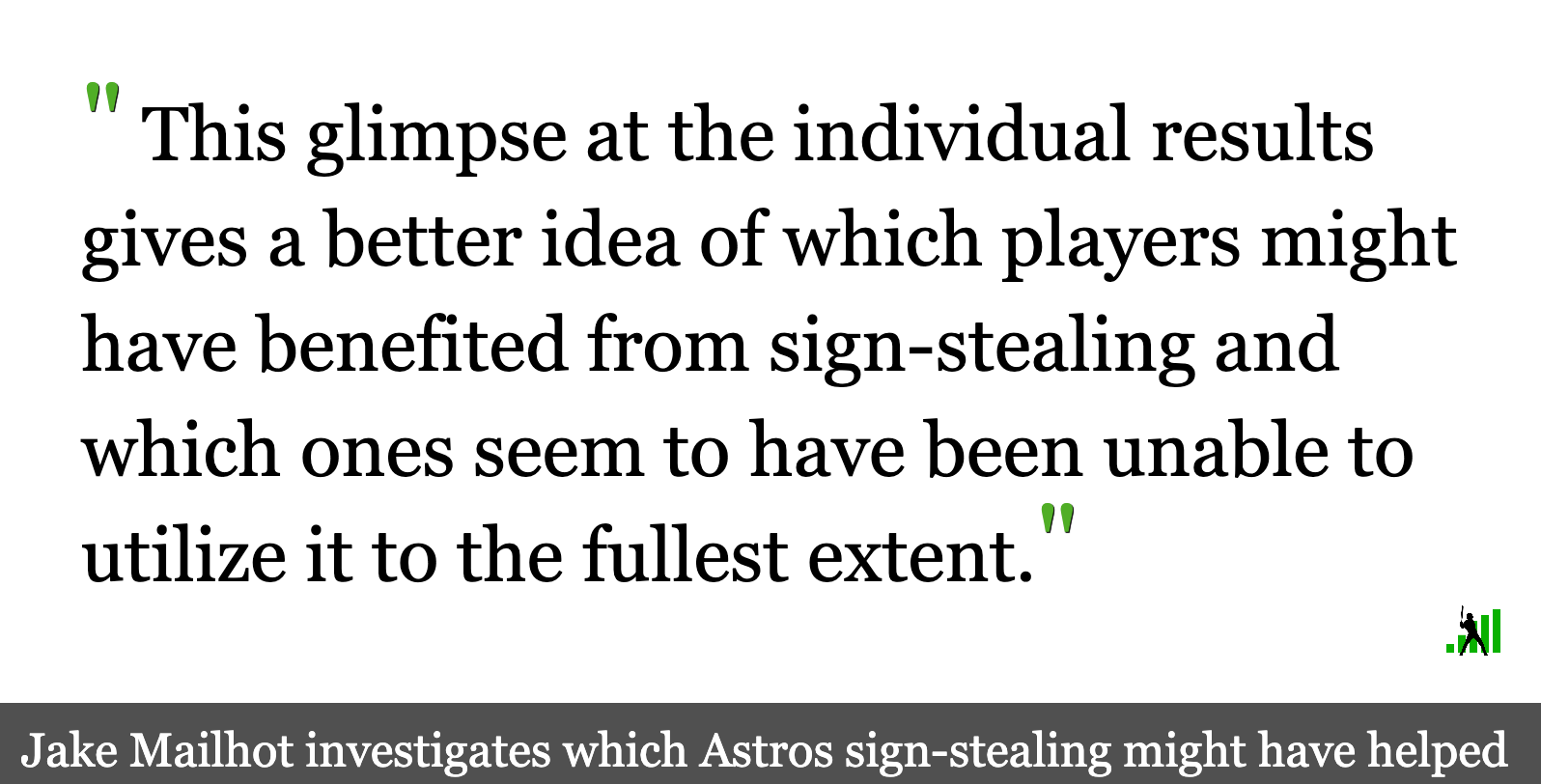 Based on a second look at the data, we can probably determine the true benefit gained by the Astros on a team level. But when we dig into how individual players benefited, it gets a bit more…
blogs.fangraphs.com
While I think this analysis is poor—it doesn't discuss the values that go in the opposite direction of what would support a benefit from sign-stealing, suggesting that all the differences result from random fluctuations—more analysis like this is sure to come. MLB has probably more information available to it than any other pro sport, and if the players did benefit, it can probably be shown more convincingly.
That being the case, what happens? One of the players, Jose Altuve, won the MVP that year, with his best season ever. If it can be shown he did benefit from sign-stealing, would they strip him of the honor? What kind of statistical significance would be necessary? This would be unprecedented as far as I know. Just in this century, several players have been shown to have been doping during a season in which they won an MVP--Barry Bonds, Alex Rodriquez, and Ryan Braun, for example. None of them was stripped of the award. In 2012, Melky Cabrera was stripped of the batting title after a PED suspension, but Cabrera, to his credit, actually requested this himself.