The last chance saloon. Depending on whether you count Télégraphe and Galibier as separate climbs or not, it's arguably the best combination of three climbs in the race, and also features the only new major climb of this Tour. Having said that, it's still a stage where it could well all come down to the MTF.
Profile
Map
Route description
The stage starts from Lourdes, a small, sleepy town for centuries until (reported) apparitions in 1858 caused it to become one of the world's best-known and most-visited pilgrimage sites. Just like Saint-Gaudens, it is located at the foot of the Pyrenees and just like yesterday, it takes over 50 kilometres to reach the first real climb regardless as the first part of the race heads west parallel to the mountains.
The first 5.4 kilometres are slightly uphill, the average gradient is only about 3% though. Despite this, it is still the hardest 'climb' before the intermediate sprint in Laruns, probably the only place the Tour has finished more than once with a 100% win rate for Slovenia – Roglic in 2018, Pogacar in 2020.
This is also the place where the first climb of the day, Col d'Aubisque, starts.
The descent is briefly interrupted by the Col du Soulor, barely a hill from this side. Just like Télégraphe from the south, it's not categorised.
As soon as the descent ends, the road turns uphill once more onto the Col de Spandelles, a hard cat. 1.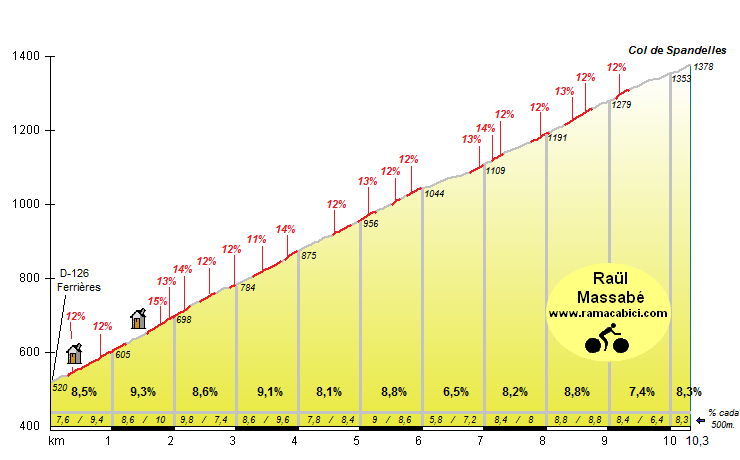 The descent is fairly narrow, but not as steep as the climb. It takes us into Argelès-Gazost, where we cross the valley and quickly hit the final big climb of this Tour, Hautacam. Sadly the Tour never goes all the way up to the highest parking lot, instead finishing after 14.7 kilometres of the profile below.
Final kilometres
Hautacam is a small ski station that is much more famous for its five Tour stage finishes, above all the 1996 one, won by Bjarne Riis. That's all I can say without posting this thread to the Clinic instead.
Pont-Vieux in Lourdes. Like everywhere else in the city, it's dominated by hotels (of which it has the highest density of any French city not named Paris) and other tourist paraphernalia.