The easiest stage in the first half of the race.

Not much to say about this one. What little elevation gain there is comes early in the stage, the majority of it is covered by the profile below (ridden from right to left).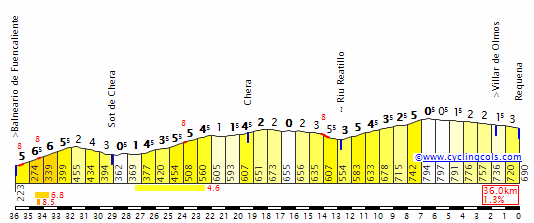 The second half of the stage is a pan-flat trek along the coastline. Don't get excited: the roads aren't exposed for the most part, and even if they were, the wind direction and speed are both unsuitable for echelons.
The finish is once again suboptimal. The section from 5k to go to 1k to go is quite unremarkable with two roundabouts and a couple of smaller curves. At the flamme rouge, on the other hand, there is a chicane. Thankfully these aren't 90-degree turns, but the apexes and road width are both a bit tight here and the buildings are very close to the road so the riders can't see the second half of the chicane until they exit the first half. Then, there's a big left-hander at just 300 metres from the line, the stage winner will probably come through it in second or third wheel. In other words, a finish where a strong train is even more helpful than usual, so it looks good for Groves to go three from three.