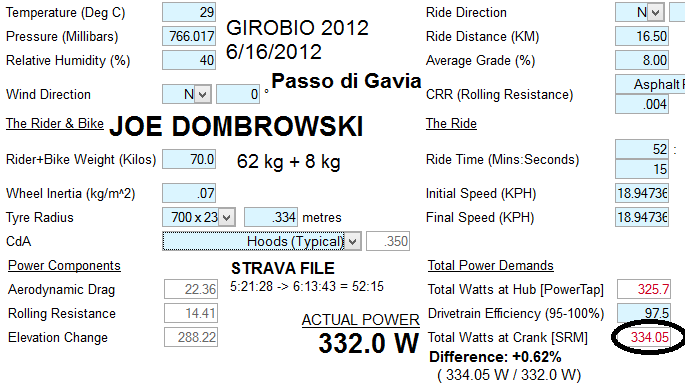 So Dombrowski did 5.35 W/kg on Gavia in 2012. Stage wasn't full Zomegnan genius but 6 hours all up and probably harder than the average pro stage. He didn't get any help with the pace and IIRC it was just Dombrowski and Aru all the way up. Given the altitude/length that is a very strong performance by the pair.
e.g.
Galibier 2013 Nibali ~5.3 (snow/goslow)
Giau 2012 Hesjedal ~5.6 (much shorter/less altitude)
Stelvio 2012 Purito ~5.1 (longer climb/harder stage)
Galibier 2011 Evans ~5.6
There are no perfect comparisons but you get the idea. Accounting for the altitude and length of Gavia I get something like 5.7 - 5.8 standardised to an Alpe d'Huez. If Dombrowski were racing a month earlier he would have been 3rd or 4th (around Scarponi) in climbing terms.
It will be interesting to see what happens after the last couple of years (bad luck aside). He had that one good day on Albula but still a significant margin off Gavia. If he gets back to where he was he will still be a GT top5, if he has Pinot improvement on top of that then he will be hitting 6.0 W/kg and winner potential. I don't think even Aru has managed that yet and he looks to be on the works, I doubt Dombrowski has more headroom.
I'm a firm believer that you can be at your best at 21 or thereabouts. Maybe that is the case for these two.