From Eshnar's Stage Analysis Thread:
Stage 7: Grosseto – Fiuggi 264 kms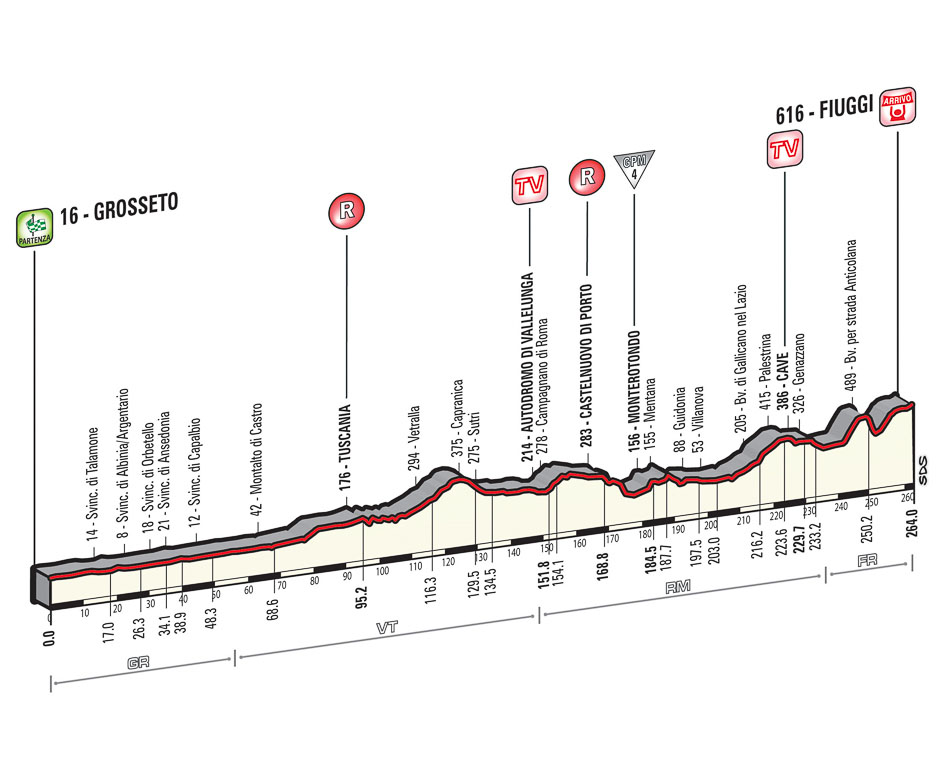 Start time: 10:25, May 15th
Analysis:
Longest stage of the race, the first of a series of three very demanding stages. Starting in Grosseto, the riders will face a long journey without too many objective difficulties, but with a complicated finale that comes after 250 kms on the saddle. Between the lots of false flats and little ramps of the stage, only one has been categorized, the GPM4 climb to Monterotondo (2.5 km at 5.1%). However, they could have also categorized some more hills, just as they could have done pretty much in every stage. As I said, the finale is all that matters here. At roughly 20 kms to go, The peloton starts climbing an uncategorized bump of approximately 5 kms at 5%. After some false flat at the top and a straightforward descent, there's another bump, this time 5 kms at 4.4%, after which there are only 5 kms to go. The last km goes up again, with increasing gradients topping at 5% right at the end.
Expectations:
This is a Milano-Sanremo-like course, and as such I expect the strong sprinters to take charge and bring everybody to a sprint, possibly reduced. However, being a long day, everybody may be tired enough for the attackers to have concrete chances to win.
Post away!