The last Alpe stage awaits. The 4th and last day of Alpine hell. The sprinters has to survive this one last day, before the sprint stage to Paris. Some will see this stage as the last chance to redeem themselves. Some will see this as the day, where they will only try to hang on and defend their GC placing. Some will in a last, desperate attempt to get something from this Tour try to make a suicidal, "all or nothing" attack. This is the last day to turn the tides..
The 110,5 kilometer long stage from Modane to Alpe d'Huez is a short stage, and close to being a copy to the Modane - Alpe d'Huez stage from 2011, where we really had some action with the 5th placed Alberto Contador trying to blow the race up by attacking on Telegraphe and later on the Alpe
only to be surpassed by that years maillot blanc winner Pierre Rolland and fellow Spaniard Samuel Sanchez.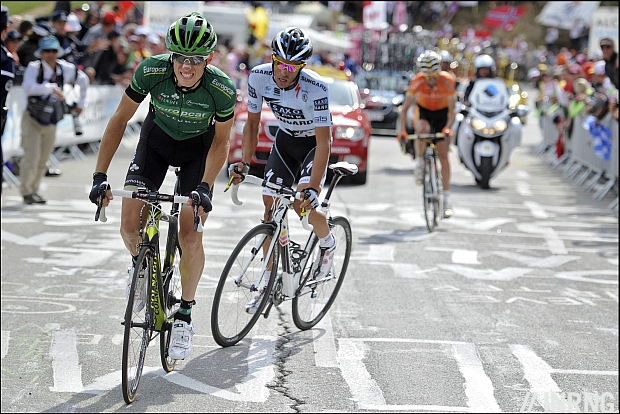 The original stage design was the same as in 2011 with the Col du Galibier, where 2010 Tour winner Andy Schleck won from a long range attack, almost taking the maillot jaune from the French GC surprise Thomas Voeckler (finished 4th overall). But because of a landslide, the Galibier have been replaced by todays Col de la Croix de Fer. As it was mentioned in the race thread from the La Toussuire stage, this giant has been featured in the Tour since 1947, with cycling giants as Coppi and Bartali being the first to cross over.
Half of the stage has been ridden, when the riders have to climb this incredibly long, 2067 meter high HC climb Col de la Croix de Fer (the Pass of the Iron Cross), 29 kilometers of pain, with an average gradient of 5,2%, some parts almost flat or going slightly downhill, but with some kilometers reaching 9-10% incline! The climb is steepest from the 6 to the 12 kilometer mark, and the last 6 kilometers are steep as well.
After crossing the top (and the first to do so gets the 25 KOM points), the road's going mostly downhill (with some flat kilometers) to Allemont, where there's 25 kilometers to the finish. A points sprint in Bourg-D'Oisans is the last sprint to be contested, before the road's going up to the top of the legendary Alpe d'Huez.
Not the longest nor the steepest climb, but the many hairpin bends is easily recognizable. It is steepest in the beginning, and a section 4-5 kilometers from the finish, reaching a gradient of 11,5%, before the last kilometers incline is about 5-5,5%.
The climb first featured in 1952, where Fausto Coppi won the stage featuring it, and the saying that "whoever wears the yellow jersey in the Alpe wears it in Paris" was fit to Coppi that year, and it is most certainly true this year, unless the maillot crashes on the Champs Élysees, since this is the last stage before the "ceremonial" stage to Paris.
Another notable stage winners on Alpe d'Huez are the 1979 Vuelta winner and 1980 Tour winner Joop Zoetemelk, winning twice there (1976 and 1979), 5 times Tour winner Bernard Hinault in 1986, the first South American GT winner, Luis Herrera, and Italian Gianni Bugno in 1990 and 1991.
In 1995 and 1997 none other than Il Pirata, Marco Pantani, and in 1995 he set a record time of 36'40 on the Alpe d'Huez, roughly a minute faster than Lance Armstrongs 2004 mountain time trial up the Alpe.
2006 was Fränk Schlecks turn to succeed on the Alpe, but far from being a GC contender. When the Alpe d'Huez was climbed in 2008, Carlos Sastre riding away from everyone and everything, finishing 2 minutes in front of Schleck brothers, Valverde and took the yellow jersey from his team mate Fränk Schleck and minimizing the threat from Cadel Evans, being strong in TTs and therefore a threat to CSC - Saxo Banks maillot jaune. Sastre won the Tour with 58 seconds down to the Australian.
In 2011 it was close to be the same story. Thomas Voeckler had the maillot jaune, but after a heroic performance on Galibier, he couldn't follow the favourites anymore. Cadel Evans hung on to the Schlecks, Andy taking the yellow jersey 57 seconds in front of the Australian, who could see an opportunity for taking the yellow on the time trial the next day.
and so he did with a lead of 1'34 in the GC down to Andy, while Fränk held the last podium spot, with a comfortable gap to Thomas Voeckler and Alberto Contador.
2013 was taken by a break away as in 2011, but as in 2011 as well, we had some GC action with the superior Chris Froome showing weakness, and was dropped by Joaquim Rodriguez and Colombian maillot blanc Nairo Quintana.
Only losing 1 minute, but that could have been more, as Richie Porte illegally handed Froome some energy gels, and later they both received a 20-second penalty. The stage was contested by Tejay Van Garderen, Moreno Moser and Christophe Riblon. The Frenchman won, passing an ever-attacking American with roughly few kilometers to go.
So who is going to win this year? There shall be no doubt, that many have interests in winning the stage. Breakaway, especially those going for the KOM jersey (Rodriguez, Fuglsang, Bardet), and GC men as Chris Froome to take his first win on the Alpe, failing to do so last time. Nairo Quintana, and perhaps taking more time on Froome in the process? Will Vincenzo Nibali try to win another stage? Dutchies perhaps try to win on "the Dutch Mountain" ? Will the 3 musketeers Pinot, Bardet and Rolland show the French colours tomorrow? Or will Alberto Contador trying to repeat a 2011 scenario, but this time coming out as a stage winner?
There are many options, and as the Tour is coming to an end, we can only hope, that some fireworks are provided for us one last time, to have something to remember, to enjoy, until next year…
General classification before tomorrow:
1. Christopher FROOME
2. Nairo QUINTANA
+2' 38
3. Alejandro VALVERDE
+5' 25
4. Vincenzo NIBALI
+6' 44
5. Alberto CONTADOR
+7' 56
6. Robert GESINK
+8' 55
7. Matthias FRANK
+12' 39
8. Bauke MOLLEMA
+13' 22
9. Romain BARDET
+14' 08
10. Pierre ROLLAND
+17' 27
Polka-dot jersey competition before tomorrow:
1. Romain BARDET
90
2. Christopher FROOME
87
3. Joaquim RODRIGUEZ
78
4. Jakob FUGLSANG
64
5. Nairo QUINTANA
56
Green jersey competition before tomorrow:
1. Peter SAGAN
420
2. André GREIPEL
316
3. John DEGENKOLB
281
4. Mark CAVENDISH
192
5. Christopher FROOME
128
Weather:
Col de la Croix de Fer
Alpe d'Huez
Most likely it will rain on the Alpe in the early morning, so riders will probably be riding in dry conditions.
If you have anything to add, please share it
May it be a great stage tomorrow!