Another early post as I'm away tomorrow.
A somewhat similar stage to the one that came just two days prior. Breakaway day again or can the sprinters' teams turn it into their day?
Profile
Map
Stage description
The stage starts from Rodez, the capital of the Aveyron. Much like Mende, it's a diocese seat dominated by its cathedral that boasts a 87 metre high tower. In the Tour, it's somehow managed to host two short punchy finishes during Sagan's prime without the Slovak winning either.
The majority of this stage is on the same roads as the 2010 stage from Rodez to Revel, where Alexandre Vinokourov held off a sprinting peloton led home by Mark Cavendish. Importantly, the shared section includes all the hills climbed in the first half of the stage, which shows controlling the size of the break here isn't impossible. Unlike that stage, none of the four uncategorised hills into Réquista hand out KOM points, I've added profiles of these little climbs below.
Côte de Marclais:
Côte de Begon:
Côte de La Selve:
Côte de Réquista:
After a long section that's mostly downhill, the riders finally reach a categorised climb, Côte d'Ambialet.
The next section of the stage is the easiest, with only two hills into Puylaurens to break up the flatter roads.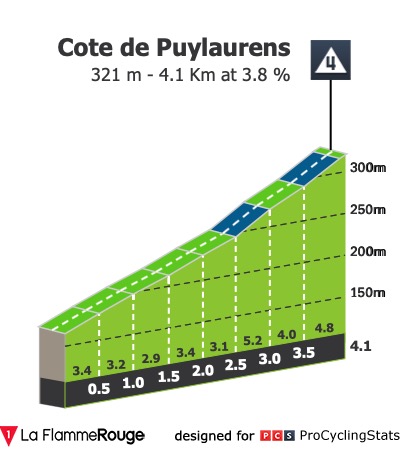 Upon reaching Revel, it's time for two familiar sights: Côte de Saint-Ferréol and a weird KOM, in that they've only categorised the second half of the climb. The profile below shows the ascent in full, with the intermediate sprint being in Saint-Ferréol.
This climb crests just inside the final 50 kilometres, the remainder of the stage is mostly flat or false flat downhill. The breakaway, the peloton and the gap between them could all look a lot of different ways at this point.
Final kilometres
Exactly the same as in 2018 and 2021, I won't bother with an analysis. These being recent stages, I can't find extensive coverage on Youtube so if you want a refresher on more than the final kilometre, there's always Tiz. Or your local broadcaster, if you're lucky.
Carcassonne doesn't need an introduction – even without all the Tour stages, it's hard not to be familiar with such a famous citadel. The city has been fully fortified from the 12th century onwards and the only time it's come close to destruction was not through war, but through demilitarisation and subsequent decay that prompted the French government to approve its demolition. Fortunately, that decision was reversed and the fortress was instead restored to resemble every person's mental image of a (European) medieval city.
Cité de Carcassonne from the 14th-century Pont Vieux.