The last of the six clear sprint opportunities is also the hardest to control, with lots of small climbs in the second half of the stage.
The first half of the stage is quite easy, with only the climb out of Beranga, as far as the junction to Riaño on the profile below, to contend with.
The sole KOM, Alto de Hijas, comes shortly past the midway point. None of these climbs are difficult on their own, but together they may cause headaches for a sprint field of the quality seen on Friday.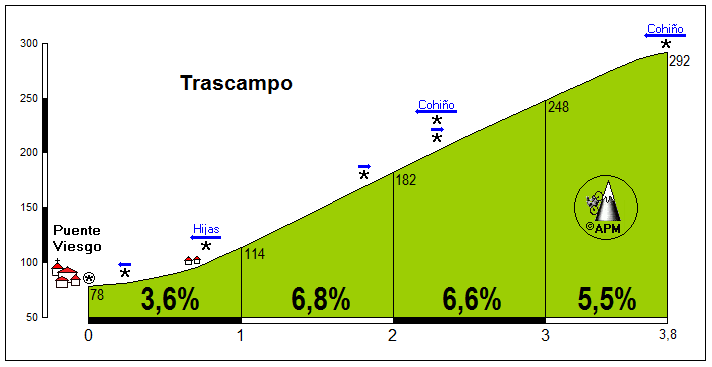 It's followed by Alto de San Cipriano, the same side of which was categorised on the Suances stage won by Roglic last year.
The final 22 kilometres feature three small hills, the last of which ends at about 10 kilometres to go. The first is 1.2 kilometres at 6.2%, the second is 0.8 kilometres at 6.1% on a much narrower road, and the final is 1.9 kilometres at 4.3% with a harder first half. No profiles for any of these.
From here, it's rolling terrain all the way to the finish line. The ramp at the start of the profile below is 450 metres at 4.0%, but that isn't the main worry here: the roads aren't the widest or the straightest, especially in the final kilometre which frankly isn't suitable for a race of this size. For reference,
this road
comes just past the flamme rouge. Let's hope everyone stays safe.
Last edited: