All hail Lord Eshnar and his great work!
I've added a route profile that also includes the average gradients of the climbs, which is something I always like to have.
I've kept the other one because it indicates the exact length of the sterrato finish at Campo Felice.
A look at the sterrato road:
ROCCA DI CAMBIO - A pochi giorni dall'arrivo della carovana rosa, prevista per domenica 16 maggio si sta "rifinendo" l'arrivo della
www.laquilablog.it

View: https://www.youtube.com/watch?v=zdjS0qRRtMo&ab_channel=TVSEI

(Possible) Weather

It will be a cloudy day, with a 40% chance of rain in some parts of the route and temperatures in the 13-18 degree area (maybe colder on some of the cols). The wind will come from a SW direction, resulting in tailwind for most of the stage. There will however be a headwind during the finale. The average windspeed will be 15-20 km/h with gusts of up to 30 km/h.

Stage 9: Castel di Sangro – Campo Felice 158 km



Sunday, May 16th, 12.15 CEST
Technical Overview:
A short mountain stage full of climbs, without almost any flat but also any steep slope. The stage starts in Castel di Sangro and quickly heads north into the mountains, firstly going over the false flat to Colle della Croce (7.9 km at 3.3%). After a brief descent, the riders will find the first categorized climb of the stage, Passo Godi (GPM2, 13.9 km at 4.1%), inexplicably a second category. Its descent is very long and starts as quite technical, before becoming a false flat in the second half. It leads directly to the next climb, Fonte Ciarlotto (11.6 km at 4.9%), that despite being uncategorized (why??? Look at Passo Godi!) features a pretty decent initial section of 4.2 km at 6.8%. A very fast descent and the peloton will hit another climb, Forca Caruso (GPM3, 12.7 km at 4.5%). This is a steady and gentle climb like almost all others today. Its descent is little more than a false flat and brings to yet another climb pretty much identical to the others. Ovindoli (GPM2, 12.4 km at 5.1%) officially starts from the first intermediate sprint of Celano, but the road goes uphill with pretty much the same gradients already 5 km before it. It tops at 23 km to go. The first 12.5 are on a plateau, slightly descending. Then, after the small bump to reach Rocca di Cambio, the last climb: Campo Felice (GPM1, 6 km at 6%). This is a very unassuming climb until 1.6 km to go, where the route goes off road to basically climb a ski track on the sterrato, with very irregular slopes and a maximum gradient of 14%.
Final Kilometers
The Climbs:



Passo Godi: GPM2, 13.9 km at 4.1%

Very easy climb, never over 5% gradient. Cyclingcols profile:
Forca Caruso: GPM3, 12.7 km at 4.5%
Again, very easy. It does go over 5% at the end though. Still props to Cyclingcols:
Ovindoli: GPM2, 12.4 km at 5.1%
Here we finally have an official profile. This climb is marginally harder than the previous ones.
Campo Felice: GPM1, 6 km at 6%
A climb that starts with all the characteristics of the rest of the stage, before unexpectedly throwing a ski track in the mix.
What to expect:
The final uphill finish should be fun, but the rest of the stage will only be useful to reduce the size of the peloton. And not by much, sadly.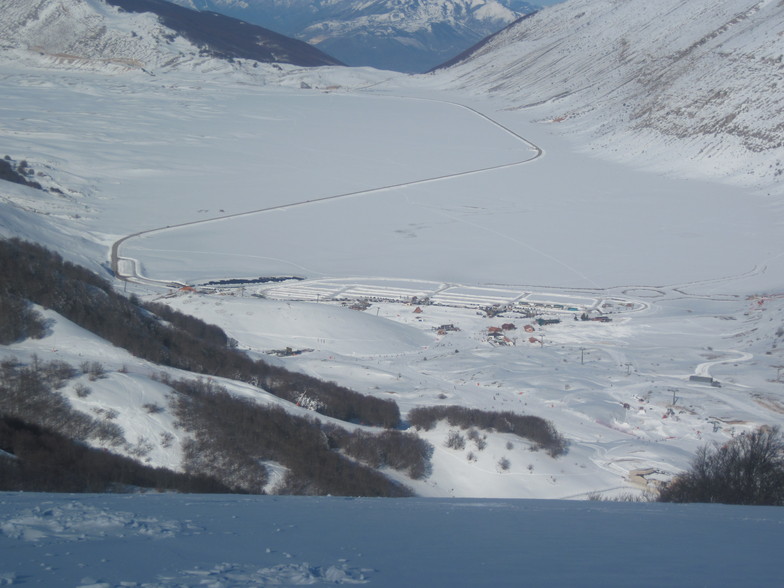 Campo Felice