So, once more Javier Guillén and his band of merry men released the race route for the year's Vuelta, and once more we have a lot of one-climb stages, short and über-steep, and not so much in the way of multi-climb epics or long, winding suffer-fests.
So, inspired by
Linkinito's awesome TdF thread
about 21 HC climbs the Tour should use, I hereby launch a direct, and in all honesty, somewhat inferior rip-off. Here, "ESP" is not short for "España" but "Especial", as in the Vuelta's equivalent of Hors Catégorie.
Now, given the Vuelta's propensity to award category 1 for some fairly non-cat.1 climbs (I like Cordal south, but 5,6km @ 8,9% is not equal to Port de Balès, and while short climbs like Peña Cabarga and Urkiola may arguably merit cat.1 due to steepness, there are still a number of climbs the Vuelta gives cat.1 to that would not merit it in the Giro or Tour), maybe not all of the 21 climbs I will nominate in this thread are genuinely "beyond categorisation", but we will see 21 big climbs that could genuinely make a difference in the racing but that the Vuelta is ignoring, whether it be for some time or that it simply hasn't discovered them yet. Guillén's guys have discovered a great many climbs over the last few years - Bola del Mundo, Haza Llana, Peñas Blancas, La Farrapona, Cotobello and Ancares are all new discoveries, while others such as Peña Cabarga are rediscoveries of long forgotten summits - but there is still so much potential left unused in Spain that the Vuelta could be using.
And so we proceed:
1. Haza del Lino (Andalucía)
The Monte Grappa on the Mediterranean
Long a favourite of mine on this forum, Haza del Lino rises almost straight out of the sea right in the south of the country, beneath the Sierra Nevada range. There are a number of ways of ascending its 1280m.
Haza del Lino was almost ascended in the 2006 Vuelta, but instead the chosen climb, early in the stage to Granada via El Purche, was La Contraviesa, parallel to the east to Haza del Lino, although they could have come via the
longer but less difficult
Albuñol side of the climb, which is nearly 30km long, but averages under 5%. There are two fully HC sides still ripe for discovery plus a further side that would be at least a strong category 1.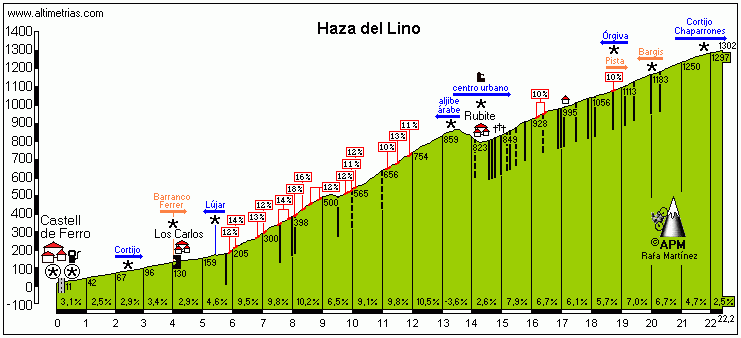 Haza del Lino from Castell de Ferro via Rubite is
22,2km @ 5,8%
. This is perhaps the "classic" way to climb to the summit, featuring that brutally difficult middle section - there are 7km averaging 9,5% from kilometre 6 to 13. After a brief descent, there is then another 7km of more typical matters, but the climb really strikes out hard in the middle. The last couple of kilometres ease off slightly, but there's plenty of damage already done.
Haza del Lino from Castillo de Baños via Polopos is
18,0km @ 7,1%
. It is a much more consistent climb than the Rubite side, but the average is steeper and there is consequently no let-up. In terms of climb characteristics, it is similar to Chamrousse or Le Grand Colombier, only where they exceed our Andalucían giant in altitude, Haza del Lino fights back with the possibility of 40º weather in the south of Spain. The tarmac is also less good on the Polopos side than the Rubite side, which adds to the challenge.
The best thing about Haza del Lino is that it is a pass with many sides, so there are many options for connecting it to other difficult climbs. For example, one could descend from either of the two mentioned sides via Torvizcón to Los Tablones and then climb to the
Puerto del Camacho
(ignore the second half of the profile - Sierra de Lujár is in far too poor a state for a race to visit at present) for a perfectly reasonable MTF (12km @ 6,8%); or one could descend from either side of Haza del Lino via Puerto del Camacho and climb
into Torvizcón
as per the first part of that profile. My third side of Haza del Lino, which I call the solid cat.1 version as opposed to Rubite and Polopos, is the
Órgiva version
which comes through the Puerto del Camacho and is around 20km in length, but just 5%, as after Camacho there's a short descent and then some more shallow climbing. Ideally, Haza del Lino would be climbed from the south and then this side could be descended.
Very solid potential finishes even descending this way would include climbing into Órgiva itself, a short puncheur type climb of 2-3km in length, or extending beyond that, my personal preference, into the village of Cáñar, which is
11km at 6,5%
but as it is not a super-hard climb, it would be like Bormio 2000 following on from the Gavia; Haza del Lino would then top 31km from the finish, making attacking there not the impossibility it once seemed. Heck, throw in the
Alto del Conjuro
, which descends right into the base of the Rubite side of Haza del Lino, and you have a fairly passable impersonation of Tonale-Gavia-Bormio 2000 from the 2004 Giro, just with more heatwaves and less snow.
Another option would be to descend Haza del Lino via the easier side to Albuñol noted above, and either finish there or then take on the climb to
Venta del Tarugo
, either stopping in Albondón (a perfectly valid stage finishing 10km @ 6,5%, cat.1) or going to the summit (17,5km at around 6%, cat.1 and borderline ESP itself, though not as difficult as Haza del Lino). It would also be possible to climb to Venta del Tarugo, and after a period of flat at altitude, arrive by Haza del Lino to descend the Polopos side, and climb the Rubite side but not all the way, then descending through Puerto del Camacho to Órgiva.
Unlike many HC climbs in the Vuelta's recent history, and many possibilities and candidates you may see on this list, Haza del Lino is an extremely versatile climb that can be used in dozens of different ways depending on the goal of the organiser. It can be a feature climb, it can be a lead-in climb, it can be a leg-warming early climb in a tough stage that, after some flat and/or smaller climbs, then goes on to La Ragua, or even to Monachil and the Sierra Nevada climbs. And that's why it's absolutely ludicrous that it isn't as much a part of the Vuelta's lore as ideally located climbs like Croix-de-Fer, Gavia or Peyresourde are to their respective home races.