But is it more or less stupid than where they put the KOM of the Alto de Oncala
Oncala is a double summit. There are a few such oddities in Spanish cycling. A bit like the "MTFs" where the actual finish is a kilometre or two downhill from the genuine summit (Xorret del Catí, Arrate), there's often a 'summit' which is actually below the peak of the road, like the Ixua summit from Matsaria in the Itzulia, where they actually join the road across the summit of Arrate (actually called Usartza), but turn left towards Eibar rather than right to Arrate, before turning right again away from Eibar toward Etxeberria, climbing the last 400m or so of Ixua, and putting the GPM at Ixua rather than Usartza (to separate it from the final climb which goes over Usartza and then descends into Arrate). The La Molina finish in the Volta a Catalunya is similar, La Masella is the actual high point of the road, but they don't put the GPM until the La Molina station which means 2km of descent and then a short 400m or so kick up on the circuits as they don't go all the way to the Font Canaleta high point on that road in the profile (though that's still lower altitude than La Masella!). The Puerto del Cubillo is another one, very infrequentlly seen as it's in a seldom-used part of the country between Teruel and Cuenca, one of Spain's biggest backwaters (there's a movement to improve infrastructure there called "¡Teruel Existe!") - it's about a 6km climb but the 'summit' of the actual pass is about 3km further down the road, at lower altitude.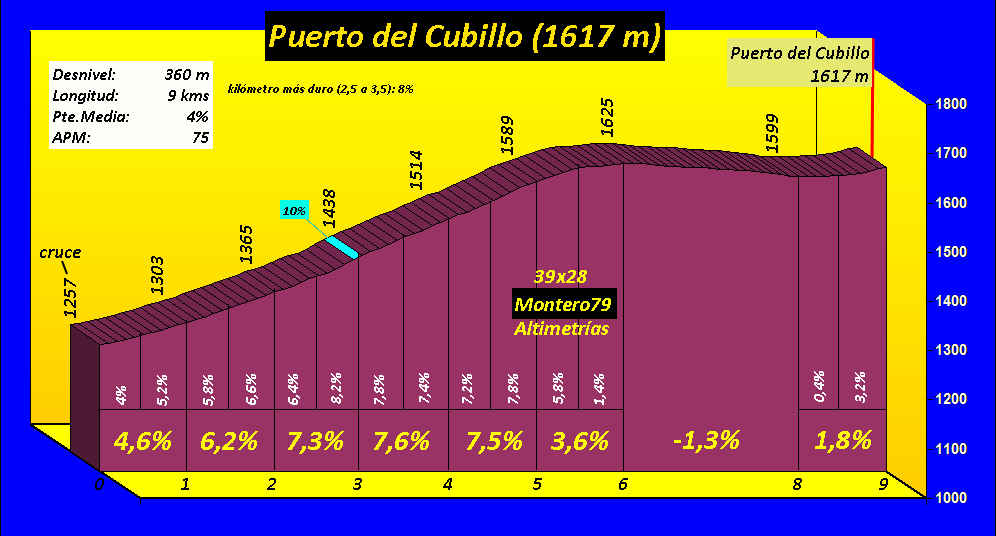 There was an absolutely hilarious one in Settimana Coppi e Bartali in about 2010 I think, struggling to find the profile now. There was a climb which was steep and reached its peak, then a descent almost as long and steep as the climb, then a shorter, shallower and lower altitude climb, which was categorised as though both were part of the same climb and the summit was somehow lower.
Edit: here we are. Stage 3 was even more ridiculous, I'd forgotten that!