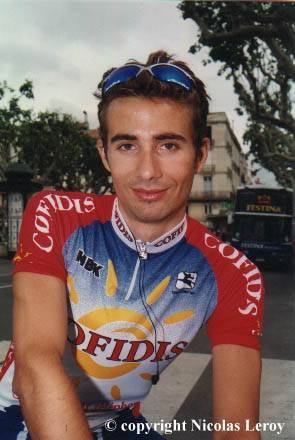 David Moncoutie will ride his last ever road stage today in the final stage of La Vuelta. Unfortunately he couldn't repeat his trick of the last few years in this year's Vuelta, but that doesn't mean this icon of the sport doesn't deserve attention.
Once touted as the next French Tourwinner, Moncoutie was never able to fullfill this high expectations. In hindsight, we know many of the reasons for this, but at the time his inability to score a top 10 finish in the Tour de France was entirely attributed to his character and his lack of willpower. The world laughed, the French invented a new sentence for this.
Cyclisme à deux vitesses
. The rest of the world laughed even harder at those pathetic French who always came up with excuses.
The rest of the world has stopped laughing now (or so I hope).
Anyway, Moncoutie. His career in cycling started, maybe expectedly, by accident, but immediately it was clear he was talented. David was invited to a ride by friends, and things got rolling from that point onwards. "They all had beautiful racing bikes, I had a sports bike that was nothing to talk about... and I dropped them right from the start. I said to myself,' Tiens, you're not going to be too bad!' and I joined the Entente Vélocipédique Bretenous-Bars, my village in the Lot. I won from my second race."
Moncoutie liked his job, most of all. Riding his bike was for pleasure, and when he didn't feel like it, he simply chose not to train. A fact Dutch pundit Maarten Ducrot often refers to in an anecdote, where he tells that Cofidis wanted Moncoutie to send in his training data for a certain winter day, so they could make sure he trained properly, to be in good shape early in the season for once.
Moncoutie responded, by sending in one piece of data: the temperature of that day.
He knew his weakness himself, but, as he was and is only riding for his own satisfaction, he didn't care. "Equipment, even the latest technology, that's not my thing. What I like is to be on my bike and to ride. That's when I'm happy."
The Frenchman has always been a good climber, but, maybe due to the fact he took up cycling only in his late teens, was never fond of descents and steering in the peloton. Without exception, he will be the last rider in the peloton, often losing time because of crashes in front of him or echelons. I remember seeing him crash out of the Tour de Romandie, I think in 2007, on a soaking wet day. He broke his hip, and everyone feared for his career.
On his day though, he was the class of the field. He's never had the consistency and recovery compared to other riders of the time (consider that a compliment) to really challenge for the general classification, but when he went in a break on one of his days, there was no way of stopping him.
He was aware of this fact himself early on. After scoring a 13th place overall in the Tour de France of 2002, he went on with high hopes for the Tour of 2003. The Tour of Armstrong, Mayo, Beloki, Vinokourov, Hamilton. His reaction?
"That season, I won a stage of the Tour du Pays Basque, I came 13th in the Tour of Catalonia and sixth in the Dauphiné Libéré, so I said to myself 'Why not?' I was hoping to end up reasonably high in the general classification. But in the Tour, that's madness. From the Vosges, I realised that the best I could hope for was a stage. I've often heard it said that I could finish in the first five of the Tour de France. It's a dream! Me, I've never believed that. I've always fixed myself realisable objectives that matched my way of riding and my convictions."
And so he did. He knew the only way of success was to win a stage, and went on an did so in 2004 and in 2005, while still going on to score multiple top 10 finishes in GC in smaller stage races (3rd in Catalunya and 6th in the Dauphine in 2005, for example).
As mentioned, in 2007 he broke his hip and everyone thought his career was over and everyone went on to lament his career. But he came back, comparatively stronger than ever.
In 2008, he scored his first top-10 finish in a Grand Tour: 8th in the Vuelta, while taking a stage and the mountains classification. He went on to win a stage and the mountains jersey in the next three years as well, always going in an early break and finishing solo in beautiful fashion. Cycling the old-fashioned way, cycling how cycling should be: a man against the mountains.
In career part deux, he scored more victories: the overall in the Route du Sud, the Tour Méditerranéen and the Tour de l'Ain, as well as a stage in the Dauphiné. How do you mean, not motivated and lazy?
Moncoutie is highly rated in the peloton and amongst even the most critical of followers, as he is the symbol of purity and honesty in a dodgy sport. His teammates, bosses and fellow riders have always maintained that he was riding on, quite literally, water and bread only, even when the team he rode for his whole career came under scrutiny in 2004 and 2007. The team was Cofidis, and it was only slowly that his team began to understand him.
Eric Boyer, then director sportif about him: "David is a loner. He's happy in a group but he doesn't need it to live. When I came to the team, I said to myself, as other people must have, that I was going to try to change him, to chivvy him up so that he got more involved, that he raised his ambitions. Today, I realise that even if I find one or two keys to open the door, I won't get very far. It doesn't interest him. He just wants to be left in peace."
And François Migraine in 2004: "Everyone is more or less unanimous that David Moncoutié doesn't dabble [in drugs]. I would have 10 of him in the team if I could. He wins three races a year and he still manages to finish in the UCI's top 50. It goes to show that you don't have to dabble in drugs to have a career in cycling."
Moncoutie was famous for relying on homeopathy, he didn't trust needles, didn't want to use even available legal substances for recovery, and still managed a career in cycling, because of his talent and most of all because of his philosophy, even though that is the part of him that is often criticized.
Would he have survived in the peloton of '99, '00, '03 when he cared about more than himself? The example of Bassons shows that chances are he wouldn't have. However, Moncoutie was only concerned with enjoying himself, with pushing his boundaries, but only when he could live with it himself.
I salute him, for his successful career, but most of all for the way he cycled in a dark time, for being a bright spot everyone can refer to. Merci, David, and enjoy life after your career.
(Sorry for the clinic related comments, but it's impossible to write a piece about him without them. Thanks to Wikipedia for the various quotes)