A dream day for the breakaway. This is the last chance for a lot of riders to win a stage, but the best parts won't be televised...
The opening third of the stage is very mountainous, with the riders going from close to sea level to 900 meters in just over 22 kilometres, despite there being two short descents on this section. There are two KOMs here, Alto da Sela d'Entorcisa...
...and Alto da Garganta, which would have been a cat. 1 had they not categorised Sela d'Entorcisa separately.
A much longer descent takes us to Alto de Barbeitos, the final categorised climb of the day despite there being almost 130 kilometres to race after it.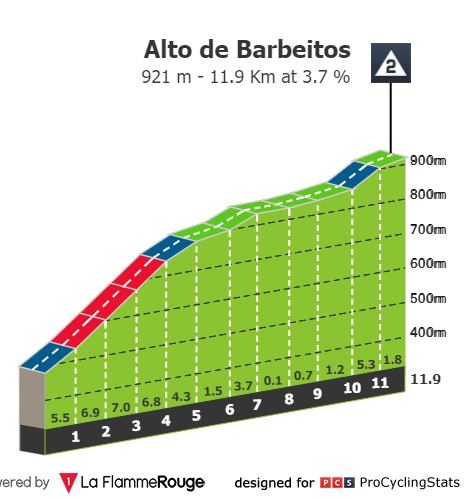 The remainder of the stage is quite straightforward, with the main obstacle being the rise just before the intermediate sprint (4.5 kilometres at 4.3%). The finish is more or less flat, with a 120-degree right-hander at 300 metres from the line.